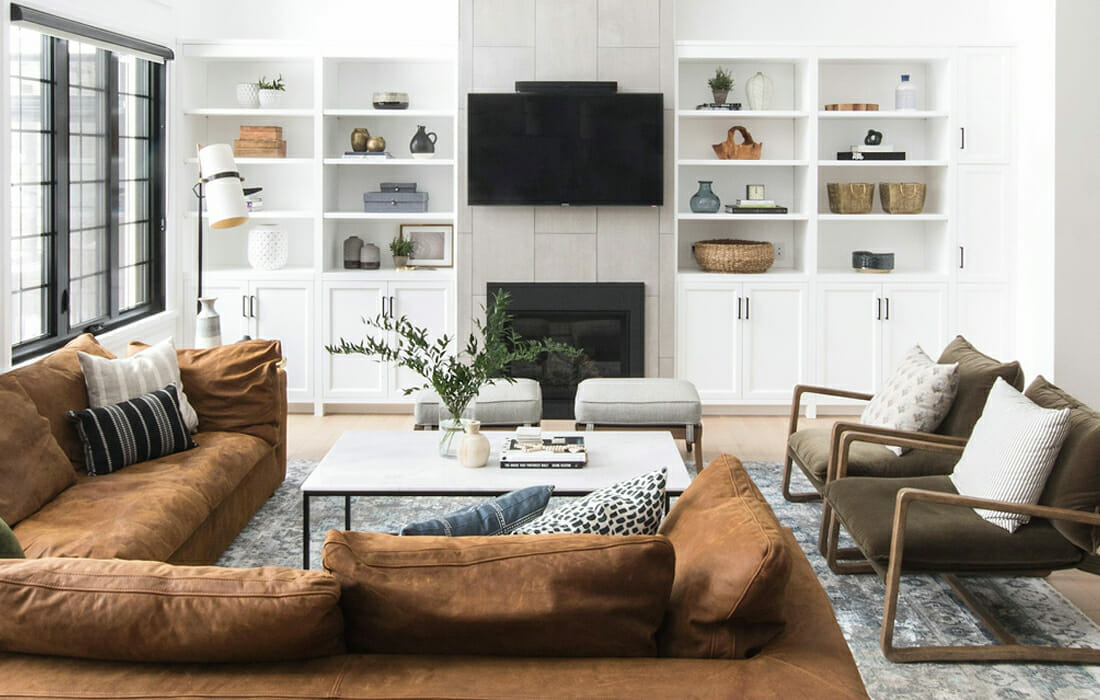 A new build is always full of potential, but it can be hard to pull it all together for non-professionals. That's why this client contacted Decorilla online interior design to create the ultimate modern rustic home design! Keep reading to see this incredible online interior design transformation from blank slate to modern rustic family home!
The Challenge: Create a Lived-In Design in a New Build
To start, the client had pretty clear ideas of the elements she wanted to achieve with modern rustic interior design. In practice, this summarizes her list of challenges that needed to be met:
Create a lived-in design that doesn't look too "new build"
Design a home that is practical for a family with two young kids, cats and dogs
Choose durable and easy-to-clean materials
Ensure the dining table can sit 8 people
Create a flow between living, dining and kitchen
The Inspiration: Modern Rustic Home Design Ideas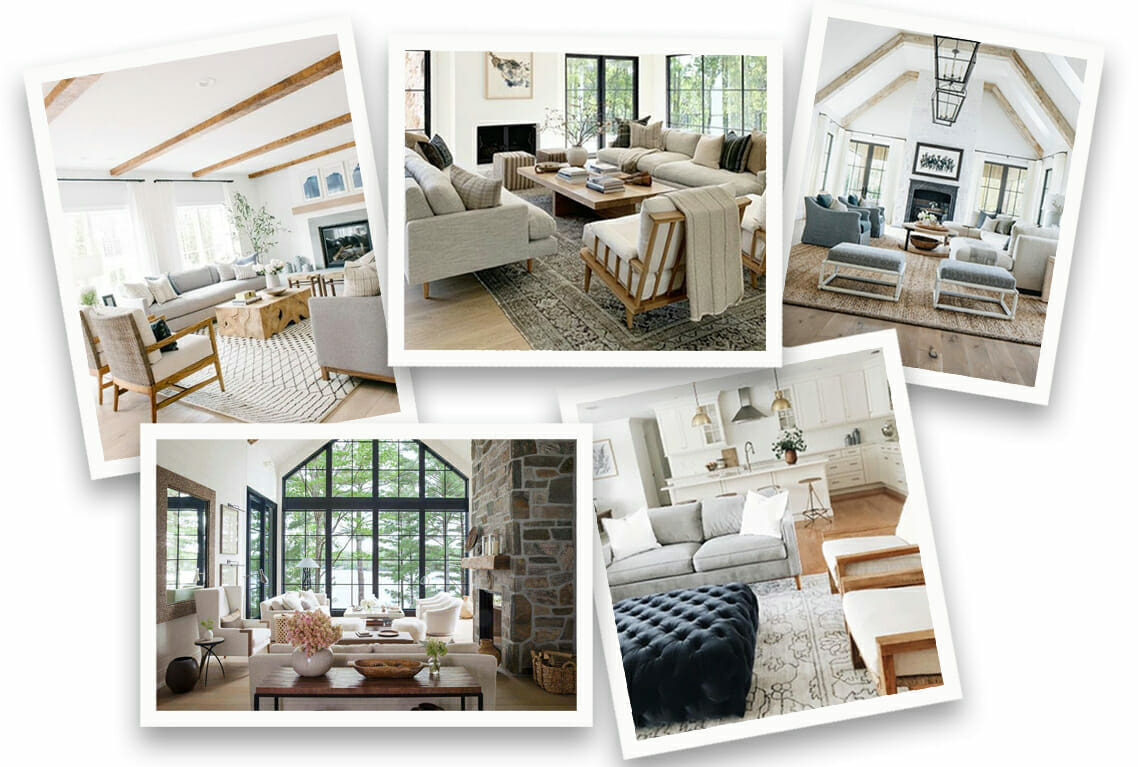 Eclectic, mid-century, organic, rustic, southern/coastal cottage. This is how the client described the timeless, lived-in character she wanted for her home. Modern rustic decor, light walls and a welcoming feel were common to all of the client's inspirational images. Most importantly, this gave Decorilla designers a starting point to put together a design concept for a modern rustic living room, kitchen and bathroom.

The Home Interior Design
After receiving initial proposals from three online interior designers, the client chose the modern lived-in concept by Sonia C. Then, designer and client remained in constant contact for the entire duration of the project. This allowed to fine-tune the initial concept to match exactly what the client wanted: a "wow" but easy to maintain home. Modern rustic furniture wouldn't have been enough to give a new build home a lived-in look. That's why the designer proposed to layer more architectural details: vertical shiplap accents, wood beams and herringbone oak flooring to provide a substantial modern rustic home transformation.
The Modern Rustic Home Design: Living/Dining Room Result
The open living-dining area is the first space in this home. So it needed to be functional and impressive as a first impression. The designer has achieved an amazing result and this space feels lived and comfortable but also finished and pulled together. First, a neutral color palette lays the foundation for a modern rustic decor. In particular, a mix of different types of woods gives an informal character to the space. Colorful accents in blue, green and a hint of red make the design even more effortless and lived-in. All the spaces are airy and family-friendly. In the living room, two facing sofas and two vintage mid-century chairs (that the client already had) give plenty of comfortable seating for family and friends.
Not sure where to start with your own personal design? Schedule your

Free Interior Design Consultation

to save time and money on your interior design today!
In front of the seating area is a long dining table that sits 8 people – as requested by the client. An organic mix of chairs and finishes ticks the eclectic requirement, carrying the effortless vibe into the dining area.
The Modern Rustic Home Design: Kitchen Result
In this home the kitchen is open to the living/dining area. So it was particularly important for it to flow with the rest of the space. Carrying the wooden beams and the herringbone oak flooring from the living area was the first step to create a beautiful modern rustic kitchen. To add character, the designer decided to paint all cabinets. But the color needed to match the client's requirement of a timeless design. The perfect choice was an all-time favorite greyish blue. Black and brass accents add a modern touch, that is balanced with a shiplap wall feature and a statement farmhouse sink.
The Modern Rustic Home Design: Bathroom Result
For her master bathroom, the client wanted something with an organic feel to it. And Sonia created a modern rustic bathroom with tons of character. For instance, the aged wood of the doors blends with the modern finish of the vanities to continue on the effortless eclectic vibe of this home. Black and brass accents repeat throughout the space. Additionally, tiles on the floor make this the ultimate practical bathroom for a family!
But the real wow feature in this bathroom is the bathtub nook, which is framed with graphic tropical wallpaper. This unexpected detail is the perfect accent. Ultimately, it makes the bathtub stand out and adds a touch of freshness to the wood.
Design Your Own Modern Rustic Living Room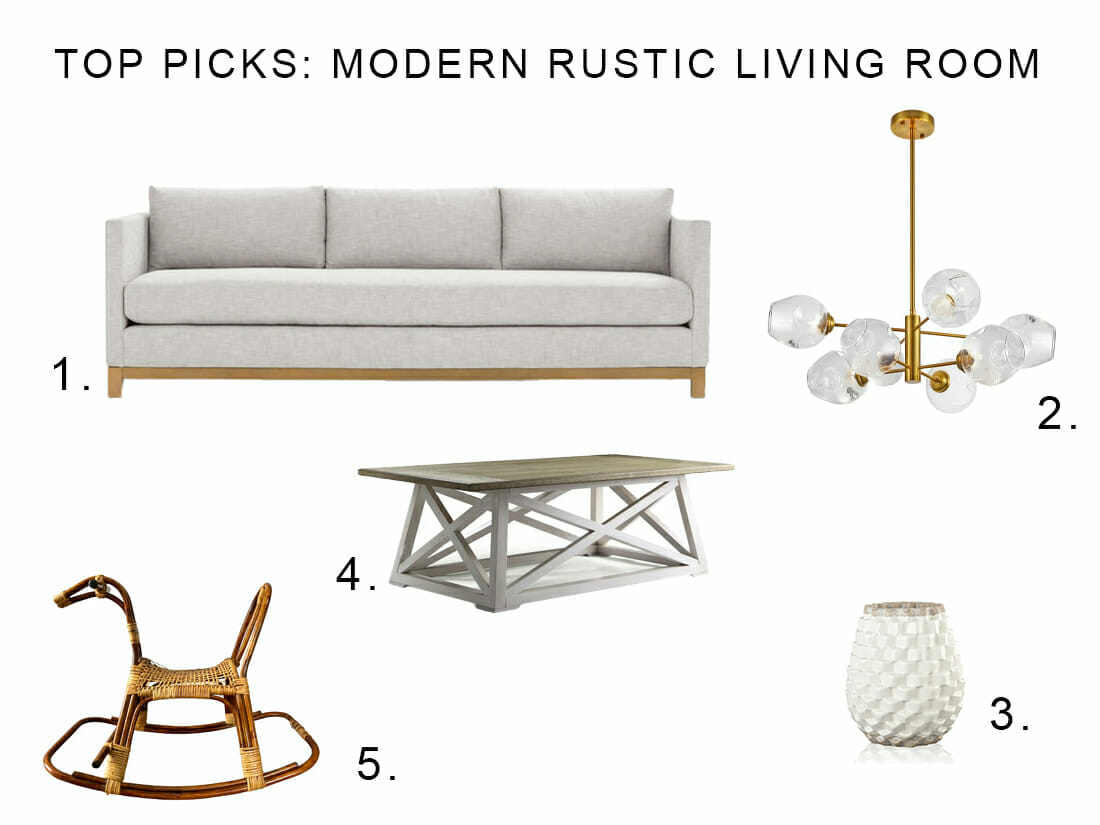 As a result, this is how Decorilla online interior design team transformed a blank slate into a welcoming modern rustic home!
If you're also planning your home transformation, online interior design can make it happen without breaking the bank! Schedule your Free Interior Design Consultation and get started today!

[Images: 1, Decorilla project images]