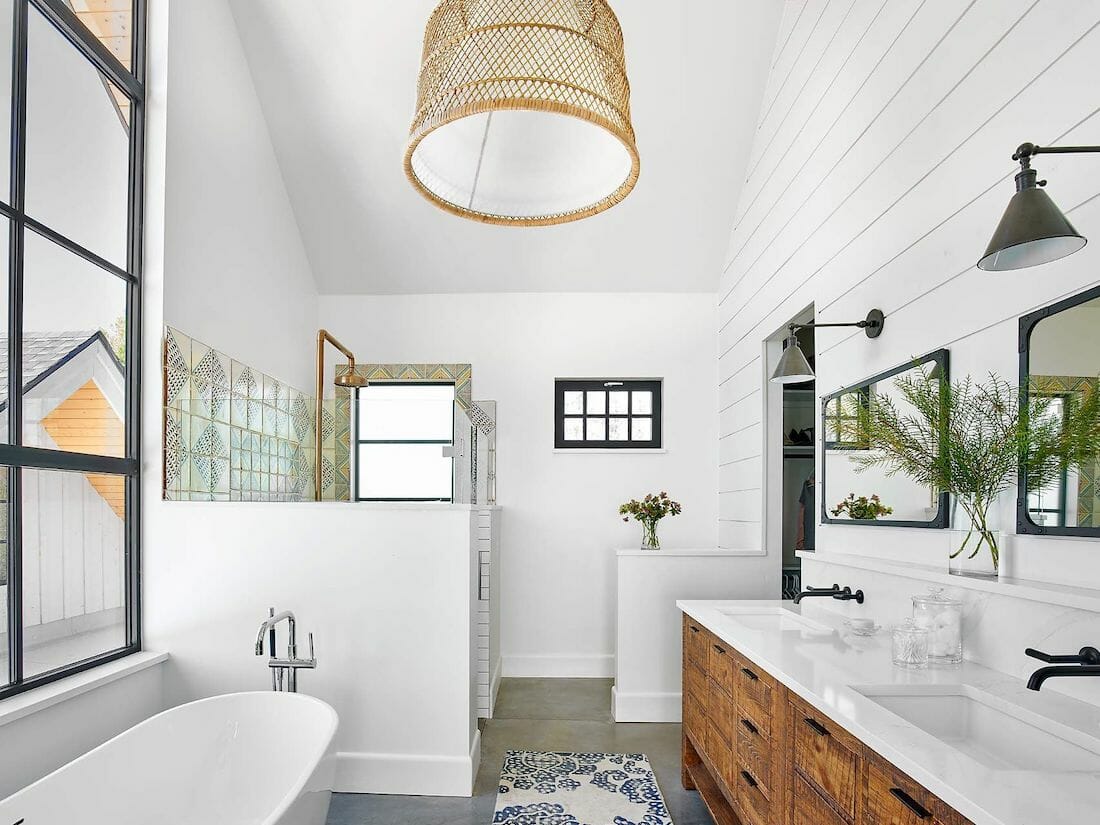 Designing a bathroom can be a daunting task, but that's not always the case. In fact, it often takes just a drop of inspiration and a skilled designer to easily achieve the look you've been dreaming of. Not convinced? Check out this modern country bathroom transformations story to see for yourself!
The Challenge: Modern Country Bathroom
A satisfied client is the best compliment a business can have. Decorilla is fortunate to have many clients who keep coming back for more design projects. After having almost the entire house designed by Decorilla creatives, one such client returned with a new request. This time, it was a bathroom remodeling challenge. In short, the top bathroom designer had to: 
Come up with modern country bathroom ideas that flow with the rest of the house

Choose trendy, yet timeless bathroom ideas

Define a new, more spacious shower area

Add stylish storage for towels and linen
Unsure if a modern country style is for you? Try our

Free Interior Design Style Quiz

to pin down your style and get started on your design today!
Modern Country Bathroom Decor Inspiration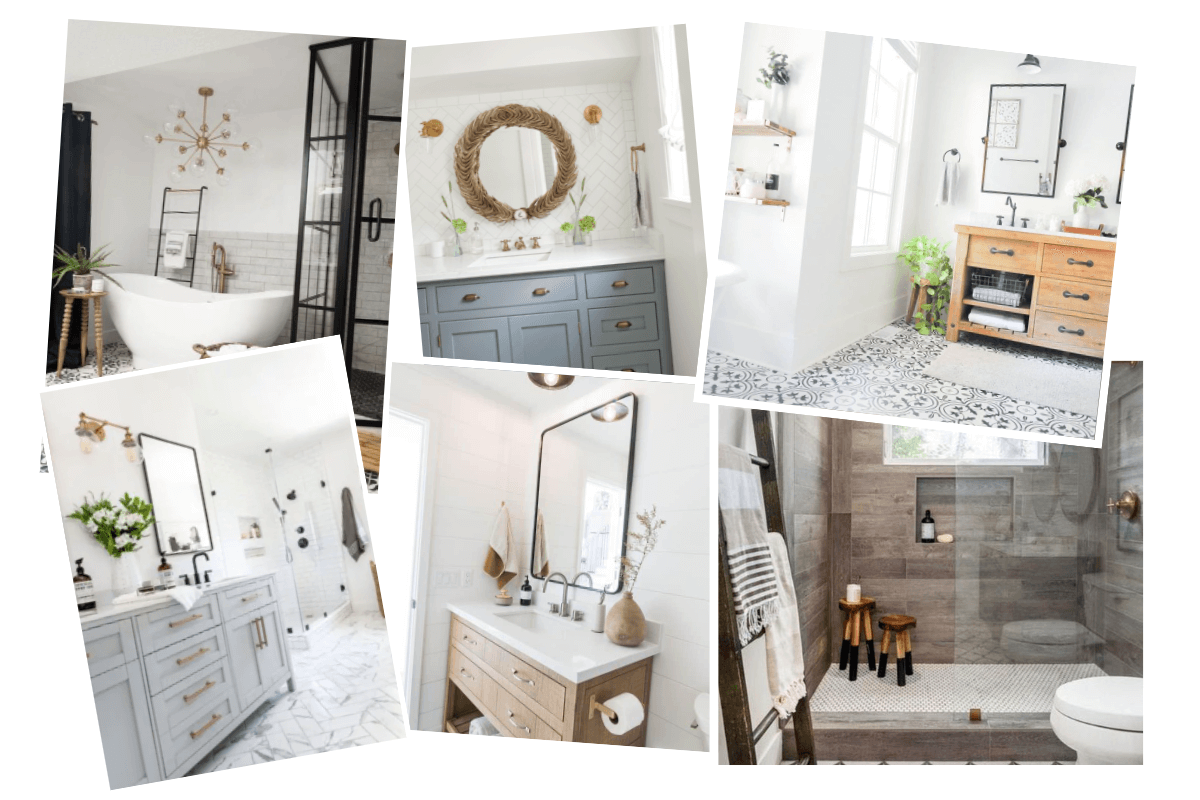 After looking through the gallery of images provided by the client, the Decorilla team was able to get a feel for the style they were going for in their bathroom. Most images depicted modern country-style bathrooms with clean lines, rustic features, and trending bathroom designs. The color schemes were relatively neutral, with plenty of wood texture, black fixtures, and metallic accents. At the same time, the bathroom design emphasis was on functionality, with convenient layouts and practical yet stylish decoration. 
Modern Country Bathroom Ideas & Moodboard
In the meantime, the client delivered clear and on-point answers in the design questionnaire. With all the provided information in mind, the team was able to propose two suitable designers for the online bathroom design. Their modern country master bathroom moodboards promised a functional and serene space, focused on relaxation. After thoroughly reviewing each detail, the client decided to proceed with a modern country bathroom design by Rachel H.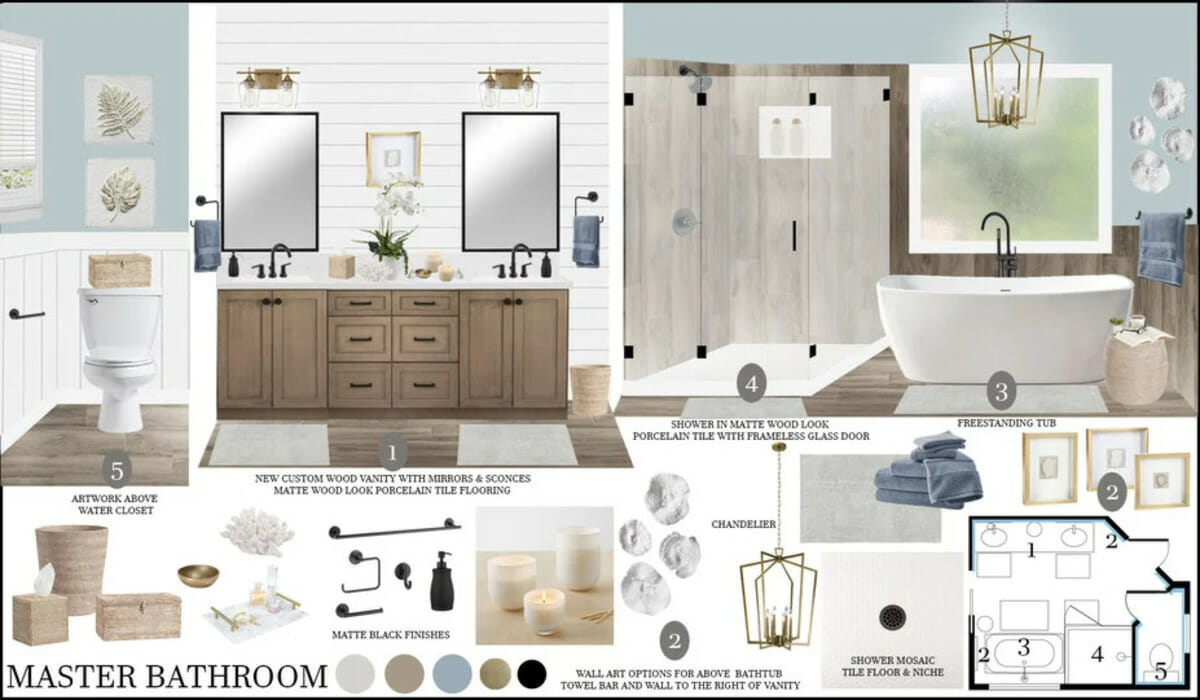 Rachel's contemporary country bathroom ideas involved a lot of wood texture, conveying a spa-like feel. The rest of the light blue walls complemented that vibe with added coziness and serenity. Combined with the shiplap paneling and nature-inspired decor, the overall scheme reflected a distinctive coastal charm. In addition, abundant cabinet compartments and free counter surfaces solved the storage problem, promising a clutter-free space. 

Modern Country Bathroom Design
By blending timeless elements with modern country-style decor, Rachel composed an inviting transitional space devoted to relaxation. Porcelain floor tiles provide low-maintenance durability without compromising on a warm, slightly rustic wooden appeal. Meanwhile, pebble mosaic tiles on the shower flooring and inside a wall niche break the streamlined wood flow, adding visual depth. Black accents and brass finish of the chandelier enhance the dynamics. Meanwhile the choice of sea coral wall art conveys a dash of coastal chic. The ample window is equipped with blurred glass, ensuring full privacy while also keeping the space bright and airy. 
A large double vanity compliments the rest of the bathroom layout with its prominent wooden texture, also providing plenty of storage. The fresh blue wall color continues throughout the small adjoined toilet space, making the whole area more cohesive. New white shiplap wainscoting replaces the dated wood panels, while the wall art ensures that the space receives a touch of style. 
Modern Country Bathroom Before the Change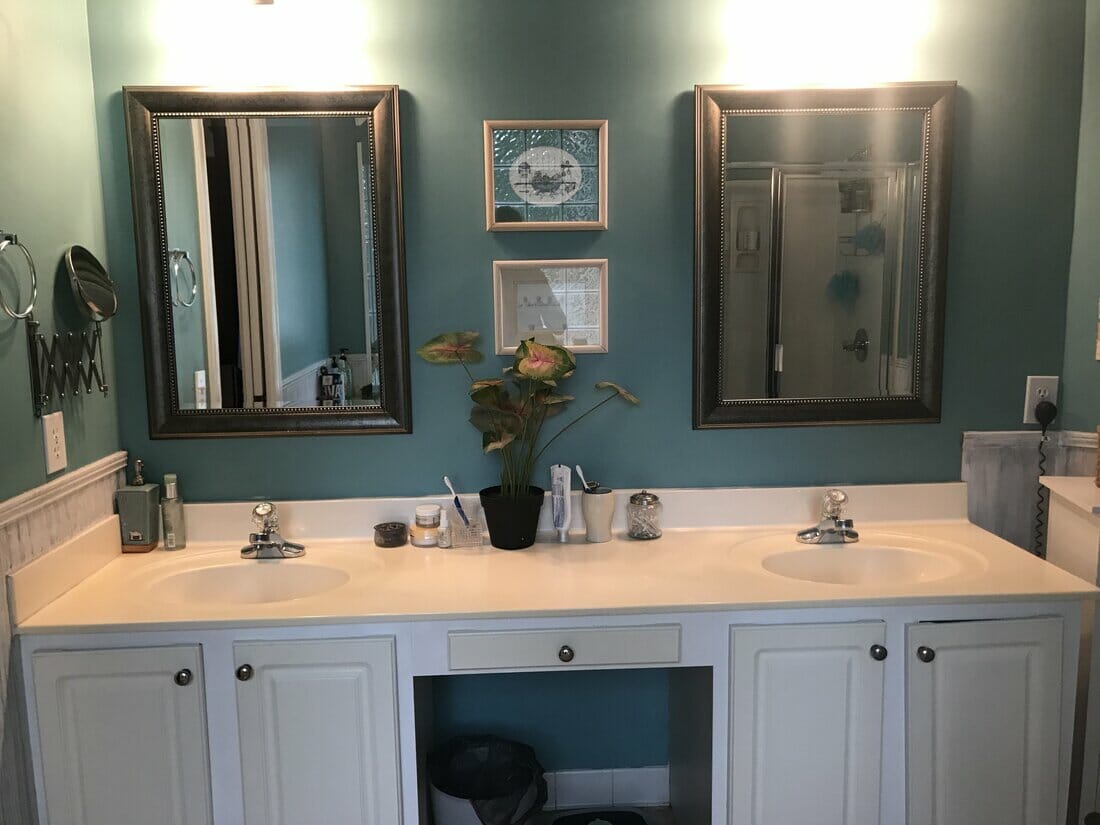 The existing bathroom layout wasn't as functional as the client wanted, mainly due to the narrow shower cabin. At the same time, the built-in tub was taking up a lot of valuable space. Dark teal walls also made the room feel smaller and darker than it actually was. Using the brighter palette and contemporary country bathroom decor, the designer delivered a much-needed update that will keep its vogue in the years to come. 
Online Interior Design Shopping List
Decorilla design packages include stunning designs, but that's not all. Photorealistic 3D visualization allows every client to see and feel the space before it actually materializes. Meanwhile, a comprehensive implementation guide helps get every detail right. On top of all, a personalized shopping list with exclusive trade discounts sweetens the deal, while a white glove concierge service handles everything from ordering to delivery.
Top Picks for Modern Country-Style Bathrooms
Sometimes even a small refresh can do wonders. So check out our country bathroom top picks to find something you might use to update your home: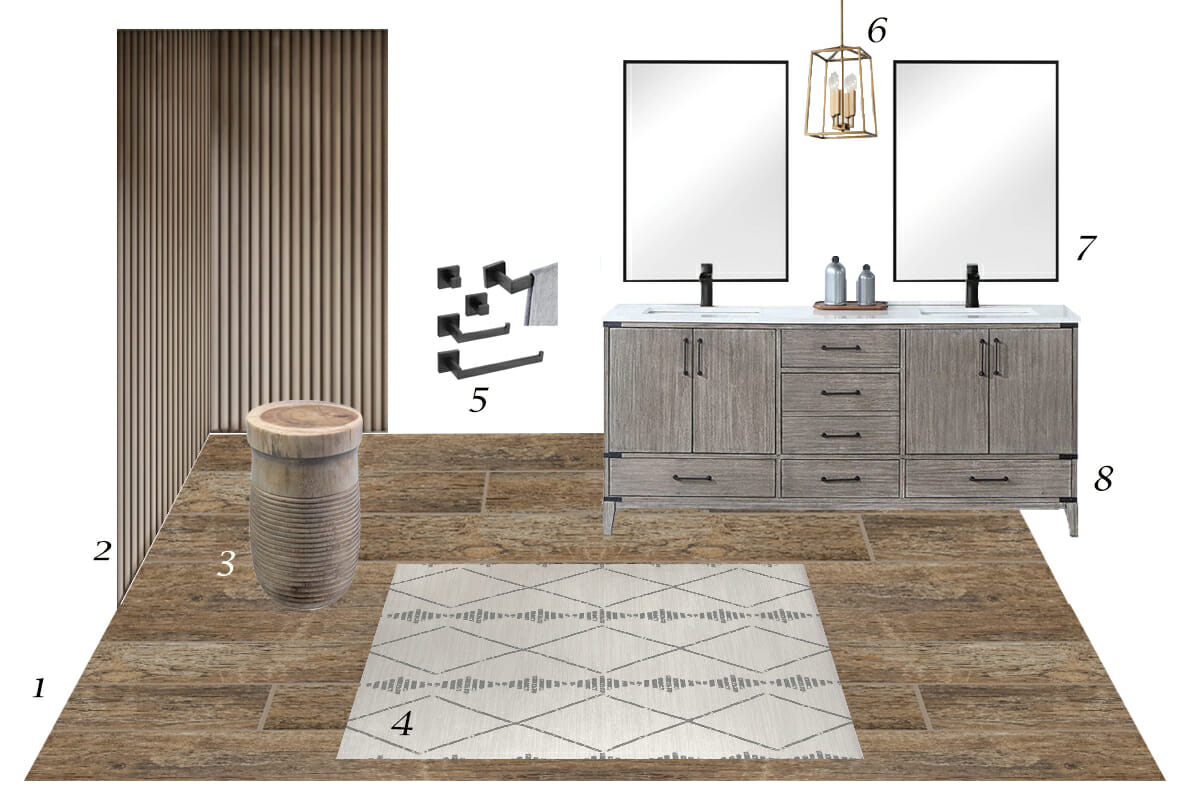 Love country-style bathroom ideas?
Our team of skilled designers can help you create a spa-like sanctuary in no time! So, schedule a Free Online Interior Design Consultation to get started today!

Featured image: [1]