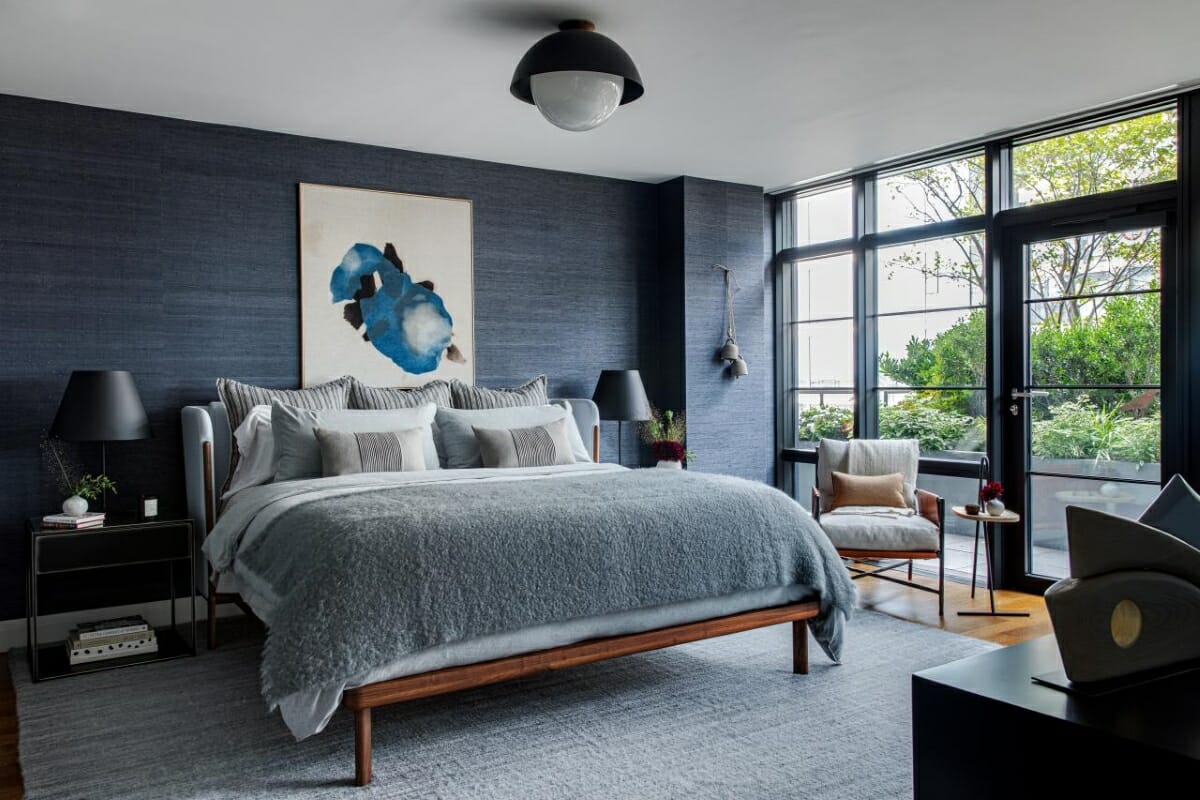 Men's bedroom design can exude luxurious relaxation – when done right. In search of such an upscale look, a recent Decorilla client sought help in finding the perfect balance between modern comfort and elegant refinement. Read on to see how this bedroom was transformed into a refined masculine retreat away from everyday stress! 
The Challenge: Modern Men's Bedroom
The client was off to a great start with new midnight blue paint for his modern men's bedroom redesign. The next step was sourcing new furniture and creating a functional yet appealing layout. He was therefore looking for a designer to help finalize the look with creative men's bedroom ideas. Infusing modern elegance from every corner of the room required them to:  
Pull the room together with elements that coordinate with the navy wall color

Incorporate some existing favorite furniture and decor pieces 

Create a luxurious feel with a variety of textures and finishes 

Add layers of contemporary comfort with soft accessories like cushy pillows and cozy throw blankets
Want to see what style is right for your men's bedroom design? Then take our

Free Interior Design Style Quiz

to find your personal style today!
Men's Bedroom Decor Inspiration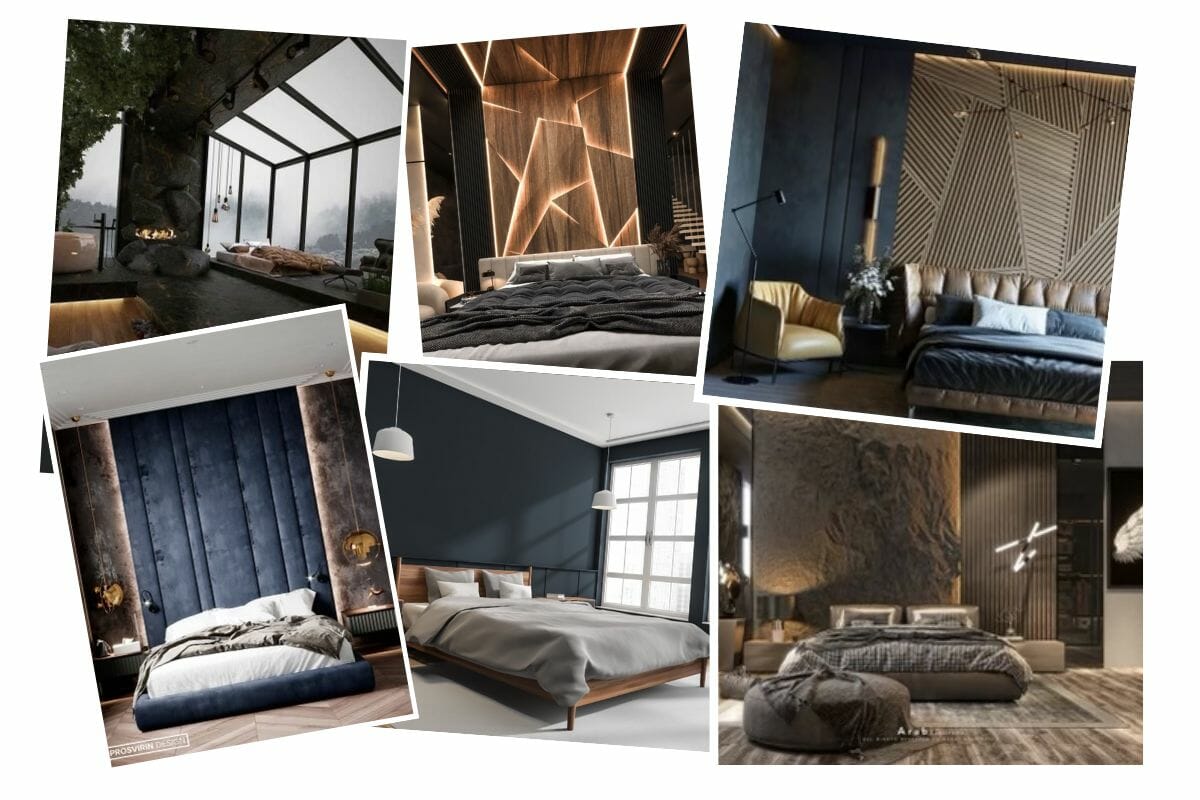 The client provided a helpful inspirational gallery showcasing an inherently masculine design style. Images featured deep shades and rich fabric textures. Navy blue walls created tension and drama, while the sophisticated brown woods oozed an air of luxury. Plush curtains and subtle lighting details elevated the rooms' appeal to their full potential, creating a perfect combination of contemporary comfort and modern minimalism as a result.
Men's Bedroom Ideas & Moodboard
The online bedroom design began with the click of a button. The first step was, naturally, completing Decorilla's interactive design questionnaire. Next, the client engaged in an in-depth call with Decorilla's team to discuss every detail of their project. The team was then able to propose two exceptionally talented designers who offered their creative solutions. One of them was Ibrahim H., who ultimately achieved success in capturing the client's vision in its entirety.
Ibrahim's men's bedroom design was a no-fail combination with navy walls, brown accents, and stylish details. His ideas revolved around creating a space that feels both sophisticated and cozy at the same time. Warm wooden flooring organically complements the walls, also warming up the conventional men's bedroom colors. In order to balance the dark interior design further, he utilized shades of tan and cream in the details. Meanwhile, each part of the decor was chosen carefully to represent the client's personal style.

Men's Bedroom Design
The highlight of this modern men's bedroom decor is the addition of a decorative vignette on the free wall. It pulls together the client's existing floor mirror, a sculpture on a pedestal table, and a complimentary artwork to create an eye-catching statement feature. Not only does it balance out the masculine bedroom design, but it also adds a layer of unique extravagance. The mirror also works as a kinetic piece of art by itself, framing different room angles and details together to form something truly special.
Ibrahim's men's bedroom design ideas also featured a sleek, sophisticated king-size bed crafted with a velvet upholstered headboard and low platform frame. At its bottom lies a curvy bench uniquely designed to provide texture and contrast. The arrangement sets off the nightstand in dark gray and walnut finish enhancing both the existing storage and display area. Topping it off, a bespoke table lamp also complements the client's decorative art.
Making a modern men's bedroom design cohesive means taking all the elements into consideration. That involved reinventing a stylish custom-made wardrobe with retro vibes and a built-in electric fireplace. The designer also refreshed an existing lounge chair and side table to visually pull different elements together and elevate comfort. In addition, a sleek floor lamp completes the cozy setup providing stylish task lighting. Finally, an area rug with subtle pattern grounds the space with rich texture and contrasting tones. 
Men's Bedroom Decor Shopping List
From online shopping lists to exclusive trade discounts, Decorilla makes reinventing your home easy and accessible. Their curated project designs are tailored specifically for you – complete with step-by-step instructions. That means you need no specific experience or knowledge to assemble your dream space! Meanwhile, a one-of-a-kind curated shopping list covers all of your decorating needs at unbeatable price points.  
Modern Men's Bedroom Top Picks
Exquisite appeal and functionality blend seamlessly to convey an atmosphere of comfort and style. In addition, strategically chosen details provide ideal practicality without asking for a compromise. Our top picks might make the same impact in your bedroom, enabling effective results with minimum effort.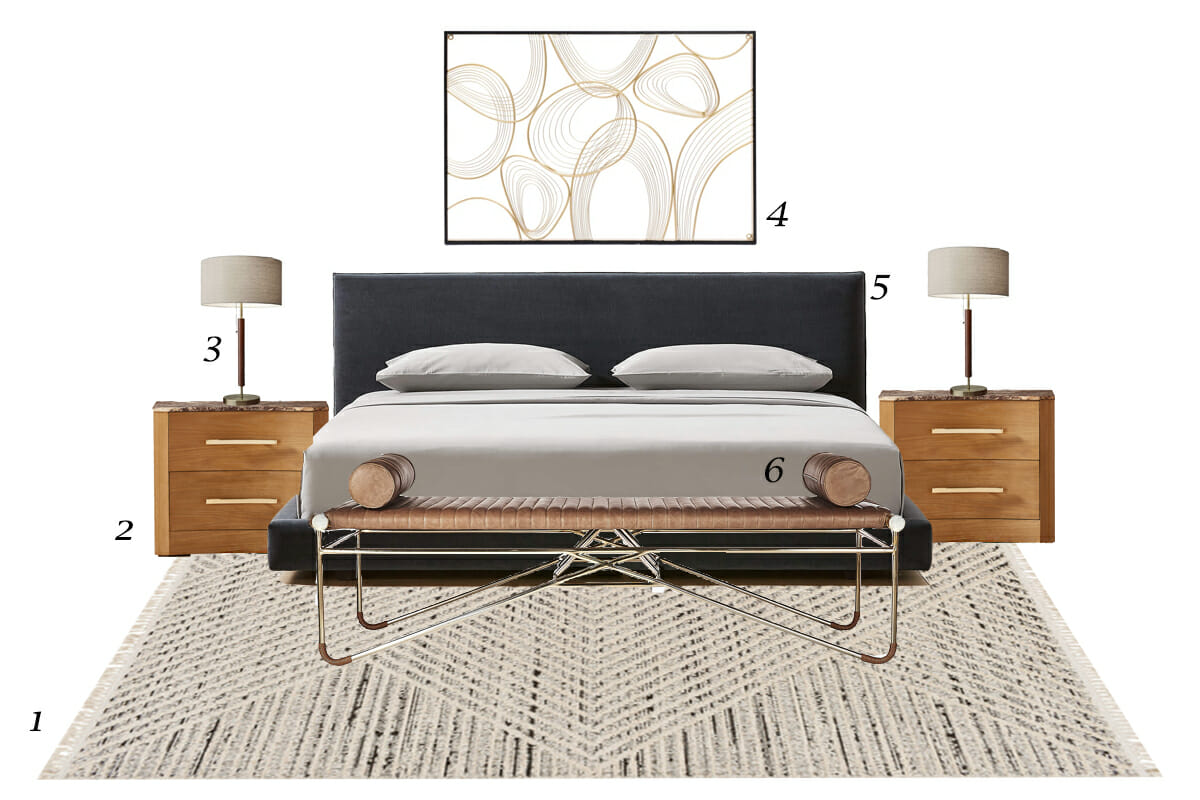 Looking for fresh and modern men's bedroom design ideas?
Our team of talented designers can help create your dream space. So schedule a Free Interior Design Consultation to get started today!

Featured Image: [1]