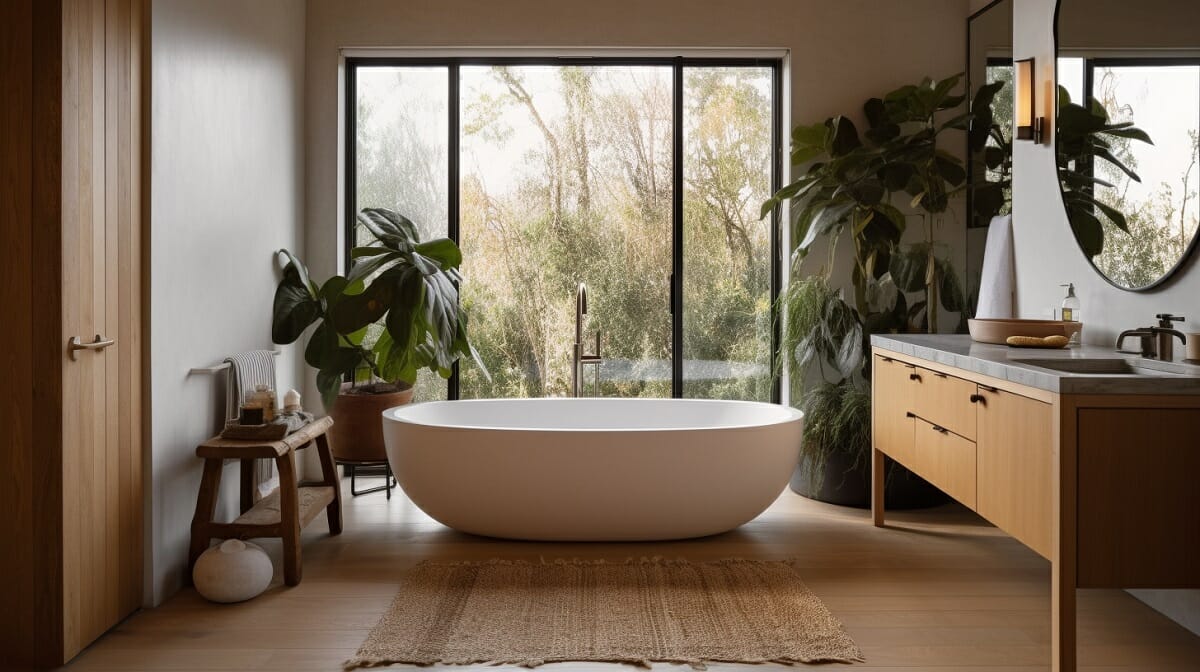 Every home needs a place to relax and rejuvenate. For many, that place is the bathroom. Yet, without a proper setup, it can be hard to truly unwind. Fortunately, creating a personal wellness sanctuary is always possible! Read on to explore one recent project – it's a master bathroom addition that will make you want to renovate ASAP!
The Challenge: Master Bathroom Addition
The client sought professional designer assistance in adding a master bathroom to the bedroom. They were ready to start their online bathroom design, so they hired Decorilla, renowned for its ability to customize according to the customer's style and vision. The client had certain specifications in mind, and expected the designer to: 
Find the ideal balance between form and function

Use materials and textures to convey a distinctive atmosphere with a dash of Spanish flair

Source materials, decor, and hardware that would easily coordinate with the rest of the home interior

Produce highly serviceable yet aesthetically pleasing master bathroom addition design result
Not sure what your master bathroom addition should look like? Then take our

Free Interior Design Style Quiz

to find your true decorating style!
Inspiration for Adding a Master Bathroom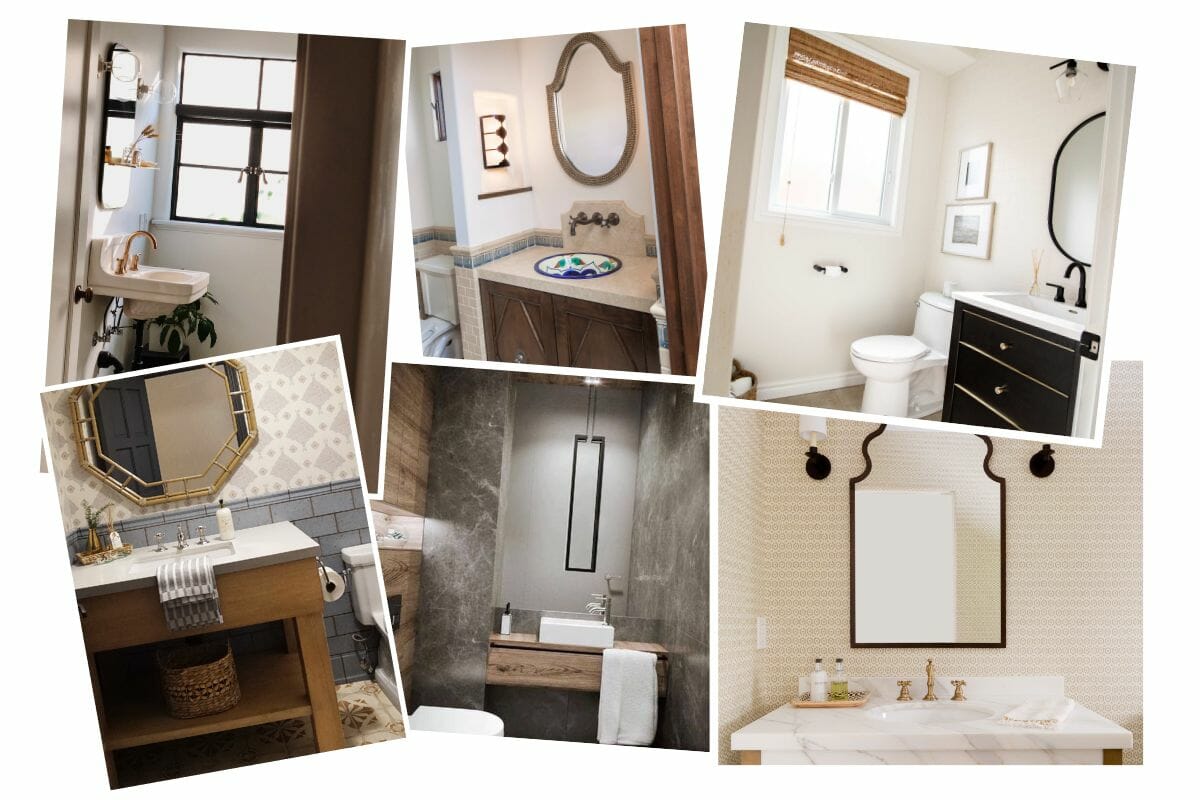 Master bathroom addition projects can be extremely daunting, especially when a specific style has to agree with an existing interior. Looking through the client's inspirational images was the first step toward finding their ideal designer match. All featured photos were similar in style – however, some depicted more trendy bathroom designs than others. Clearly, there were several equally suitable options for adding a master bathroom to a bedroom. What they all had in common were contemporary finishes and fixtures, classic tones, and natural elements.
Master Bathroom Addition Ideas & Moodboard
After carefully examining the entire master bathroom addition gallery and the client's answers to the design questionnaire, the Decorila team proposed two suitable designers. As expected, there was no shortage of creative ideas in their moodboards, from incorporating dramatic lighting to intricate tiling designs. Wanda's proposal also exuded a stylish spa-like experience that captivated the client. And that's why the clients picked Wanda for their master bathroom addition project! 
Wanda's plan for transforming a plain and unremarkable bathroom into a breathtaking space featured modern touches in a Spanish style. Adding a distinctive character to the design was vital; hence she created an understated concept of custom luxury. Taking inspiration from Spain, her bathroom moodboard included stunning patterned tiles and statement fixtures. In addition, natural materials like wood and stone would add texture and purposeful visual layers.

Adding a Bathroom to Master Bedroom: Design Results
The designer's main goal was to convey a subtle Spanish influence in a transitional, modern way. That included plenty of warm wood finishes, an organic but not too rustic style, and a hint of the classic Mediterranean arches. Considering the budget limits, she also proposed an arched wood entry door. The idea was to set the stage without increasing the cost to add a master bathroom.
Rather than incorporating a standard built-in linen closet, Wanda decided to keep the visual entry open and airy. As a result, an arched, open storage niche provides a stylish background for towels and bathroom supplies. Meanwhile, the wide vanity drawers offer plenty of room for knick-knacks and other, more utilitarian items. An extra storage shelf at the bottom of the warm wood vanity allows for further arranging decorative baskets to enhance both functional and aesthetic dimensions. 
Finally, a striking combination of mirrors and strategically placed lighting injects life into the design for a finish the client adored.
A spacious steam shower cabin, encased behind stained-glass windows, sits next to the master bath. Its sleek black frame acts as a visual accent, adding more dynamics to the overall neutral arrangement. At the same time, it ties the zone to the mirrors to create a cohesive design. 
The area follows the same neutral color palette as the rest of the master bathroom addition. Moreover, the beautiful Thassos shower wall tiles pattern simultaneously enhances visual interest without being overly busy.
The designer also gave the client options for the master bathroom addition. Instead of an alcove for towels and other items, a French-style glass cabinet would've also given the space a European look. However, the client adored the built-in arch and rustic shelves that suited the home best.
Shopping List for Adding Bathroom to Master Bedroom
Reinventing your home with Decorilla is a breeze. You can easily visualize (and feel!) your future space through 3D renderings, followed by comprehensive layout instructions. Plus, a custom shopping list sweetens the deal with exclusive trade discounts. A white glove concierge service is also a part of the package, allowing an effortlessly stylish look for any style on any budget.
Top Picks for a Master Bathroom Addition
From striking accents to cutting-edge technology and marble countertops, a master bathroom addition can exude a perfect combination of glamour and comfort. Check out these suggestions for creating a stylish oasis for relaxation.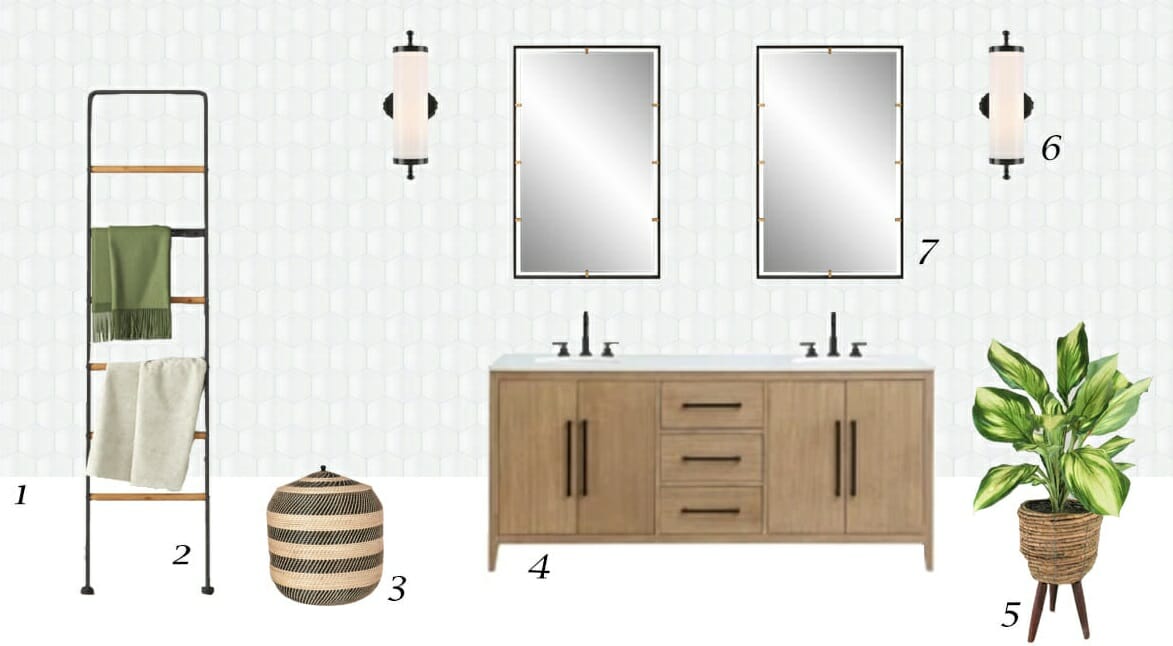 Need help adding a bathroom to your master bedroom?
Achieve a perfect harmony between form and function with interior design expertise. Schedule a Free Interior Design Consultation to get started today!

[images: Decorilla project images]