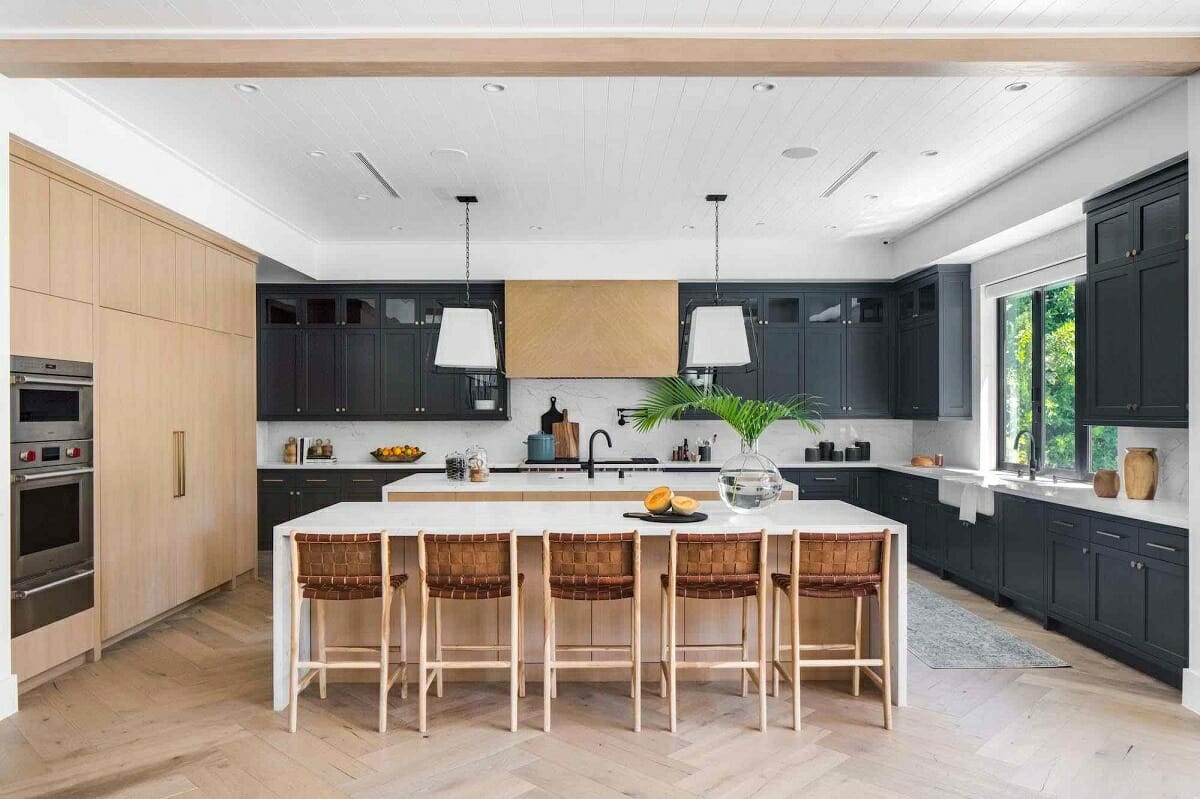 When it comes to home renovations, kitchen makeovers top the must-do list. It can nudge the resell price in the right direction and make life more enjoyable. Besides, a home refresh feels more than rejuvenating. It energizes. With this in mind, we've put together a few favorite kitchen before and afters. So, read on to see remarkable transformations – they're bound to inspire your own project! 
Best Kitchen Before & Afters 
What interior design can do for any space is nothing short of marvelous. Here are the top online kitchen designs that transformed once sad, dated, or impractical interiors. Today, these clients certainly have the best at the center of their homes.
Pro tip: Knowing your interior design style can help guide your kitchen remodel!

 Take our

Free Interior Design Style Quiz

to discover your unique decorating style today!
1. Contemporary-Classy Refresh
It's near impossible to imagine this high-end transitional kitchen as being anything but stunning. Yet, the kitchen before and afters show a dramatic change involving an extensive renovation. Fortunately, in the end, the space makes the best use of square footage and the hottest kitchen trends.
Before & After
Before, the kitchen had a dated look that was trendy once. But it needed an update, and soon a remodel opened new avenues. Structural changes gave way to a practical layout and beautiful cupboards.
Although the final design is a high-contrast neutral interior, it's a blend of styles. Contemporary French meets transitional glam in this space. Oversized pendants and a large marble island create a sense of great proportions. Painting the kitchen cabinets also makes one of the most striking differences between the before and after.
2. U-Shape Kitchen Makeover Before & After
Small yet undeniably stylish – this kitchen makeover brings a true presence to the interior. Since its change, the U-shaped kitchen has a great black farmhouse-style sink and a matching faucet. Its pendant lights and barstools also add to the striking look.
Kitchen Before & Afters
The previous kitchen felt like a tiny cubbyhole because of its raised bar counter. It was the first thing to go in the small kitchen remodel's before and after. Next on the chopping block were the cool white wall color and unused nook.
Now, a warm eggshell wall finish sets a cozy base for the kitchen. From here, the brilliant white countertop and cupboards could finally shine. What's more, it highlighted the contrasting dark bar area, showing off the brand-new edition.
3. High Contrast Design
One of the most satisfying aspects of design is when textures and materials work together to create harmony. This black and white kitchen is a prime example. A mixture of white marble, wood, black quartz, and textured porcelain creates an unforgettable interior.    
Kitchen Remodel Before & Afters
The new build was a blank canvas brimming with potential. That said, the floor area was limited. Nevertheless, the final design ensures the room feels spacious and bright.
Although there are many contrasting elements and tones, the design flows from one part to the next. This is due to the form and contours of the island, lighting, and cabinetry. Moreover, painting the kitchen cabinets black has led to a striking before and after. The dark hue also visually grounds the design that is set in a snowy area.  

4. Painting Kitchen Cabinets White – Before & After
On the other hand, opting for white cabinets in a darker room is a great idea. Similar to the high-contrast design, this kitchen has a black, white, and wood scheme. It illustrates the versatility of materials when inverting hues and picking a different shade of timber.
Kitchen Before & Afters
For this project, a significant overhaul wasn't an option. Instead, it needed an update of finishes and color scheme. Painting the kitchen cabinets white was one of the first steps to transforming the before into the elegant after. Other changes include modern lighting, a beautiful farmhouse sink, and new backsplash tiles. 
This project is one of the kitchen makeovers that shows how slight tweaks to the before can have a substantial impact after. Now the space feels light and right on trend. 
5. Organic Minimalism
Light ash wood and whites are a wonderful combination. In fact, this minimalist kitchen's strong lines let the finishes do the talking. Though precise and sleek, the space feels indulgent too. The reason lies in the details and the unmissable designer's edge.  
Before & After
Previously, the seafront home needed furnishing and personality. It was hard to imagine how spectacular the space could be. Yet, soon it glowed with contemporary chic.
The stunning kitchen won't need more makeovers or a before and after. Its exquisite design is clean and light-filled. Plus, the layout ensures the cook has a stunning view too.
6. Transitional Glam
Glam meets transitional in this remodeled white kitchen. Its undeniably stylish but also practical for a family home. Plenty of cabinetry, surface area, and floor space make this space a dream to use.
Kitchen Before & Afters
This project is another example of how painting kitchen cabinets can affect the before and after. White works so well in darker rooms like this one. It reflects light to give a lighter look to the interior. The kitchen remodel before and after images also show an additional end panel covering the fridge. The small tweak makes everything flow as one. 
The final kitchen uses the space to the fullest. The added velvet barstools, feature light, and new backsplash make it feel well-rounded and complete. 
7. Fashion Forward Luxury
Luxe and captivating: the high-end kitchen updates brought more than a memorable before and after. Gold finishes elevate white cabinetry to the fullest. These details also add a touch of Middle Eastern splendor.
Before & After
Although it's a small kitchen remodel, the before and after are worlds apart. Before the space was dated and dark, yet it had potential. A new color scheme, fixtures, barstools, and lighting made all the difference.
Today, the modish kitchen is the jewel of its home. Its welcoming glow shows off all that glimmers while also making guests and the household feel at ease.
8. The Ultimate of All Kitchen Before & Afters
Spectacular spaces aren't always built from scratch. Sometimes, they come from change instead. This kitchen, for instance, has unrecognizable before and afters. And the breathtaking result is thanks to a gut renovation – even wall partitions had to go!
Before & After
When the homeowners bought the house, they saw what it could be, not only what it was. And with an interior designer's help, they created something magnificent. It's spacious, lavish, and grand beyond a doubt.  
The immense kitchen makeover now boasts two islands; one for cooking and the others for guests or casual dining. Marble covers surfaces and the backsplash, while gold fixtures add the finishing touch.
9. Modern Cabin Transformation
At other times, walls can stay in place, but the kitchen layout needs reconfiguration. It can bring about an equally dramatic change. And this was the case with this renovated contemporary cabin kitchen.
Before & After
From a U-shape to an L-shape with an island, the kitchen remodel has strikingly different before and afters. Not only the cabinets but also the ceiling had a makeover. And the detailed crystal chandelier is a fantastic addition to the new interior.  
Finally, this renovated space feels cozy and neat. It's elegant to host guests yet comfy enough for family cooking. Plus, it looks stunning as white, brown, and blues form a pretty design.
10. Bold, Bright & Colorful
A few adjustments can make a tremendous difference in even the smallest of rooms. And for this kitchen, soothing turquoise cabinets, wallpaper, and a new layout were all it needed. Moreover, now it features a trendy breakfast nook too.
Kitchen Before & Afters
The small kitchen remodel before and afters show how a jutting counter can divide a room and make it feel cramped. The new space encourages a free flow of natural light and foot traffic because of an updated gulley layout.
The bright and colorful space also makes the most of storage space with wall cabinets reaching the ceiling. This change also makes the walls feel a little taller. And finally, an oversized pendant puts a spotlight on the fun dining nook with its array of scatter pillows. Its joyful kitchen design at its best.
Is your kitchen ready for an update?
If you want to update your kitchen and marvel at the breathtaking transformation, our team of vetted interior designers can help. So, schedule a Free Interior Design Consultation to get started today!

[Feature image: Leclaire Décor]