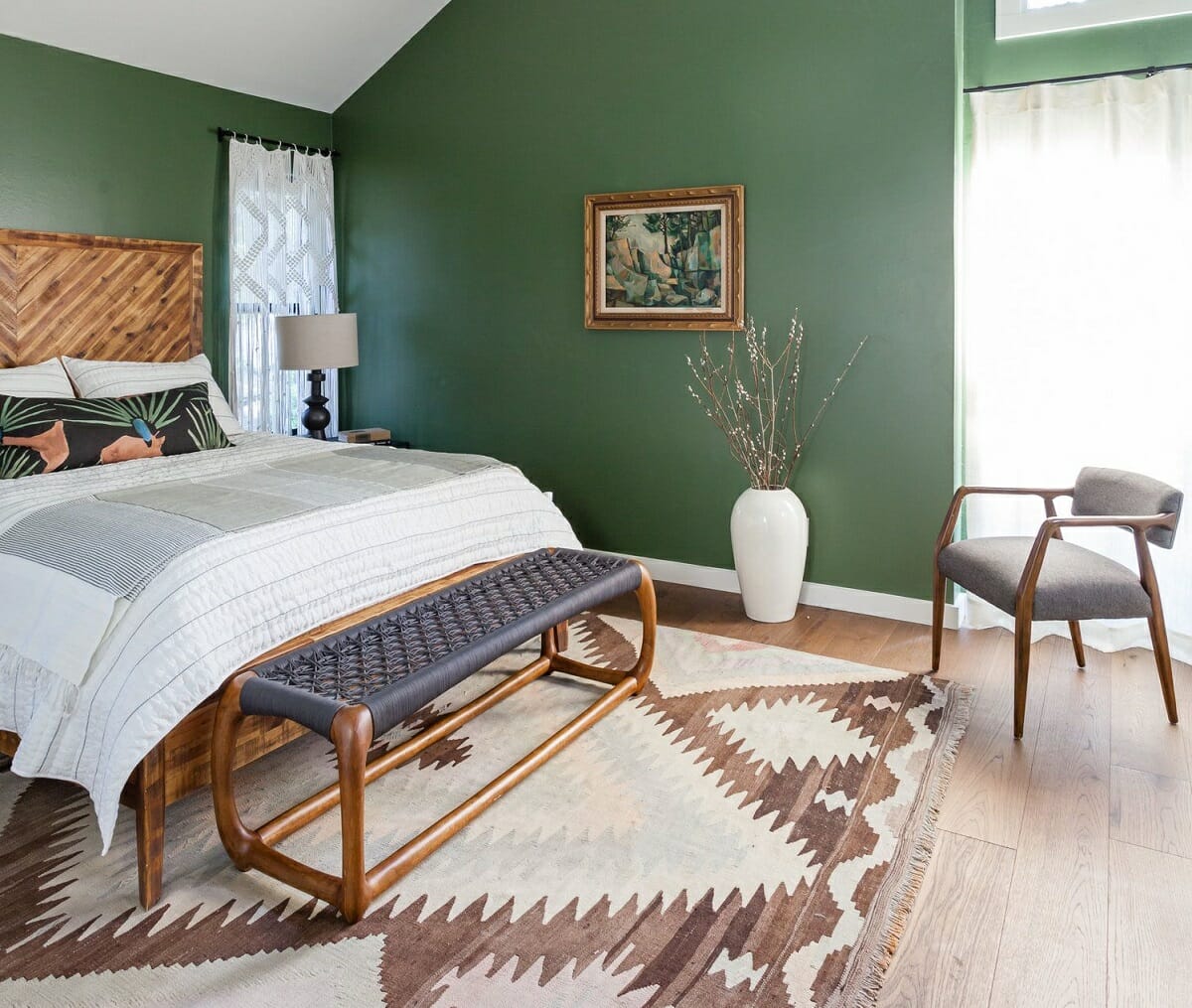 A vibrant color palette and simple yet functional design convey an effortlessly inviting feel. Moreover, such simplicity works well in many settings and styles. This green bedroom design story, for example, embraces contrasts to craft a harmonious yet unique interior. Read on to see how one client's interior makeover culminated with Decorilla's chic design!
The Challenge: Best Green Bedroom Design Ideas
After moving into their first home, the clients used Decorilla's online interior design services for their living and dining room. Happy with the outcome, they were eager to start on their bedroom. Its angled layout seemed awkward at first, but in living in the space for over six months gave the client a clear idea of the design they wanted. Hence, they expected the designer to:
Help them visualize the furniture – from the bed frame, nightstands, dresser curtains, lighting, and decor 

Make the most out of the late afternoon light

Maximize the functional potential of the room, taking advantage of the awkward layout  
Not sure if you want a green bedroom design? Then take our

Free Interior Design Style Quiz

to find your true style!
Best Green Bedroom Design Ideas & Inspiration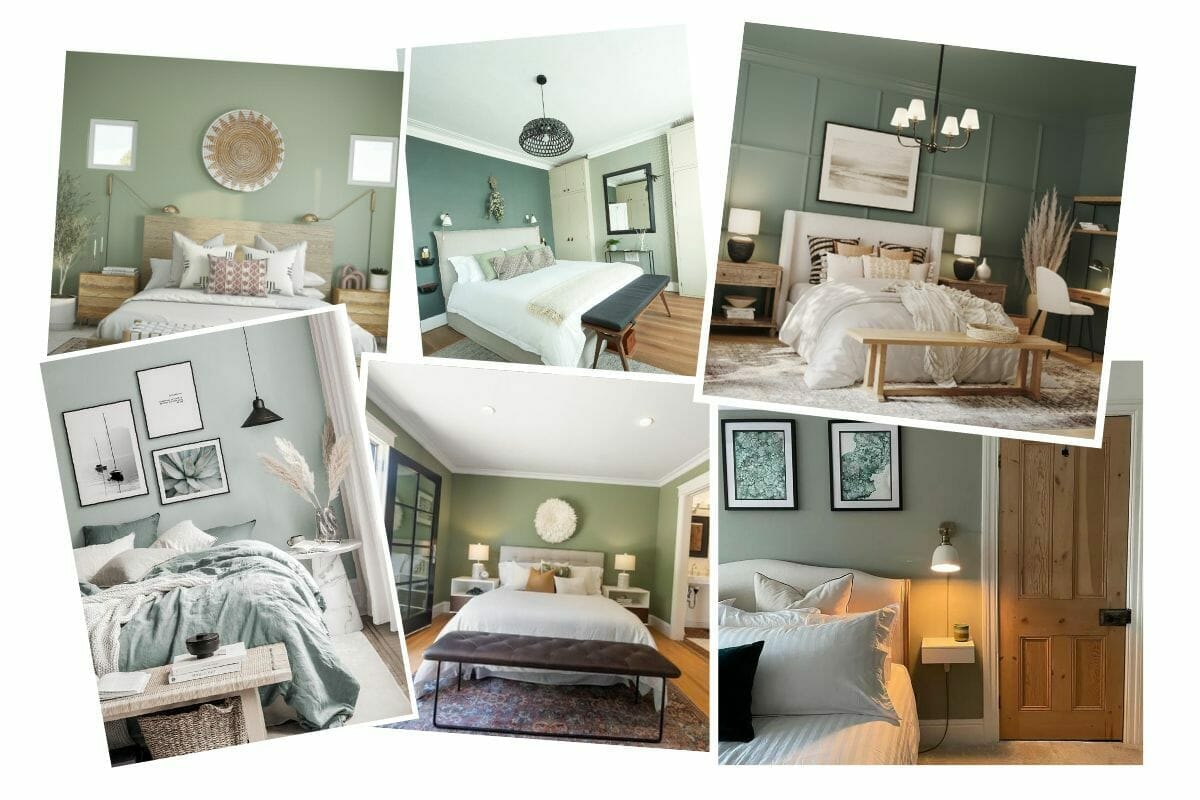 Bringing green elements into your design plans can significantly enhance a contemporary bedroom's relaxation and style. The clients' green bedroom inspiration gallery was filled with mossy tones providing a common, naturalistic background.
Against the calming tones stood a plethora of different elements and layered metallic finishes. Of these, matte black hardware and brass wall sconces stand out most. The vibrant compositions also feature industrial or glam accents, oozing a calming atmosphere that allows for relaxation and chic comfort. 
Green Bedroom Design & Moodboard
Since the clients had previously engaged with Decorilla on other projects successfully, the initial process was quite simple. They wanted to continue the visual story conceived in their living and dining room. Hence they asked for the same creator, Rachel H., to work on their online bedroom design. Shortly after, Rachel proposed her green bedroom theme in a moodboard, which was immediately accepted. 
Creating a green bedroom design requires careful consideration of color palette, decor choices, and functionality. Utilizing green not just to dress up the walls but also to accessorize the space through fabrics and decorative items offers a chance to infuse fresh energy and life into the room.
In the case of the client's bedroom, Rachel recognized and employed the scheme's potential to convey both serenity and visual dynamics.

Contemporary Green Bedroom Design Result
While the green hues ooze an atmosphere of tranquility, contrasting elements add a lot of optical interest to the room. A moody envelope juxtaposes with streamlined industrial-style details, bright wooden finishes, and white accents.
In addition, a mid-century modern-inspired accent chair establishes a smooth balance between the features, toning down the energetic vibe. Tying everything together with a washed-out rug grounded the composition further to define the character of a truly relaxing bedroom.
The storage solutions elegantly follow the modern style of the space. Opposite the bed, a built-in wardrobe adds a fashionable and aesthetically pleasing repository. It's fitted with matte glass sliding doors that enhance both the airy atmosphere and the overall green bedroom design concept.
Next to the bed, a white drawer cabinet with black metal hardware stands out against the green background. It's topped up with a large round mirror, placed ideally to reflect as much daylight as possible.
And when the sun is down, layered lighting takes care of the cozy atmosphere. A combination of black track lights and brass wall sconces creates drama and interest while maintaining the relaxing charisma of this green bedroom design. 
Before the New Green Bedroom Ideas
Before sprucing it up with the green bedroom theme, the space was primarily utilitarian. It served the purpose with a basic setup and no distinctive character. The walls were empty, and there was no rug or other home décor items and accents.
By changing the layout and organizing each element into a cohesive whole, the designer turned it into a chic, highly functional retreat.
Online Shopping List
With expert advice, clients can easily create their stylish and functional abode. Each Decorilla project offers a detailed 3D visualization with easy-to-follow implementation tips. The proposition also involves exclusive discounts on top products from leading vendors in one convenient shopping list!
Top Picks for a Green Bedroom Theme
The best green bedroom ideas should convey a perfect sanctuary for rest and relaxation. Check out our list of top picks of furniture and finishing touches assembled to create a truly memorable story.

Looking for more relaxing green bedroom design ideas? 
Experiment with different combinations of colors, textures, and lighting to create the perfect space that fits your unique design story. Schedule a Free Interior Design Consultation to get professional guidance today!

[images: 1, Decorilla project images]