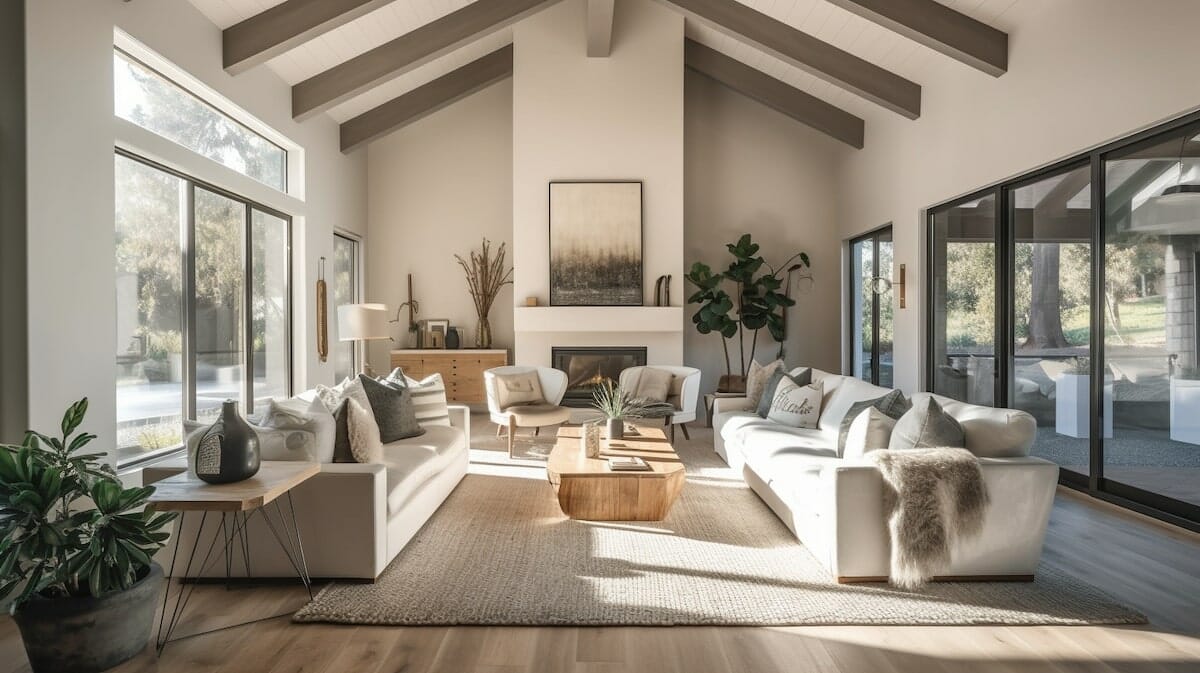 Hiring an interior designer can sometimes be thought of as a luxury service. Well, it's soon going to be 2023 and we're here to tell you that's not the case! With the many online interior design options out there it's possible to have a luxury, designer home without spending the big bucks.
The next question becomes, where do I start? There are so many different online interior design options out there. How do I know which is the right one for me? Keep reading as we compare two leaders in the online interior design industry, Decorilla vs Decorist. We'll help you decide which online interior design service is the right fit for you.
Decorilla and Decorist – A Quick Glance At Both
When you're looking to hire an interior designer, knowing the highlights and drawbacks of each service you're considering is crucial. We're here to help lay out the details between online interior design services, Decorilla and Decorist.
Decorilla takes pride in its ability to match designers and clients together perfectly. With Decorilla, you are presented with an initial concept moodboard from two separate designers. You then have the opportunity to choose which designer to continue working with. Decorilla packages are custom, not cookie cutter. They offer flexibility to adapt to your needs, all of which can be discussed in the one-on-one free initial consultation. Interior designers at Decorilla have interior design degrees and can provide custom items and CAD drawings for larger-scale projects.
As for Decorist, they also have hundreds of designers on their wonderful platform. They're one of the more recognized interior design companies out there. Their prices are attractive and the results are quick and detailed. Decorist offers two 2D concept boards from only one interior designer.
Decorilla vs. Decorist: Overview Comparison
Let's start by looking at what's included in each online interior design package.
Decorilla Packages
Design Concepts from Multiple Interior Designers

They include furniture, decor, a floor plan, and a color palette. You have the option to choose which designer will continue designing your room.

3D Renderings

Photo-realistic images of your new room with the designer's suggestions. You're able to see how everything looks in the room before making any purchases.

Online Shopping List

Shopping list detailing everything you need to know about your designer's suggestions. Included are details such as size, color, fabric specifications, etc. Moreover, Decorilla passes along its designer discounts from hundreds of popular vendors and never pressures you to buy anything.

Detailed Furniture Layout

An easy to read detailed floor plan of your room. It's easy to see where everything from your shopping list should be placed.

Color Palette

Paint color suggestions that will compliment your space.

Tips and Implementation Guide

An easy to follow to-do list to help guide you through the decorating process. Your designer will share any tips and tricks he/she has for finishing your new room.
Schedule a Free Online Interior Design Consultation from one of Decorilla's online interior decorators today. Or if you're ready to get started, 

Choose a Design Package

 that suits you with a click of a button!

Decorist Packages
Two Concept Boards From One Interior Designer

You are paired with one designer who presents two options for your room

2D Room Design Board

A 2D layered design board showing new furniture and decor

Shopping list

Shopping list showing prices and store information for new pieces. Decorist offers online price matching.
Decorilla vs Decorist: Features
| FEATURES | DECORILLA | DECORIST |
| --- | --- | --- |
| 3D MODEL | 3D photo realistic renderings | 2D moodboard & photo-shopped image |
| CONCEPTS FROM MULTIPLE DESIGNERS | Yes - competing design concepts from multiple designers | No - 2 concept proposals from 1 designer |
| REVISIONS | 4-10 | 4 |
| DISCOUNTS ON FURNITURE | Yes, 10%-45% off popular brands | No |
| INTERACTIVE ONLINE PLATFORM | Yes | Yes |
| INCORPORATES EXISTING PIECES | Yes, in 3D | Yes, in 2D |
| NO MARKUPS OR SALES PRESSURE | Shopping list and discounts do not expire | Shopping list does not expire |
| TYPICAL PROJECT DURATION | 3-5 weeks | 2-5 weeks |
| IN-HOME CONSULTATION AVAILABLE? | Yes | No |
| ORDERING CONCIERGE | Complimentary white-glove purchasing service | Complimentary purchasing service |
| CUSTOM WORK & CAD DRAWINGS | Yes, with the gold package | No |
| RENOVATIONS | Yes, in 3D | Yes, in 2D |
| PRICING | $75 - $1,699 | $299 - $1,299 |
Decorist vs Decorilla: Design Process and Flexibility
When it comes to interior design, a lot comes down to personal opinion and style. When deciding how to choose the right interior design service for you, it's important to consider how they both approach not only the design process but also the flexibility offered.
Decorilla Interior Design Process
The Decorilla experience is personalized to you from the very beginning.  The process starts with an interactive questionnaire and one-on-one consultation with an interior designer to determine which package will suit your needs best. They offer bronze, silver, and platinum level pricing, which also determines the experience of the interior designer. If any of their predetermined packages don't appeal to you, they'll create a custom package based on your needs. They also offer in-home consultations in over 20 major US cities.
After the initial consultation, you're then paired with two interior designers that are style matched to you. With Decorilla, their designers compete to work with you. Both designers submit concept boards based on your requirements and budget, then you choose which designer to continue working with. Throughout the process, you stay in constant communication with your designer through email or on the Decorilla platform.
The designer selected to complete the project will then finalize the design with photorealistic 3D renderings (including any existing furniture + décor). The final design package includes the following: moodboard, color palette, floor plan, 3D renderings, an online shopping list with designer discounts, plus tips, and an implementation guide. Discounts on furniture and decor range from 5% – 45% with hundreds of top retailers. The money saved on furniture can essentially pay for the Decorilla room package. Decorilla online interior designers take on projects from all over the world, not just the US.
With Decorilla, one-on-one customer service is always there to help with questions and concerns. You can ask both designers to revise the moodboards in any way (the more detailed feedback the better) to see if they can better capture your style. If you are still not happy, Decorilla can bring in another designer to submit an additional moodboard.  
Decorist Design Process
The Decorist website is easy to use and attractive which is impressive right off the bat. Before starting your project there is an optional interior design style quiz to help determine the direction you want to go. This also helps Decorist pair you with a designer of similar style tastes. For starters, you are asked to choose your room(s) then choose between the classic, elite, or celebrity package.
After uploading all of your inspiration, measurements, and photos of the space, you receive two proposals from one interior designer. Once you and your designer refine the design together you're presented with the final package. This includes a 2D layered concept board, floor plan, and shopping list. In addition, you can choose to add on 3D renderings for an additional fee before starting the shopping process. Decorist interior designers source their products from trade-only brands, up-and-coming brands, as well as some popular brand retailers. These online interior design services are only offered within the US.
Decorist vs Decorilla: Furniture Brands
The Decorist interior designers source their furniture from hundreds of different popular retailers and vendors. They choose stores that fit your design style and keep the budget in mind when making design decisions. If you have a specific store you want to shop at, just let your designer know and they will do their best to accommodate. They also offer online price matching which can help save money in the budget.
The Decorilla design team utilizes over 250 different furniture vendors. This includes popular retailers like Crate & Barrel, West Elm, and Wayfair, in addition to trade-exclusive brands. Decorilla offers incredible discounts of up to 45% off retail prices and works hard to beat other online pricing. Designers at Decorilla do not make money based on the furniture you purchase, so they always have the client's best interest in mind when sourcing items and finding deals.
Decorilla vs Decorist: Ease of Use
In similar fashion to Decorist, Decorilla has a very beautiful and easy to use website.  After starting a project all of the communication is done online on the straight forward platform. Clients can even reply to messages from their Gmail and it gets posted to the website. Throughout the design process, it's clear which stage you are in and what you can expect to happen next. If you have questions at any time there are multiple sources you can turn to for help.
Decorist also has a wonderful and easy to use platform for its clients. Similar to Decorilla, communication is done online. The messaging system makes it easy to communicate with your designer when it's convenient for you by logging into your Decoirst account. Decorist designers also stick to a timeline so you know when you should be receiving your final product. However, some of the design process happens offline.
Decorilla vs Decorist: Customer Support
Quality customer service is something that both Decorilla and Decorist take very seriously. They both have a dedicated team of customer service representatives that are available to help with any issues that may arise. The Decorilla customer service team has 24/7 support. Even if your designer is not available, there will be a team member that's able to assist you at any time. In addition, the Decorist team offers great hours of operation. They are available to help Monday-Friday from 9am-6pm EST. Both companies offer a 100% satisfaction guarantee so it's risk-free to give either one a try!
Decorilla vs Decorist: Pricing
Online interior design has changed the game when it comes to how much interior design costs. Online interior designers cost 80% less than traditional design. There are so many additional options and choices without being limited to someone local. No challenge of scheduling in-person meetings, choosing a designer who fits your style, and setting your own timeline are just a few of the perks of designing your room online. Here is a breakdown of each companies pricing:
Decorilla breaks down its pricing depending on the room and level of the designer. Smaller spaces like entryways and patios have different prices than larger spaces like living rooms and dining rooms. In addition, they also offer multiple room discounts if you want to take on more that one space.
Bronze Design Package – $549 – $899/room

Includes two experienced designers' concepts and communication
Designers have 2-5 years of experience and an interior design degree
If your requirements are simple this package is perfect for you

Silver Design Package – $649 – $1,099/room

Includes two very experienced designers' concepts and communication
Designers have 5-10 years of experience and an interior design and/or architecture degree
Gorgeous designs are done seamlessly

Platinum Design Package – $1800 – $3,200/room

Includes two high-end interior designers' concepts and communication
Designers have over 10 years of experience and an interior design and/or architecture degree
End-to-end project and timeline management
Designer calls
Drawings for contractors as needed
Exclusive furniture sourcing and highest quality items
Exceptional designs for any space (best industry knowledge for decor and renovations)

Custom Hourly Design – $75/hour

Custom packages available if the other packages don't cover your needs
Decorist Pricing
For Decorist, they break down the pricing based on the package chosen. In addition, you can also take advantage of a multiple room discount when doing 3 or more spaces at a time.
Classic Room Design – $299/room

Includes 2D concepts from one new interior designer

Elite Room Design – $599/room

Includes 2D concepts from one interior designer with at least 5 years experience

Celebrity Room Design – $1,299/room

Includes 2D concepts from one published interior designer with a signature look
Decorist Reviews vs Decorilla
Decorilla Reviews from Customers (5 stars)
Check out what some happy Decorilla customers had to say:
"Such a great and fun experience! The Decorilla team is very professional and personable as well. Both of my initial design proposals were great, and I had a hard time picking just one person to work with. Taron H exceeded my expectations for a master bedroom update and the entire process was super easy. Taron H was a pleasure to work with, always answered my questions in a timely manner, and what I liked most was his ability to take what I was envisioning and then incorporate some really creative ideas that I would never have thought of on my own! I will definitely be using Decorilla again for additional design needs in the future!"
"I've used this service three times now, and am super pleased with the process and the quirkiness of the designs I've seen. In fact, I'm attributing the success of my rental home almost entirely to one of the designers, and have purchased an additional package for my living space and office. Some of the designers will not "get" your aesthetic, but that's the point: to give you choices and see if something resonates. I'm not sure what comparable design services cost, but this is a great way to get top-notch interior service without fuss or pressure or obligation."
Decorilla Reviews from Interior Designers (4.3 stars)
Decorilla interior designers also had great things to say about the company:
"I've been working for Decorilla for about 5 years and I have loved every minute of it! The admin side of the company is so organized and always there to help with any questions I may have. They've always kept me busy with a great amount of client projects and I've met some incredible people through this company! I love the Decorilla collection and the discounts we're able to pass down to our clients. A freelance interior designer can't ask for much more!"
"I work part-time for Decorilla and have really enjoyed working with everyone there. Great energy starting from the top and going all the way through. Also, I have been able to learn quite a bit about the online interior design process while with them in addition to doing a variety of interior design projects. If you want to do virtual design work for a company that actually does interior design and not just decorating, and deal with clients that understand you're the expert, then Decorilla is probably where you want to look."
Decorist Reviews from Customers (5 stars)
Here is what some Decorist customers had to say about their experience:
"Working with Decorist was such a wonderful experience. From my initial inquiry to the final reveal, they made the entire design project process so easy. The interior designer they teamed me up with could not have been more perfect. Extremely talented and her aesthetic fit my exact style. I can't wait to do another room with Decorist! Thank you so much for helping me create such a beautiful room! I could never have done it without you!"
"Loved my very first experience. Had no idea how to arrange the room or where to even find decor for it. The toughest part was deciding what I liked best. Every item is listed and ready to purchase, even the paint color. They really make it very easy to decorate a room and worked very well with my budget. Highly recommend."
Decorist Reviews from Interior Designers (2.8 stars)
In comparison, there were some happy Decorist interior designer reviews, but others had different opinions.
"Some of the most creative and talented people I have ever worked with, in both the start-up and design industry. There was always an open-door policy with leadership, and opportunity to contribute to higher-level goals on all team levels"
"Designers are not paid for their time. There is an excess amount of demand from the company and you end up doing back end admin work. There is ALWAYS pushback. They do not treat their designers like clients… but without the designers, there would be no clients. They do not follow through with their incentive program. There is no system for designers to log and track their projects and payments. They seem to be really disorganized and ALL over the map."
Decorist and Decorilla Alternatives
If it doesn't sound like Decorilla or Decorist are the right fit for you here are some great alternatives to look into.
Wayfair Interior Design Service
Wayfair Design Pros
Very affordable interior design advice
A detailed questionnaire about project goals, space, and style
A choice between three different room packages
Wayfair Design Cons
Only suggest furniture sold on Wayfair
Only the most expensive packages come with a 3D room visual
Not all packages offer revisions
PFuner E-Design Services
PFuner E-Design Pros
6-8 week turnaround time
two style boards with one revision included
swatches of fabric, wallpaper, and paint
PFuner E-Design Cons
higher upfront cost
all communication via email
no furniture discounts
West Elm Interior Design Service
West Elm Design Pros
Free interior design services
Offer art installation services
Make your home look like a West Elm showroom
West Elm Design Cons
Only suggest furniture at West Elm
No additional discounts offered
Decorilla vs Decorist: Major Differences
It's easy to see why both of these online interior design services are on top of their game. With so many similarities it may seem a bit overwhelming on which one to choose. Let's break down the major differences we've found between the two.
Decorilla
Concepts from multiple interior designers
3D renderings & VR designs
Shopping list with trade discounts on furniture and decor
Custom hourly design packages
24/7 customer support
Has an in-house team of architects and designers to handle large scale projects and custom builds
In-home and online interior design services
Online interior design available worldwide
Decorist
Concepts boards from one interior designer
2D final design board
Renderings are not included
Shopping list with price matching to best available online
Customer support offered Monday-Friday
Only available to people in the US
Ability to choose online celebrity designers
With all of that information in mind, we hope to make the process of choosing an online interior design service easier for you. Still have questions about which online interior design firm is right for you? Schedule a Free Interior Design Consultation today and learn more!