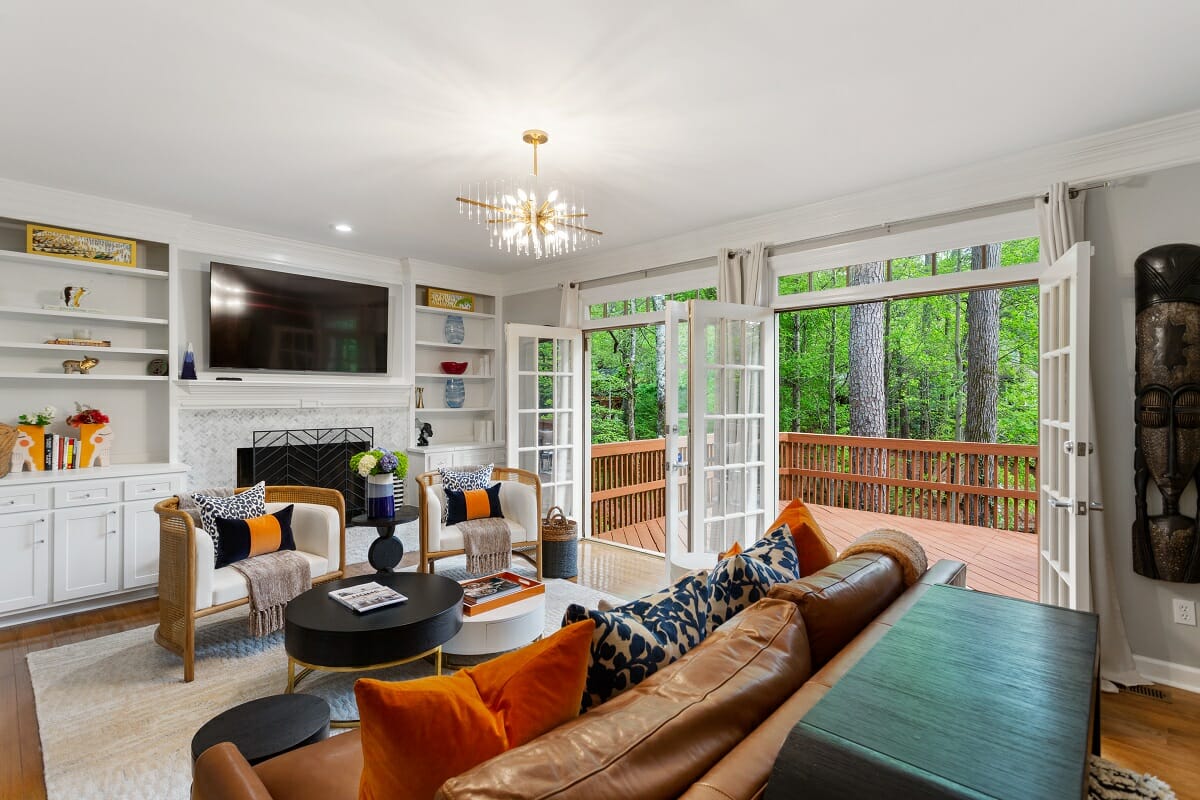 Creating meaningful spaces is Sierra Glasgow's source of joy. This Decorilla interior designer is passionate about bold designs inspired by Afro-Culture. As a result, her homes speak to her clients' unique personalities and cultures. Read on to see how her creative projects come to life with her eye for design!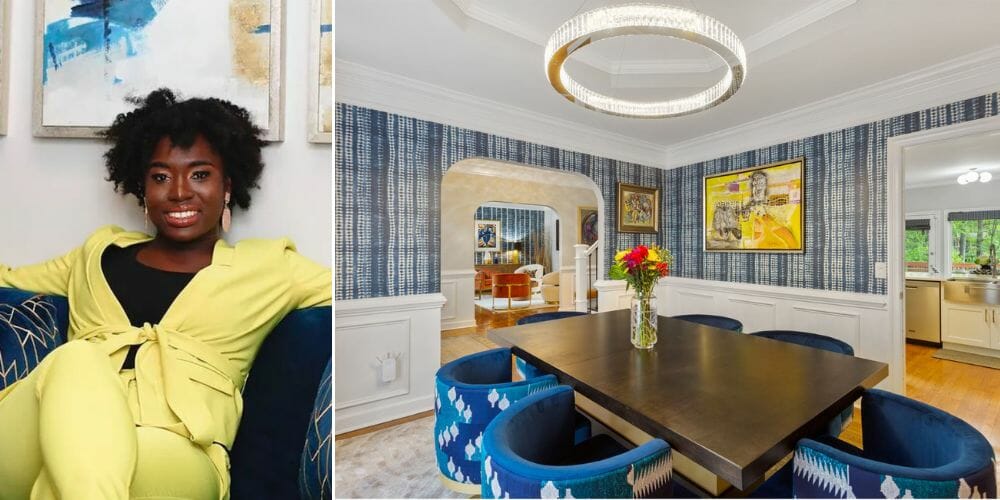 Rich and luxurious designs inspire online interior designer Sierra Glasgow. Her "maximalist-minimalist" approach to interior design leads to vibrant and lively spaces. Her creativity shines through her bold choices of colors, patterns, and textures. And let's not forget her love for plants! Collaborating with her clients, Sierra creates beautiful spaces virtually and in person.
Love Sierra's online interior designs? Then, schedule a Free Interior Design Consultation to learn more about working with this talented virtual home decorator today!
Did interior design always interest you?
Yes. I've always been interested in interior design. How people live in their homes, decorate their spaces, and celebrate their culture and traditions always inspire me. I believe that a home should reflect your personality and culture.
How would you define your design style?
My design style is bold, flavorful, eclectic, glam, and mid-century modern with a sprinkle of vintage. I consider myself a maximalist-minimalist and I'm not afraid of taking design risks.

Who or what influences your work?
Afro-Culture influences my work. My inspiration arises from ethnic tribal fabrics and bold Afro-style art in African or Black culture, and I love to incorporate it into my work. Although Afro-style designs are my favorite, I like to be creative with color, patterns, and texture in any space.  
What's a must-have item you make sure your interior designs include?
Plants! A room isn't complete without plants; they bring positive energy and balance to any space. Not only are they beautiful, but they are also beneficial to your health and remove unwanted toxins from your home.
What's a recent design trend that you love at the moment?
I'm loving the 'monochrome paint' trend, bold wallpapered ceilings, and abstract wallpaper! These accents can make any space feel rich and luxurious.
If you had to pick a favorite room in your home, which would it be and why?
My living room! It's colorful, creative, and has all my favorite things. It is the center of my family's home, and each furnishing has a beautiful memory attached to it.
What is your favorite design magazine or blog and why?
If I had to choose my favorite design magazine, I would say it is Architectural Digest. In particular, the celebrity style section as it has many inspiring celebrity house tours. I love to see how they live outside of the entertainment world as it tells much about them and their family.
What is the best thing about being an interior designer?
The best thing about being an interior designer is the opportunity to create meaningful spaces for people from all over. Whether this creation process is virtual interior design or in person.
What was your first big project and what was your favorite part?
My first big project was with a real estate friend from Atlanta. We collaborated to renovate and redesign her home. The best part about working with her was she trusted my creativity and eye for design. She wasn't afraid to go above and beyond with design, and I loved that about her.
How do you manage challenges that come up during a design project?
When I'm at a point in the project where things are challenging, I find it best to take breaks and revisit it with a fresh and restful mind. I may research to see how other professionals address similar challenges. I also effectively communicate the challenge and solution options to my clients. Using these methods has helped me tackle any design hurdle.
Why do you like virtual interior design?
It's a great way to work with people from all over. I also love creating 3D visualizations to help the client see the space before purchasing the products and implementing the design. 
Online Interior Design Opens New Avenues 
Decorilla's online interior design offers limitless possibilities. It provides expertise on-call, with an experienced interior design team ready to find your perfect fit. You can conceptualize your new space remotely and tweak final designs conveniently while keeping costs low.
Plus, Decorilla is flexible and intuitive. After setting your needs and completing an initial style quiz, you're off to creating a brand-new interior. The expert design team ensures you find your ideal interior designer by matching expertise to your needs. Whether you want a glam living room or an inspiring office, an online interior designer can craft your dreamy interior in no time!
Step-By-Step Process
Decorilla places the client's satisfaction at the forefront. Interior designers ensure the final design meets your expectations. And if you're not entirely satisfied, you can request adjustments to align with your desired look. The online platform also lets you dictate the style and aesthetics from the very beginning.
Start the hassle-free process with a quick quiz and virtual team chat to pinpoint the scope and requirements of your project. Then, Decorilla uses all this info to assign interior designers who align with your ideal space. 
Once matched, designers present distinctive concepts, and you can choose your favorite. You can request revisions if the initial proposals don't fully resonate with you. After picking the winning concept, its designer will collaborate with you to refine it and capture your vision accurately. 
Your chosen designer will keep in touch with you to make sure everything turns out just right. And once the design is finalized, you'll receive photorealistic 3D renderings of your new room. Plus, you'll get a handy guide and an online shopping list. The best part? The shopping list includes exclusive discounts to help you cut costs – offsetting the design cost too! 
Want to find the right interior designer for you?
If you enjoy her style, start a project with Sierra! Or schedule a Free Interior Design Consultation to let Decorilla find your perfect designer today!