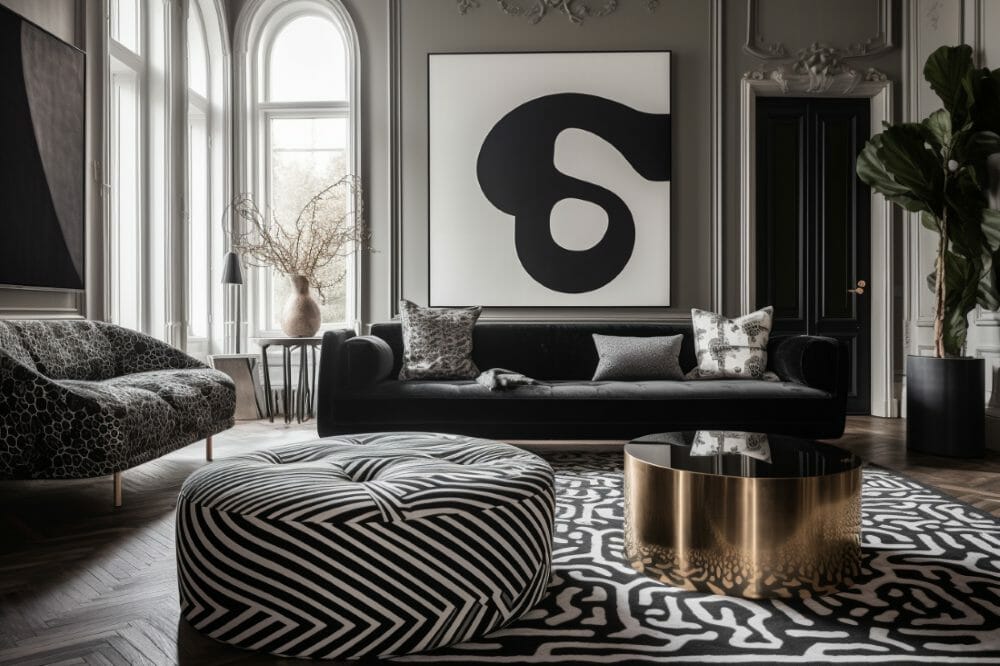 Welcome to our favorite curvy designs, where curved furniture makes waves in interiors. Functional yet elegant: these flowy forms bring visual intrigue to any room. You can amp up your space, too, with its seamless flow and graceful contours. Let's delve in and explore the captivating allure of curved furniture and its ability to transform spaces. 
What is the Curved Furniture Trend?
This contemporary trend celebrates the beauty of smooth curves and organic shapes in furniture design. In essence, it breaks away from traditional lines and angels. It opts for soft arcs and light bends that create a sense of harmony in a typically linear structure, like a room. Gentle or voluptuous shapes come in furniture and even decor – from curved sofas to statement lighting.  
Tip: Styling curved furniture is easier when you pick a design style. Know yours? Try our

 Free Interior Design Style Quiz

to pinpoint your true style!
When buying furniture online with this trend in mind, looking for items that create a sense of fluidity and movement within a room is important. In this way, your interior will have both ergonomic benefits and a more inviting atmosphere. Whether it's a coffee table that centers the room or a curved sectional sofa, this trend offers a refreshing take on a captivating aesthetic. 
Curved Furniture for Every Room and Function 
When it comes to styling curved items, the possibilities are endless. The key is harmonizing the curves with your overall aesthetic, creating a balanced composition. Keep these tips in mind when browsing online furniture stores! A curved sofa can easily become the focal point of a room with enough space to stand out. Let's explore how to experiment and create a captivating interior.
1. Curvy Dressers in Their Organic Form 
Bring a sense of grace and fluidity to your bedroom with a curved dresser or armoire. Its curvaceous silhouette adds a touch of sculptural elegance to any room. This dresser adds a striking focal point while providing storage for your clothing and personal belongings. Its vintage-inspired design with gentle curves effortlessly combines practicality with an artistic appeal. Pair a feature piece like this with a neutral color scheme for it to stand out or a maximalist style with a wall print and eclectic decor. 
2. A Rounded Headboard that Embraces Softness
Transform your bedroom into a serene sanctuary with a rounded headboard. This curved furniture adds a gentle touch to your sleeping area, creating a soothing atmosphere. Besides being a stylish backdrop for the bed, it offers a sense of coziness and comfort. In addition, the natural woven wood grains complement various styles. It's certainly a versatile option! 
3. A Curved Coffee Table for Style and Function
The elegant form of a round coffee table creates a dynamic focal point. While it certainly boosts the room's aesthetics, it's also very practical. The tabletop is spacious enough to hold drinks, books, and décor. Keep decoration minimal yet contrasting. For instance, you can juxtapose straight, slender candles and angular sculptures on a round surface. Besides adding a touch of sophistication, a rounded coffee table complements many seating layouts. It'll enhance flow and encourage conversation in your room. 

4. Chic Yet Comfy Curved Accent Chair 
Infuse your space with modish comfort with a curved accent chair. Besides being a cozy sitting spot, this chair is a visual delight. Its curvaceous lines and sleek finish add an inviting element to your living room. In addition, the graceful curves provide ergonomic support while exuding a sense of elegance. Place a small dot pedestal next to it, and you'll have a beautiful vignette. 
5. Balanced Form and Function with a Curved Nightstand
A curved nightstand combines shape and function seamlessly. Moreover, its soft contours lend a touch of class to your bedside area. Delicate table lamps or contemporary pendants can enhance their look even more. Whether you select a minimalistic design or one with details, a curved nightstand softens a space meant for relaxation. 
6. A Curved Table Brings an Artistic Twist to Dining Spaces
Elevate your dining experience with a curved table that adds an artistic touch to your eating area. The rounded shape will also add a sense of flow and movement, forming an intriguing focal point. A round dining table certainly holds a unique charm that makes the interior all the more memorable. You can emphasize the curve with round-backed chairs or contrast the style with unfussy, upright modern designs instead. 
7. Curved Chaise Lounge Chairs
A curved lounge chaise is the ultimate in relaxation and opulent design. These luxurious furniture pieces invite you to recline and unwind in unparalleled comfort. With their curvaceous design and upholstery, lounge chairs become a statement of sophistication in your home. These chairs contour and fit your body, offering an ergonomic eating experience. Let them take center stage as a single accent chair in a living room layout or as an indulgent feature in a neoclassical bedroom or bathroom. 
8. Sculptural Comfort with a Curved Sectional Sofa 
A curved sectional sofa elevates a living room design with sculptural beauty and sumptuous comfort. Incorporate this statement piece to get the best of both worlds by offering ample seating space. It also comes with a captivating design. Moreover, the flowing lines and smooth curves encourage leisure and casual conversation. It's sure to become unmissable. 
9. A Curved Sofa To Unwind In Style
Immerse yourself in ease and style with the serene curved sofa trend. Combining modern design with elegance lets you showcase graceful curves inviting you to unwind. Moreover, a curved sofa can become the epitome of your living room with its smooth contours. The harmonious shape allows you to experience a new level of coziness in vogue. Pair it with scatter pillows and a chunky throw to complete the picture. 
10. Inspired Elegance with a Curved Writing Desk
Elevate your productivity with curved writing desk furniture. In essence, such a design combines practicality with an artistic flair. It lets your creativity flourish while sitting comfortably in an ergonomic design. So, transform your workspace into a productive hub with a curved desk that showcases rich wood and a modern finish. Complement the style with a statement table desk and a vintage chair. 
Want your own interior design with curved furniture?
Our talented designers can help you create a timeless interior. Schedule a Free Interior Design Consultation to find out more today!