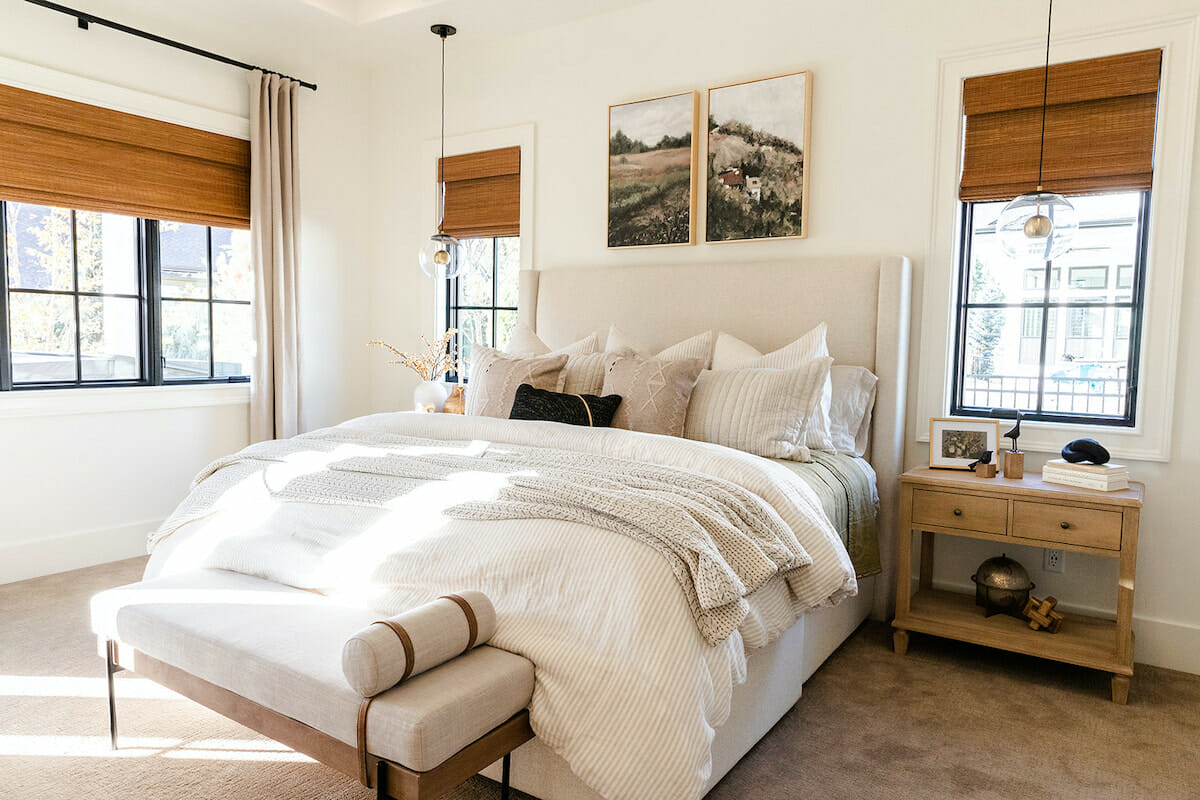 When it comes to transforming your bedroom, it's easy to get overwhelmed by the cost. We all know how decor temptations can add up quickly and blow through your pocketbook. But that doesn't mean you can't have the bedroom of your dreams! These budget bedroom decor ideas can help you reinvent your space without destroying your bank account. Read on to discover top tips from real interior design pros.
Quick Tips for Decorating a Bedroom on a Budget
Creating a beautiful (and budget-friendly) bedroom doesn't have to be difficult—it just takes some planning, creativity, and affordable interior design tips! By following these budget bedroom decor ideas, you'll be able to come up with a space that oozes a luxurious vibe without a matching price tag. 
Determine your spending limits:  

The first step to decorating a bedroom on a budget is to determine how much money you are willing to spend. This will help you to set realistic expectations and avoid buying on impulse. 

Choose a theme:  

Once you have determined your budget, define a theme for your bedroom. This will help to provide direction and cohesiveness to your decorating efforts. If you are unsure what kind of theme you would like, try looking through magazines or online for inspiration.

Shop around: 

Get a clear idea of the items you need, and start looking for them. Compare prices at different stores before making any purchases. You may also want to look for sales or clearance items that can help save you money.

Be willing to compromise: 

Prioritizing can be necessary, and it's often useful, in order to stay within your budget. Remember that creating an appealing space that meets your needs is the most important thing.
Pro tip: use affordable bedroom decorating ideas that fit your style preference. Not sure what that is? Take our free

interior design style quiz

to discover your personal design style today! 
Best Budget Bedroom Decor Ideas
Sometimes, it takes just a few simple updates to create an entirely new look and feel in your home. Even better: it can be achieved without breaking the bank. From repurposing old furniture to adding a new statement piece, here are some creative budget bedroom decor ideas for everyone.
1. (Re) Upholster Your Headboard
Make your bed the star of the show with inventive and budget-friendly bedroom decor ideas. One convenient option is to change the headboard upholstery and create a bold statement. If you, however, don't have a headboard—consider adding one. This simple addition can make a big a big design impact by creating a focal point to the room while giving a polished feel. 
Turn the most beloved room of the house into a special place with the magic touch of a talented yet affordable interior designer. It's one of the shortcuts to an exquisite bedroom that delights all senses yet doesn't take all your savings away at the same time. The professional designer will help you bring out your own style in the most functional, cohesive way. Moreover, online interior design services can make your vision come to life by carefully sourcing furnishings, fabrics, textures, and color schemes explicitly made for you and your budget.

3. Invest in Multipurpose Pieces of Furniture
Decorating a bedroom on a budget doesn't always mean sacrificing style. A single furniture piece can do more than one function at a time, saving you both money and floor space in the process. In addition, many multipurpose designs include hidden storage, which can help you create a clutter-free, aesthetically pleasing environment. Consider ottomans, footstools, convertible sofas, and even modern Murphy bed sets that offer an array of extra options.
4. Budget Bedroom Decor Ideas With a Canopy
An elegant canopy used to be a symbol of luxury in old times. Nevertheless, designing a simple canopy for your bedroom makeover today doesn't have to cost an arm and a leg. Even on a budget, it's easy to create a warm and cozy atmosphere with an eye-catching fabric canopy, which can be quickly hung from the bed or anywhere else in the room. Depending on the pattern and material, it can turn your chamber into a bohemian journey, a whimsical dream, or something completely authentic and your own. `
5. Easy Budget Bedroom Decor Ideas with Upgraded Lighting
While designing a bedroom on a budget, upgrading your lighting should be at the top of your to-do list. In fact, think of it as an ultimate embellishment. It's amazing what a difference new bulbs, shades, and fixtures can make with minimal cost and effort. And what's even better, quality lighting does not have to come with a hefty price tag. Shopping around for deals and taking advantage of special offers can help you find some quite unique designs. 
6. Shop for New, Coordinating Bedding and Curtains
Try coordinating bedding and curtains to make the space feel pulled together and luxurious. Combining these two elements will seduce the eye and create a focal point for the rest of your bedroom. Pick colors and patterns carefully to enhance a cohesive flow throughout the space. Consider mixing textures to add depth or use solids with different shades of the same color to achieve an effortless designer appeal. 
7. Look for Affordable Artwork & Decor That Communicates
Decorating a bedroom on a budget doesn't mean you need to settle for something that doesn't reflect your taste. Shop around to find affordable artwork and decor that speaks to who you are – whether that's bold abstract paintings or one-of-a-kind 3D art. Also, avoid shopping impulsively and take the time to find something special. You can add an extra dimension with string lights, candles, and other small items that collectively showcase the power of the little details.  
8. Use Walls to Create Contrast in the Room

One affordable yet highly impactful method to refresh the space is using two-toned paint colors. Instead of repainting the entire room, consider creating distinction with an ombre effect, horizontal stripes, or a graphic pattern. Alternatively, you can opt for mural decals or wallpaper accents as an even simpler course to upgrade your bedroom on a budget. Peel-and-sticks offer a virtually endless array of patterns and textures in a broad price range, often coming easier and cheaper than completely repainting or re-papering the walls. 
9. Invest in an Oversized Area Rug 
An oversized area rug can add more warmth and texture to a bedroom while also zoning it out. In addition to practical assets, it offers an easy and affordable solution to upgrade and refine the look of any space instantly. When carefully chosen, this eye-catching piece can be the center of attention. Opt for a bold graphic pattern if you need a stylish accent, or go with a neutral look that will seamlessly blend into the overall design.
10. Remake & Repurpose
When it comes to designing a bedroom on a budget, it's always good to take a closer look at what is already in use. With a bit of creativity and imagination, existing items can be given a new, attractive and functional life. Repainting an old dresser, repurposing an unused nightstand for storage, and turning extra fabric into eye-catching curtains are just some of the budget bedroom decor ideas you can use. Also, make a round in thrift stores and flea markets—you never know what stylish temptation might be lurking behind the corner. 
Ready to decorate your bedroom on a budget?
Getting the room of your dreams is much more accessible than you might think. So, schedule a Free Interior Design Consultation to learn more today!

Featured image: [Decorilla Designer – Sharene M.]