How do you create a masculine and modern office that is welcoming? One recent Decorilla client faced this design dilemma and hoped to turn a bare, wall-less fixer-upper into his ideal workspace with creative therapist office interior design. He turned to Decorilla for help in creating a small office interior for his private practice.
The Therapist Office Interior Design Challenge
To create a modern office interior that is masculine and warm
Transform a bare structure into a fully functional space
Create a workable layout that fits a 3-seater sofa, multiple chairs, end tables and workspace into a small office interior
The Inspiration
Blue and beige predominantly featured in the client's inspiration with a sprinkle of modern luxury. The art-filled modern office interiors gave Decorilla designers a clear idea of what the client wanted for his workspace: sophistication with a touch of comfort.
The Office Online Interior Design
Armed with the client's inspiration, two designers created separate mood boards to suit the brief. The client was particularly happy with Decorilla designer Serena's mood board, so she set off to fine-tune her design. The design incorporated dark greys and earthy tones from leather chairs, storage boxes, artwork and a modern desk.
The office was in a raw state and required a creative mind to transform the space into a successful work environment.
The Moodboard
Serena chose to soften the masculine palette with greenery and peaceful artwork. The client, thrilled with her design planning, gave the go-ahead for Serena to finalize and perfect her therapist office interior design concept. Deep blue walls and worn leather that dominated the initial proposal are complemented by modern finishes and natural wood in the final mood board.
The Therapist Office Interior Design Results
Bold and masculine yet calming; this modern office interior is certainly welcoming! Serena created a healing office with elegant ebony walls in an eggshell finish.  The warm beige tones of the leather and wood complement the room's dark canvass to give it a relaxed atmosphere.
A desk and swivel chair features in the bay window, but the main focus is the lounge area, specifically customized to suit patient and therapist. Black wooden blinds offer privacy while allowing air to flow freely into the small office interior.
A comfortable 3-seater charcoal sofa has the best position in the office, ideal for lounging patients. The sofa offers its passengers a broad view of outer surroundings because it faces the window.
Finally, modern hanging lights and a contemporary standing lamp with black and copper finish perfectly grounds this therapist office interior design in masculinity and warmth.
Waiting Room
Existing artwork joined the client's office inspiration in the original brief, and the result is a spiritual, yet urban modern office interior. The waiting room is a creative mix between Scandinavian style and masculine modernism. Wall art with nature motifs and pops of color give the waiting room life, while the distressed rug adds rugged elegance.
Variety certainly makes the area feel more like a home than a cold small office interior. Tufted chairs, an armchair, and a leather chair create an aesthetic harmony while a large plant breathes life into the space. Since the waiting room is small, Serena chose a light color with an eggshell finish for the walls to make the area feel airy and spacious.
Modern Bathroom
The rich Old Navy wall color is perfect for this sunlit bathroom, giving it depth. The designer picked blue for its soothing quality as it can make a room feel like a sanctuary.
A dishwasher is hidden behind the wooden bathroom counter to make the most of the compact area. The wood contrasts and complements the deep hue of the walls and forms a pretty picture. Greenery features once more as it can have a calming effect on people.
Get the Sleek Modern Office Interior Design Look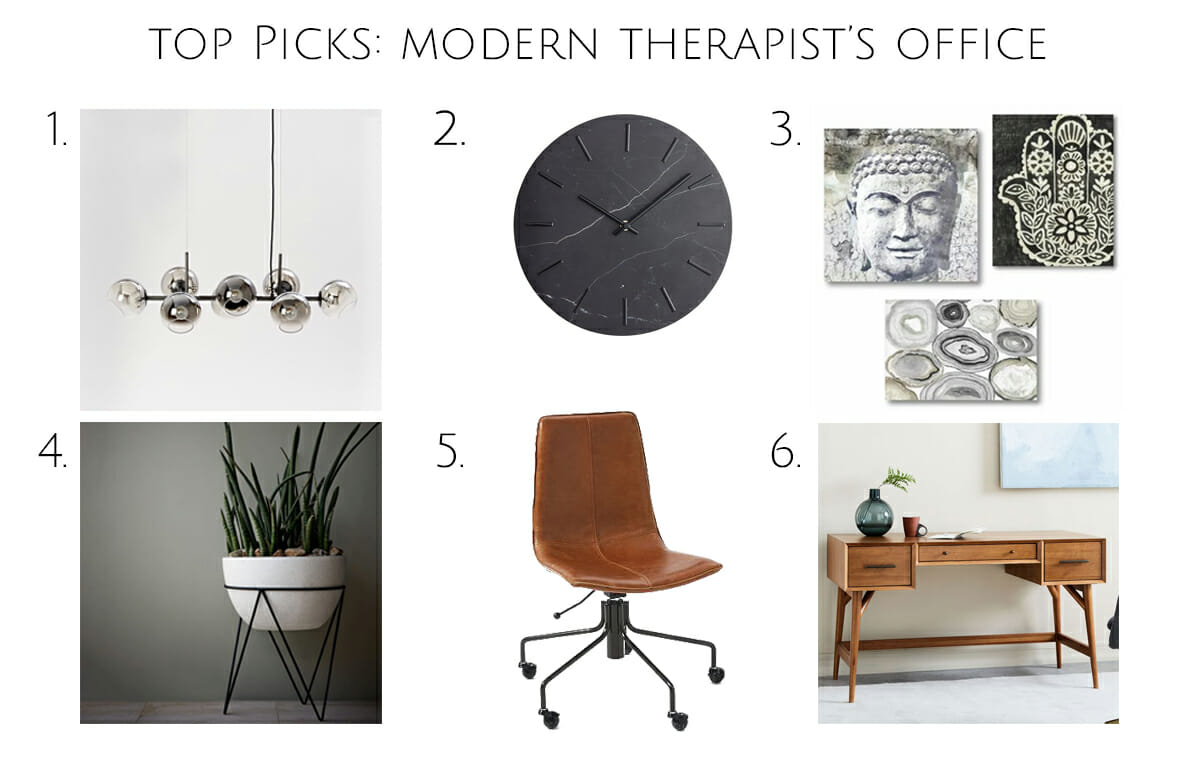 If you need help to perfect your therapist office interior design for your practice, contact Decorilla today!  Get expert advice for all your home and office needs with a free interior design consultation. You can choose a tailored package to suit your interior-needs, receive multiple design proposals and save with Decorilla discounts!
Written by Decorilla designer, Germarie B.
[images: 1, 2 Decorilla project images]