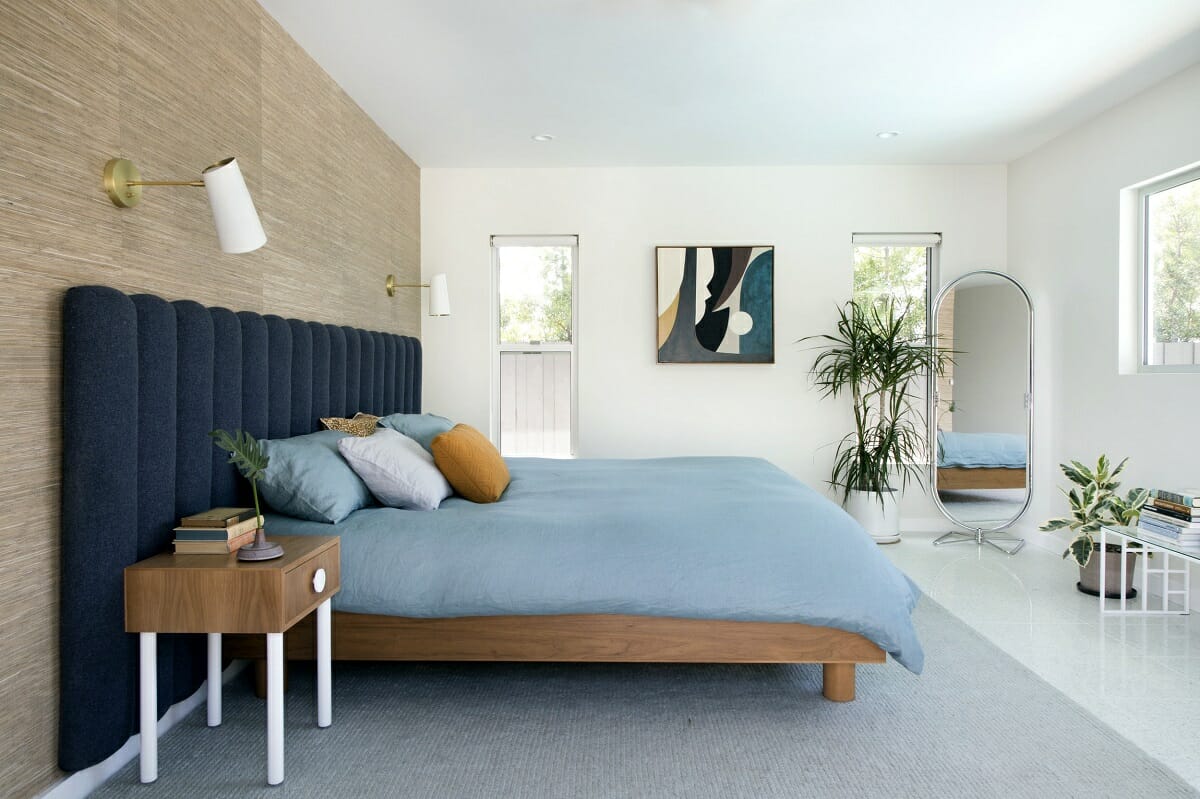 A bedroom is a relaxing haven in a home. Here, we do the most important thing for our health – sleeping! An excellent bedroom interior sets the foundations for a restful night. That's why we're looking at how great interior design can make this space impactful. So, read on for inspirational bedroom makeovers!
Dreamiest Bedroom Makeovers
When following bedroom trends, it's crucial to include your personality in the design. After all, your bedroom must fit your lifestyle – and achieving this is easier than expected! The clients below have experienced exactly how fuss-free this process can be. Now, they have striking spaces thanks to quality bedroom makeover ideas. 
Pro tip: Knowing your interior design style can help guide your bedroom makeovers!

Take our

Free Interior Design Style Quiz

to discover your true style today!
1. Zen Tropical Bedroom with Modern Sensibility
This online bedroom design depicts the essence of an excellent bedroom makeover. It holds zen attributes while also ensuring a contemporary take on a restful space. However, it took designer expertise to transform a bland space into a Balinese-style haven. 
Before and After the Bedroom Remodel 
Considering the initial design of this space, this project boasts a striking transformation. The designer included modern, unfussy furniture for this remodel and paid attention to finer details. As a result, the bedroom is effortless and calm, with enough sophistication for city living. Overall, this master bedroom makeover ensures a place to unwind and relax. 
This bedroom transformation dons warm wooden beams for character. Furthermore, it displays a monochromatic color scheme and focuses on texture and shapes for visual interest. The final concept creates a restful oasis within a busy city. As a result, the bedroom has formed an area ready for a good night's sleep. 
2. Clean and Contemporary Bedroom Remodel
Bold designer touches add interest to this space from the ground up. With an air of a clean and contemporary style, the symmetrical furnishings add a sense of formality to the interior. That said, the greenery and decorative elements lighten the aesthetic. This room certainly sets the standard for bedroom before and afters. 
The Remodel Before and After
The designer ensured an aesthetic renovation by updating furniture, décor, and placement in this bedroom makeover. As a result, the new picks for this transformation are cohesive and refined. They correspond in color, size, and proportion while adding a contemporary feel to the space. 
The result is a brighter interior, filled with plenty of aesthetic appeal. Overall, it is timeless due to the furniture's neat and modern designs and neutral tones. Plus, the luxe finishes enhance the room's plushness and comfort – making it unforgettable! 

3. Moody Guest Bedroom Makeover
In this guest bedroom, dark hues set a bold space with a calming, muted accent wall. When it comes to bedroom before and afters, this space is rich with exceptional design. Wood accents complement the deep paint color, while the dark linen adds a sense of luxury. Overall, the tone is set for high-quality sleep!
Guest Bedroom Remodel Before and After
Initially, the bedroom was bright but lacked structure and character. So first, it had to take on a richer hue in favor of a sleek and sophisticated feel. And mismatched cushions, an accent chair, and multiple lighting sources create a strong impression. 
As with all bedroom makeovers, spatial planning, décor, and color palette go a long way in a transformation. This space has certainly utilized these elements, resulting in a chic and edgy mid-century modern bedroom. One does not need to look beyond the artwork to realize this space is unique in design. 
4. Elegant and Comfortable Master Bedroom
Using a cohesive theme to guide your bedroom design is a good way to create a visually appealing interior. From color scheme to materials, this principal suite makeover now boasts an elegant and refined space.  
Bedroom Makeover Ideas Before and After 
At first, the space featured monochrome colors and classic decorative patterns. This was far from what the client wanted. Fortunately, the finished interior includes calming hues and contrasting furniture. This combination evokes a sense of serenity in the space. 
Although calming in tone, this bedroom contains pops of color. In addition, there is visual interest in its versatile furnishings. Moreover, the wooden flooring gives the space an organic feel. In the end, the bedroom is as inviting as it is stylish. 
5. Cozy Masculine Bedroom Makeover Before and After 
Luxurious and cozy, this bedroom has incorporated masculine makeover ideas. It creates a bold and robust design – plus, the client's interests shine through in a large photographic print. Overall, a dark color palette mixes with luxe materials to create a well-put-together look. 
Masculine Style Bedroom Before and After
Before, the room was empty and bare. Now, it boasts a boutique hotel atmosphere. In addition, the use of personalized décor meaningful to the client brings the bedroom to life. 
The masculine design is packed with detailed and textural bedroom makeover ideas while keeping a good flow and layout. As a result, the atmosphere is lustrous and elegant. The dark hues complement the carpet flooring, while ample lighting illuminates the room day or night. 
6. Bright and Airy Loft Bedroom Makeover
This fresh take on a contemporary cabin's loft is neutral yet full of character. The tonal, layered palette adds softness and casual luxury against the warm log walls. In addition, the white panels add light and dimension. 
The Loft Bedroom Remodel Before and After
Wood log walls feature in both the before and after. However, initially, the bedroom was dark and gloomy. By painting parts of the wood paneling white, the space looks refreshed. In addition, the lighter linen, bedside drawers, and area rugs add a contemporary softness to the loft. 
With its impressive renewed aesthetic, the loft is one of the most successful bedroom before and afters. Two queen-sized beds form a symmetrical feel. Furthermore, it includes a bright and airy take on a hangout nook in the corner. 
7. Glamorous Master Bedroom Makeover Ideas
Here, a highly contrasting color palette forms an oh-so-timeless interior. More than just a bedroom, this space feels surrounded by beautiful countryside. Sumptuous texture and a contemporary canopy bedframe provide an elevated look. 
Glamorous Bedroom Before and After
Before, the bedroom was gloomy and uninspired. But, with a few master bedroom makeover ideas, it transformed into a glamorous sanctuary for a good night's sleep. 
Light neutrals and wooden tones complement the contrasting color palette, while the darker ceiling adds a wow factor. In addition, classic patterns and artwork add character to the room. As a result, this space is one of the designer's many successful bedroom makeovers. 
8. Stylish Yet Comfy Bedroom with a Touch of Glam
This transformation encapsulated the essence of exceptional bedroom makeovers. It's trendy yet tasteful. However, it took a design expert to transform this new build into livable glam. 
New-Build Before and After
With a blank canvas to work from, the designer has created something fresh and exciting. The room has a moody, romantic feel because of the paint update, textural wallpaper, and trims. In addition, a king-size bed and statement lamps add to the comfy scene, while a chandelier and plush rug center the room. 
Ultimately, this space is a prime example of bedroom before and afters. Stylish and comfy with a touch of mid-century glam, this interior is as unique as it is snug. Tactile and patterned elements have enhanced the design scheme, adding warmth and coziness. As a result, it's the perfect space for relaxing after a busy day!
9. Feminine Small Bedroom Makeover
This uplifting, youthful theme guides the interior and creates a cohesive feel in a compact room. From a warm pink color scheme for softness to ample lighting for warmth, this bedroom makeover is a modern inspiration to a young mind.
Little Girl's Bedroom Before and After
Before, the girl's bedroom was cluttered and required organization. Fortunately, the designer provided ample storage space. Moreover, texture, color, and patterned bedding and wallpaper create a sense of movement. Overall, the final design is bright, modern, and structured. 
Now the interior is filled with inviting light and feels just right. It's a memorable space showcasing iconic areas, such as a reading nook for a growing mind. 
What will your bedroom transformation be?
Your new bedroom interior is a click away. Simply schedule a Free Interior Design Consultation to speak with our leading industry experts today! 

[Feature: Decorilla designer, Jamie M.]