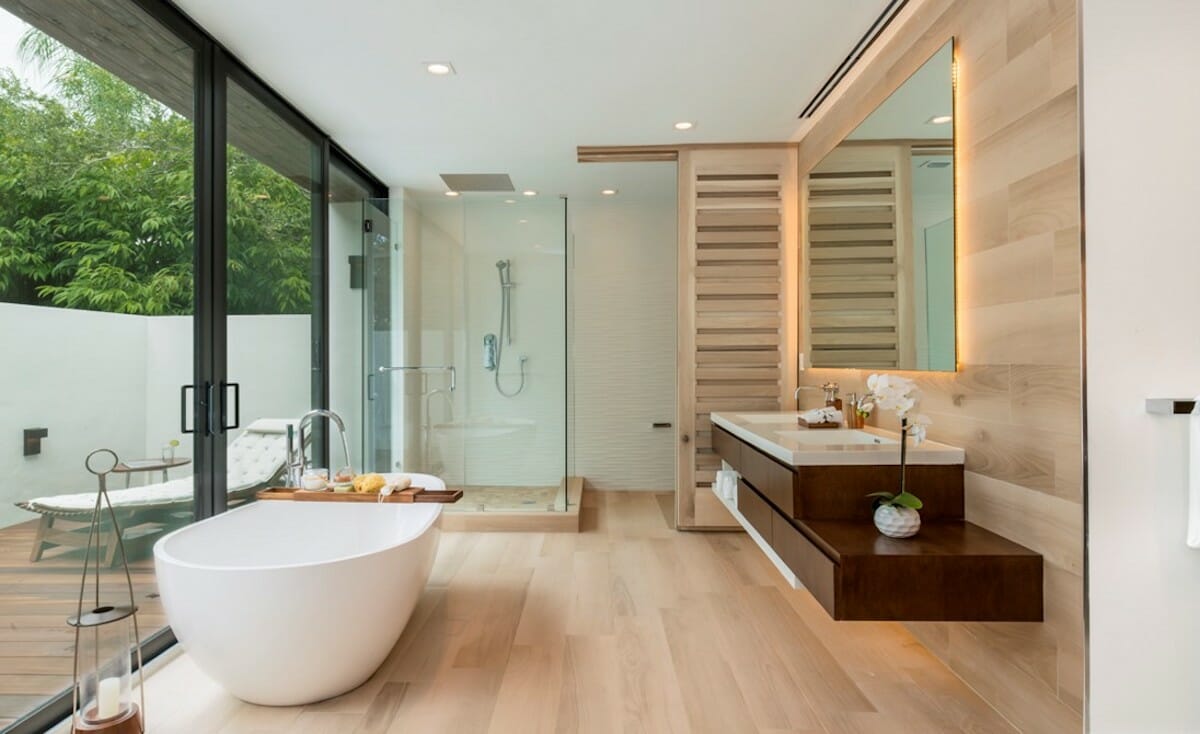 As one of the essential rooms in your home, the bathroom should be a place to unwind and rejuvenate. However, as time goes by, and the decor starts to look worn and outdated, the atmosphere turns into plain utility rather than a spa-like sanctuary. While the first thought is often a full remodel, the fact is that a few bathroom decorating ideas on a budget can do wonders for the whole interior. So, if you're looking for new tricks to freshen things up, read on to see our favorites!
Tips for Setting & Sticking to a Bathroom Decor Budget
Excitement over new decor can lead to a series of impulse decisions—and not always the right ones. That's why the following points are worthy of considering in advance. 
Know what you need vs. what you want.

Before you start shopping, it's good to take inventory of what you already have and what needs to be replaced. Make a list of the essential items you need, like a new shower curtain, bathmat, toiletry set, etc. Then, make a second list of the things you'd like to add to give the space a new look, such as art, rugs, towels, etc. This will help you focus your shopping and stay within your budget while still creating an inspiring bathroom design.

Set a realistic budget for small bathroom decor ideas.

Once you know what you need and want, it's time to set a budget. Keep in mind that even small changes can significantly improve your bathroom, so don't feel like you have to break the bank to make a difference. A few new accessories or a fresh coat of paint can go a long way.

Shop around.

Once you know what you need and how much you're willing to spend, it's time to start shopping. Compare prices at different stores and be sure to take advantage of sales and coupons. Keep in mind that shopping online often provides more advantageous choices.

Get creative.

If you're really on a tight budget, use your imagination! There are plenty of DIY projects you can do without spending a lot of money. For example, you could repaint an old dresser to use as a new bathroom vanity or repurpose some other items to give them a new life. 
Pro tip: use affordable bathroom decorating ideas that fit your style preference. Not sure what that is? Take our free

interior design style quiz

to discover your personal decorating style today! 
10 Best Bathroom Decorating Ideas on a Budget
These are just a few affordable bathroom decor ideas to get you started. With a bit of creativity, you can quickly transform your bathroom into a stylish and inviting space.
1. Declutter & Reorganize Your Bathroom Items
If you're aiming to enhance the look and function of your bathroom, start by making it more organized. Think about how you want to arrange the toiletries on the counter and then invest in storage containers, trays, and baskets. Decluttering improves your efficiency while also giving your bathroom a far more attractive appearance. A chic, high-end bathroom is possible with affordable interior design ideas and a little insight into what you need.  
If you're not sure where to start when it comes to sprucing up your bathroom, consider hiring a bathroom designer. These experts can help you develop a plan that fits your budget and style, along with guidance on materials, finishes, and fixtures. Moreover, with online interior design services like Decorilla, the design solution comes with a shopping list filled with exclusive discounts. That way, you can get the most out of your budget while still remaining within its limits. 
3. Replace Fixtures and Hardware
If you're looking for an easy way to spruce up your bathroom, consider replacing faucets, cabinet handles, and towel racks. By upgrading these items, you will not only change the look of your bathroom but also improve its functionality. Aim for trendy finishes such as matte black, rose gold, or antique brass. Stepping away from the standard silver tones will instantly add plenty of style points. Plus, adding bathroom trends in small accents can uplift the design too. 

4. Refresh the Walls with Tiles or Paint
One of the quickest and most impactful ways to change the entire look of your bathroom is to renew the walls. Painting is an easy project that you might even do yourself, and it will make a big difference in the overall feel of the space. Replacing old tiles, however, is a bit more changeling so if you're not ready to leave the job to professionals, consider decals or vinyl peel-and-stick tile coverings. 
5. Multifunctional Bathroom Decorating Ideas on a Budget: Towels
Towels are one of those things that you use every day, so why not make them part of your décor? Hang matching towels on a towel rack or use them to add more dynamics to your space by layering colors and patterns.
6. Update Your Lighting
In a confined space, good lighting is essential. For that reason, improving the lighting makes one of the best budget-friendly small bathroom decorating ideas. Update your overhead light fixture or add a few shaded sconces for a more romantic ambiance. In addition, consider adding task lighting near the mirror for a brighter, more functional space.
7. Incorporate Plants Into Your Inexpensive Bathroom Decor
Plants and flowers can add a touch of life to any space, and the bathroom is no exception. So if you think it could use a little jazzing up, consider adding a few. Just be sure to choose varieties that can tolerate low light and high humidity, such as succulents. Alternatively, opt for artificial greenery that eliminates all the worries regarding maintenance and a watering schedule.
8. Add a Rug Instead of a Standard Bathroom Mat
A rug in the bathroom is not such a weird idea as it might seem at first. In fact, it can amplify both the comfort and style of your bathroom. A rug will make the space feel cozier and help protect your floors from moisture. Just be sure to choose one made from absorbent materials that can also withstand frequent washing.
9. Create Countertop Vignettes

Choose some functional and attractive bathroom decor pieces to create an appealing display on your bathroom countertops. Start with the basics by replacing commercial hand soap dispensers with stylish glass bottles. Consider adding a tray with neatly displayed hand towels and fresh sprig of greenery in a vase. And to keep the space clutter-free, a small wicker chest can serve to keep your essentials out of eyesight. 
10. Hang Some Wall Art 
Various artwork offers a chic opportunity to personalize your bathroom decor on a budget. You can go with anything you like, from wall decor to framed prints—as long as the chosen items can survive the wet microclimate. If you aim for a spa-like vibe, keep in mind that a few nature-inspired images can do wonders for the atmosphere. 
Feeling inspired to try some bathroom decorating ideas on a budget?
Our team of vetted bathroom designers can help you create a revived bathroom for less. So, schedule a Free Interior Design Consultation to take advantage of the affordable design packages today!

Featured image: [Decorilla Designer – Taize M.]