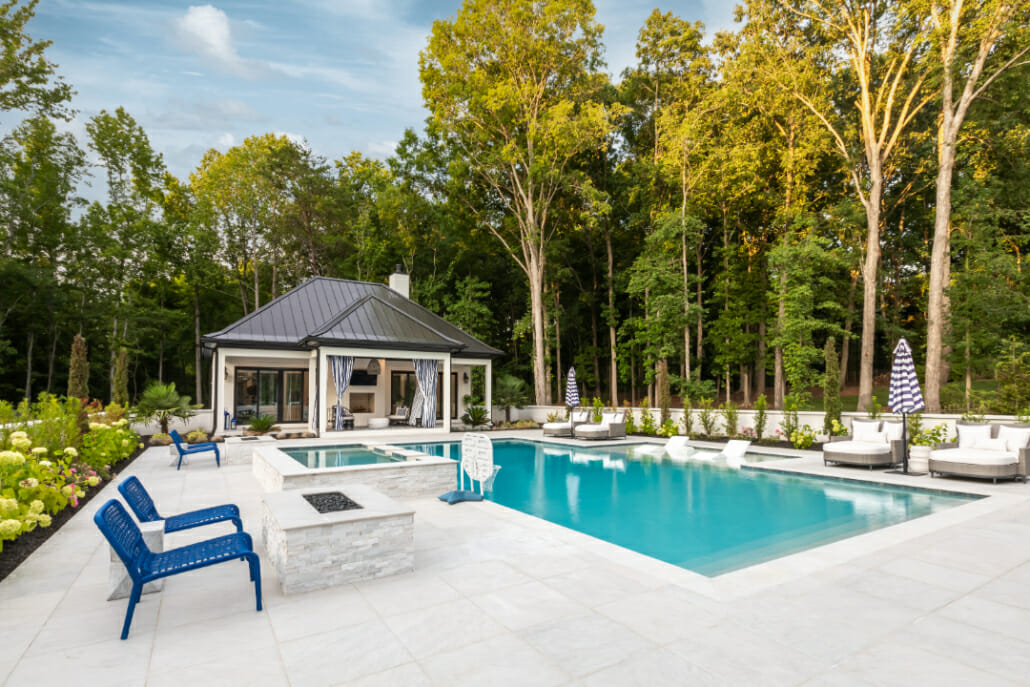 A beautiful setting calls for extraordinary outdoor living spaces – especially if it comes with a pool! Nothing beats easy summer days, taking in nature from the comfort of your own home. One client couple wanted their expansive patio area to reflect high-end comfort and withstand any season. Read on for the breathtaking online interior design result!
The Challenge: Tranquil Outdoor Living Spaces
The clients renovated their property five years earlier but wear and changing needs meant it was time for another remodel. For a successful project, the designer needed to:
Ensure the outdoor living room is weather-proof as well as resistant to daily wear from pets

Change the patio layout so that the seating and television are sheltered from the sun

Weather-proof the television unit

Create a new outdoor kitchen design that ensures the grill is protected from rain

Include 

poolside decorating

 in the online interior design that's easy to stow away in case of a hurricane  
Want a stylish outdoor living space, but need help coming up with the perfect design

? Then, schedule a

Free Interior Design Consultation

to get started with a top designer today!
Outdoor Living Room Inspiration & BBQ Island Ideas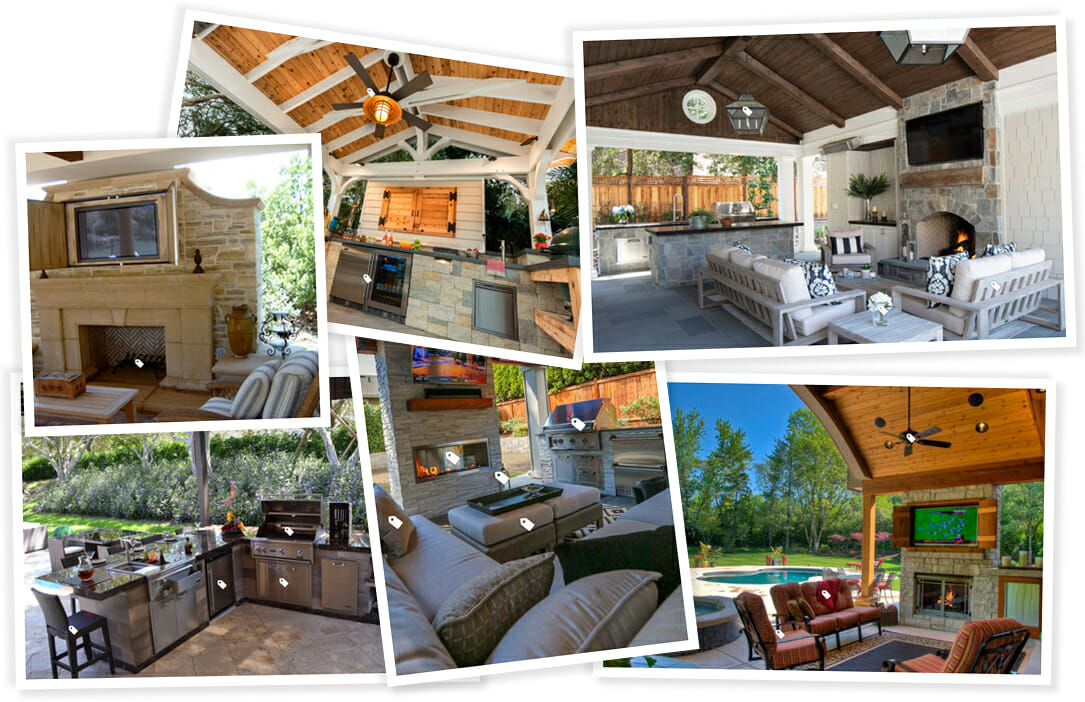 Since the clients live in a city with a mild climate, they wanted to make the most of their outdoor living spaces with their pool. They love BBQ island and outdoor kitchen ideas most and wanted to include a workable outdoor space. Their top images show built-in outdoor kitchen designs as well as covered patio decorating ideas. Media sets often make the focal point on fireplace walls in these designs. And finally, comfy and stylish seating top their must-have list.
Moodboard & Outdoor Living Design
The client set a comprehensive brief for Decorilla's designers. It highlighted the need for proper insulation to keep critters, like tree frogs, out. Once they created their checklist and completed a questionnaire, the clients had a designer consultation. From here, Decorilla could match the project to the best-suited designers. And it was Wanda's coastal and transitional concept for the outdoor living spaces that stood out above the rest.
Wanda's proposal included furniture for multiple outdoor spaces, finishes, and everything an outdoor kitchen design might need. The convenient solutions were sure to create a comfortable and deluxe cooking space. Moreover, her moodboard showed an outdoor living design that would be perfect for entertaining guests next to the pool.

Relaxing Outdoor Living Spaces Result
Three main zones consisting of six smaller areas make up the final outdoor living spaces – complete with a pool. Despite the many focus points, the design flows from one area to the next.
It also features a great outdoor kitchen and living room design contained within a pergola structure. The patio overhang shelters an intimate lounge and dining setup. And next to the pool loungers and umbrellas provide an idyllic in-between. And finally, a casual firepit is encircled by Adirondack chairs for late-night molten marshmallows.
Casual Outdoor Living Spaces
The very high patio overhang gives the outdoor area a light and airy feel. It also gives ceiling fans enough room to cool down the lounge and other seating. Like the rest of the design, this outdoor living space faces the pool. It also has a coastal air with turquoise accent pillows and light beige wicker furniture. The furniture, in fact, is made of durable faux wood to resist weathering and wear from pets.
This casual lounge is a great alternative to the main outdoor living room, especially if you want a clear view of the pool. The lounge and dining sets work well with the white-gray floor tile. It echoes the layered colors of beach sand. This color scheme carries throughout the outdoor design, from the exterior living room to the chaise lounges and kitchen.
Outdoor Kitchen & Living Room Design
The main attraction is the combined outdoor living and kitchen design, without a doubt. This space is sleek and stylish with a transitional air. First off, the whole layout below the pergola has been updated. Now the outdoor kitchen design features BBQ island ideas that are protected from rain and the elements. This is owing to its new position and great backsplash. It not only centers the workspace but also acts as a practical rain shield.
The horseshoe-shaped BBQ island provides a spacious prep area and space for practical and decorative ideas. This outdoor kitchen design also features a running tap, an icemaker, a beverage fridge, and a dry pantry cabinet. But it's not only for food preparation. Guests can watch television and keep the hosts company simultaneously. Moreover, the outdoor quartz countertops also provide a sleek and easy-to-clean surface.
Another accent wall anchors the built-in TV and fireplace. The beautiful light tiles complement the pool's decking and general color scheme. The TV's housing structure also consists of dark and light wood batons, creating contrast and a designer edge. It protects appliances when they're not in use, and looks really good too.
The outdoor living room design has plenty of comfy seats in the coastal blue and light brown scheme. Its transitional look is stylish yet approachable. It's the perfect place to sit back and unwind. 
Online Shopping List
A helpful online shopping list completes the online interior design package. This list makes purchasing items super easy, plus it also includes special discounts not available to the general public. With all of these benefits and the helpful implementation guide, the clients could put together their outdoor living spaces in no time.
Top Picks for Outdoor Living Spaces with a Pool
A clean pool is already a beautiful sight, so making the surrounding area equally enjoyable should be easy. Use our top picks below to create your outdoor living room or lounge area.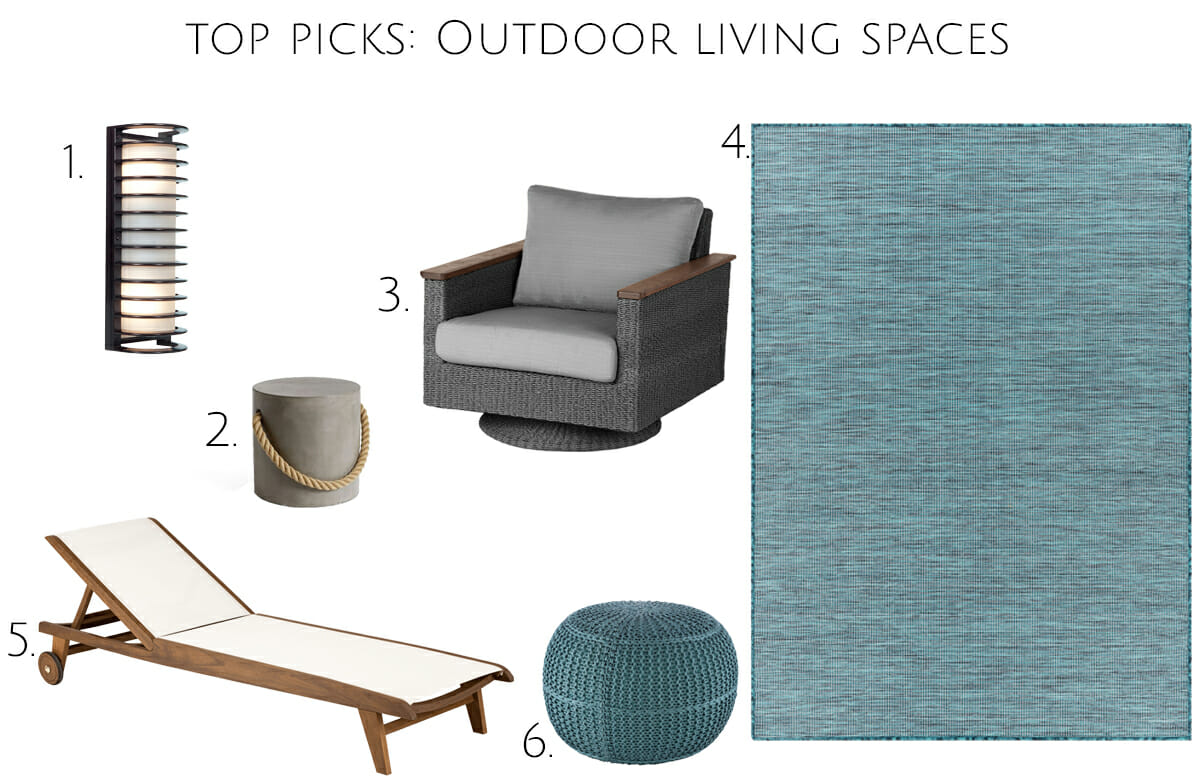 Do you want to try online interior design?  
Decorilla's team of vetted designers can help turn your dream space into reality! So, schedule a Free Online Interior Design Consultation to get started today!  

[images: 1, Decorilla project images]