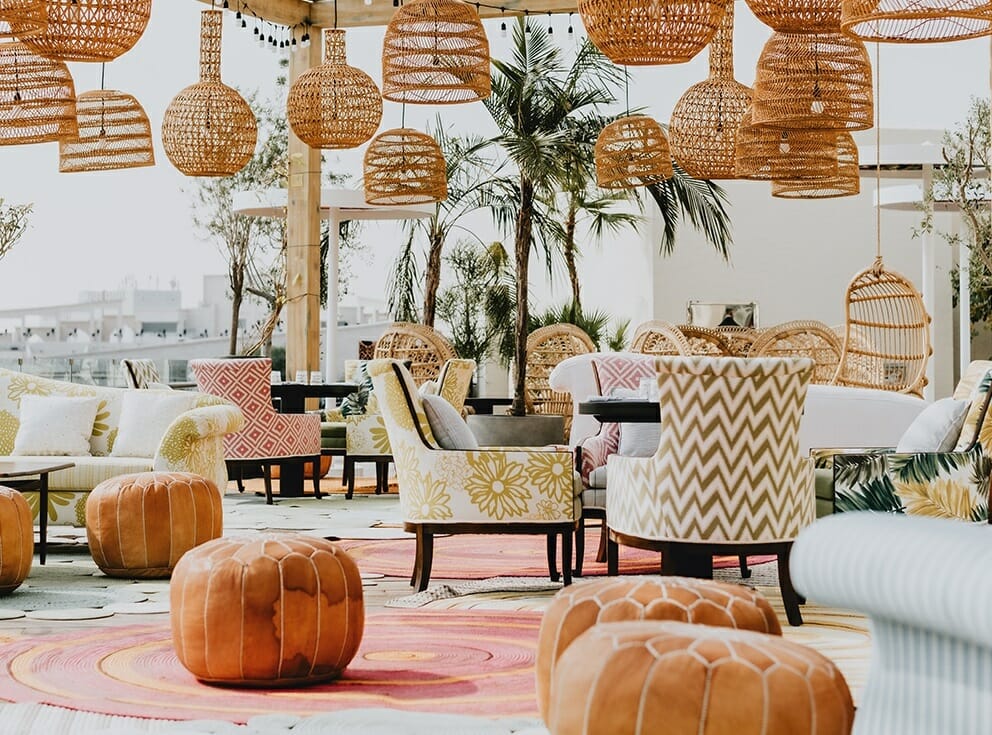 Bright, welcoming spaces attract guests, making them want to linger awhile. Anything but beautiful fails to make the most of a property's potential. One recent client loved their hotel interior, but its porch design was lacking. They wanted to show guests just how special the space is with a matching outside area. And with Decorilla's help, it was possible – read on to see the memorable eclectic creation! 
The Challenge: Eclectic Hotel with a Porch 
At times, commercial interior design can be a little like a Jack-in-a-box. You never know what to expect, but it's always a surprise. Designers needed to ensure this hotel porch was a pleasant surprise to guests. To do so, they had to: 
Choose a bold color scheme matching the eclectic 

hotel interior design

Lighten the dark wood floor or update the finish

Create a vibrant and feminine hotel porch design that feels welcoming and casual

Incorporate various seating, from casual to more structured

Ensure the hotel with its porch is attractive to young and old, keeping in mind that a top university is a few blocks away 
Not sure which style is right to capture more clientele for your business

? Take our

Free Interior Design Style Quiz

to discover your unique decorating style today!
Hotel Interior Design Inspiration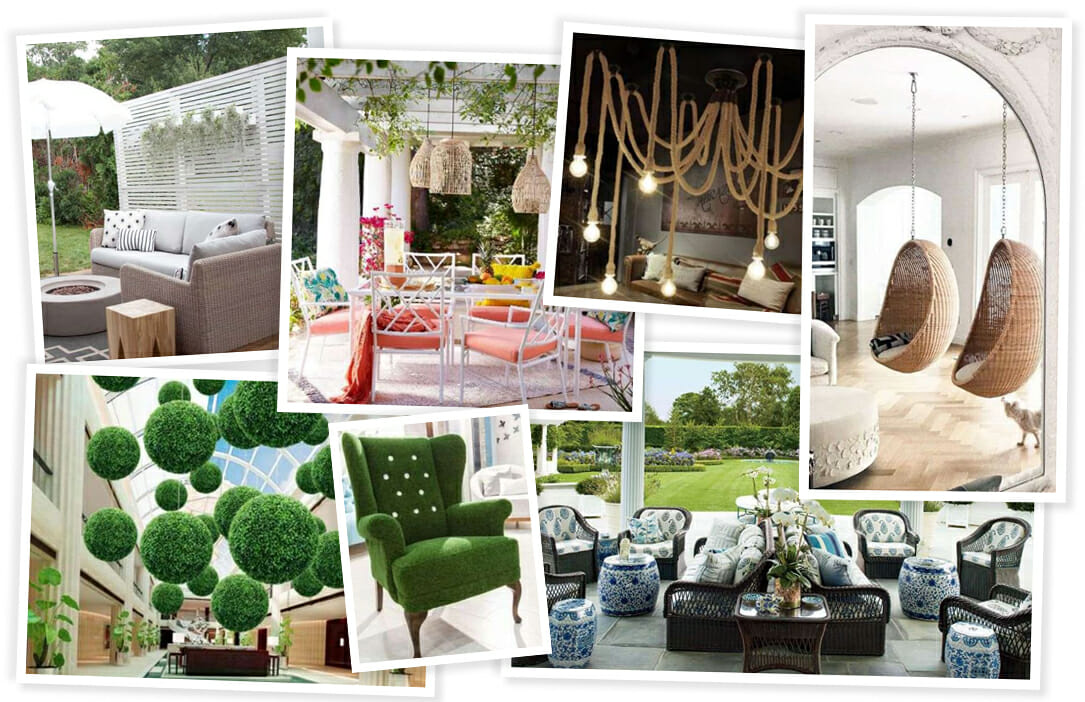 The client was thorough in showing what inspires them most. Different styles and elements show what hotel interior design they wanted. Quirky pieces, like a turf armchair and egg-shaped hanging chairs, capture the whimsical dream-like vibe they loved. In addition to playful and lighthearted design, the client emphasizes lighting. Color, eclectic décor, and generous seating also top their must-have list.  
Moodboard & Hotel Porch Design 
Being prepared and eager to make a change, the clients were ready to start. Fortunately, the first steps of the Decorilla interior design process are speedy and easy to tick off the must-do list. One is a design questionnaire, and the other is a consultation. And after the client completed both, the Decorilla team matched two designers to the project. 
Soon the client needed to choose between two compelling concepts, but it was Jordan S. who captured the essence of what they wanted most. 
Jordan's moodboard glows with inspiration from bistros, high-end tea houses, and magical stories, like Alice in Wonderland. It also has a modern southern vibe but with a touch of pink. Jordan gives the client plenty of seating options as well as a striking mural idea. Together, the look is youthful and fun.

Whimsical & Eclectic Hotel Porch Result
At long last, the hotel exterior reflects character and style. It's a complete floor-to-ceiling transformation with details everywhere. Now every inch has a designer edge. Even the ceiling dons a new look. One of the most noticeable elements is the vibrant color palette. Hues of navy, aquamarine and pink certainly set the tone for a mesmerizing space.   
In the same fashion, the furniture selection elevates the porch design. The selection is not only colorful but also visually lightweight. Rattan and bamboo-inspired styles have exposed frames and minimal solid surfaces. As a result, chairs and sofas let light through and ensure views are clear and visible. The wicker globe and rattan furniture also add an organic touch to the porch. 
The combination of high and low-profile pieces works precisely because of the contrasting shapes. The varying heights also balance the design pieces. Some settings include tall chair-table combos, hanging chairs, loungey sofas, and a dining table. Moreover, globe wicker pendants repeat the high-low theme to form a cohesive whole. 
Hotel Interior Design Details + Mural 
So many elements of the design are spectacular, but among the most striking is the mural. Its enormous flower design trickles onto the ceiling. The latter also has a pretty tweak: a refreshing teal and white coat of paint. Colors from the floral mural and the ceiling also feature in the furniture and décor. 
Another attractive feature is a faux grass media panel. It frames a big monitor and protects it from the sun. The green turf is not only a fun addition but also strengthens the garden-esque feel of the hotel porch design. And lastly, white guardrails and light curtains enclose the space. Attention to detail certainly shows as the lengthy drapes have blue detailing at the bottom, like the ceiling.  
With the help of experts, the hotel with its porch offers a wholesome experience. Whether guests want to grab a bite or have a casual drink, there's a spot perfect for their vibe. The space features different unconventional seating, but the most whimsical of all are pairs of hanging chairs. These egg-shaped seats have soft accent pillows and complementing chinoiserie stools. They're perfect for dreamy socials!
Before & After the Makeover
Previously, the hotel porch was bland and uninspired. It felt like an afterthought, not fitting the exquisite eclectic hotel's interior. In the project brief, the client said the space felt "stuffy and boring". Fortunately, with Decorilla's assistance, the porch would become a treat to the senses and a pleasure to anyone stopping by. 
After the makeover, the porch was anything but boring. The transformation burst in color, texture, and excitement. The renewed look feels fun and boasts an edgy designer touch. Ultimately, the update fits its setting perfectly. As it's near a sought-after university, the hotel has become a must-see destination.
Online Shopping List
Working with Decorilla enables clients to put together a designer interior on their own time. Moreover, each package has a set of essential benefits to easily make a concept a reality. The initial phase comes with a detailed proposal and client-designer correspondence. Midway, the clients receive photorealistic 3D renderings of their space. This helps them to visualize the look of the completed room before committing to any changes. 
And finally, an online shopping list with exclusive trade discounts and detailed implementation guide conclude the last steps. With all these resources, every client can create a dreamy interior.  
Top Picks for an Eclectic Hotel Porch 
In the hospitality industry, visual experience is everything. Guests want to feel transported and pampered. One way to achieve this is by ensuring a beautiful interior. So if you want to spruce up your business, use our top picks below as inspiration. Keep in mind that it takes only a few key elements to make an impact.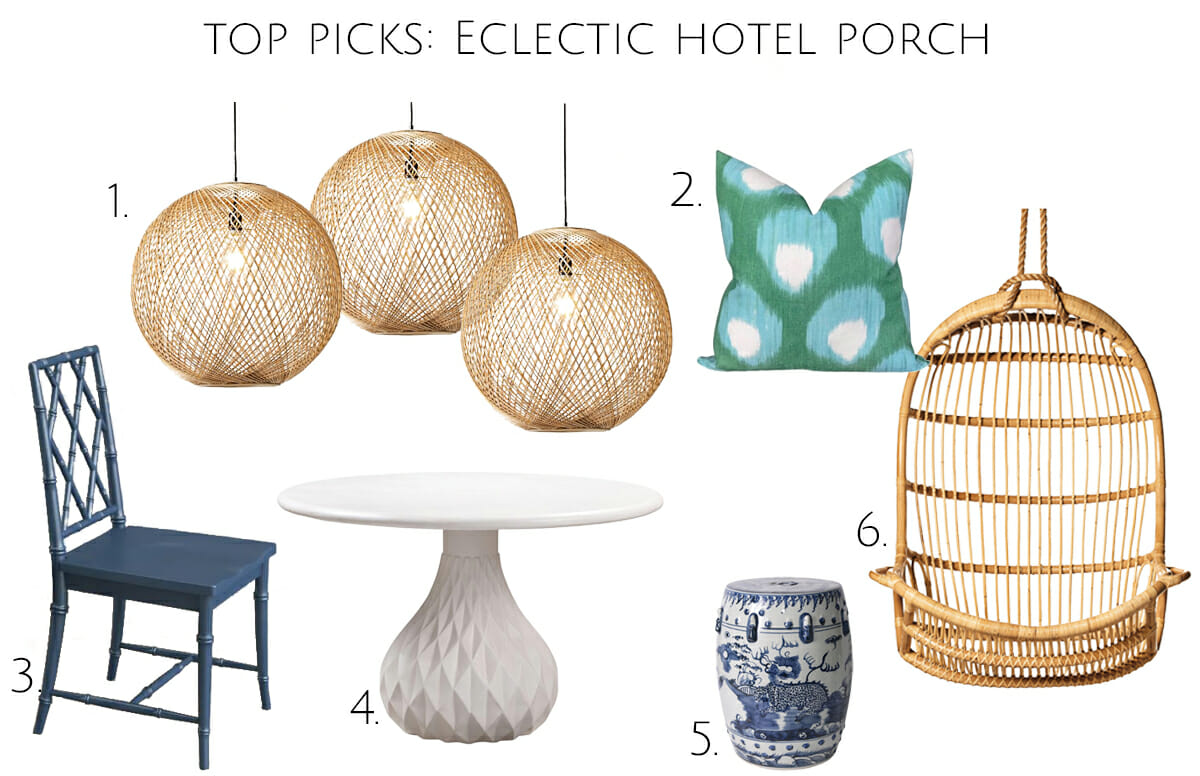 Spruce up You Business with Online Interior Design!
Let your establishment stand from the crowd! If you want to get noticed and see more guests on your doorstep, get in touch. Schedule a Free Interior Design Consultation to start the transformation today!

[images: 1, Decorilla project images]