Transitional Breakfast Room Interior Design

Details
Project Title
Transitional Breakfast Room Interior Design
Project Description
Need help with my dining area in the kitchen
Dimensions
12'w x 14' d x 9' h





Details
Room Label
My Dining/Breakfast Room
I want this room to feel more masculine/feminine/neutral
Neutral
What type of sunlight does this room receive?
Morning light
What do you currently dislike about the room?
I don't like the tile much but can't change it. There isn't any style in this room and it needs new furniture so I pretty much don't like anything in the room. I like the room gets a lot of light most of the day since there are 2 big windows.
What pieces of existing furniture, lighting, art or accessories do you want to keep in the design?
I don't need to keep any existing pieces.
Are you open to changing your wall colors?
Yes
Do you have a preference for either paint or wall covering, or are you open to both?
Open to both
Are you open to changing your floor covering?
No
Additional comments to designers
I'm looking at the St James marble top table from Restoration hardware (probably with chairs from somewhere cheaper) or the Archer with bench and banquette from Zgallerie. I'm open to others but like those 2. I could do round or rectangle. I need to seat 6 minimum for everyday. My budget is a little flexible. We eat dinner here everyday. It's our breakfast room connected and open to the kitchen. When people come over we usually eat here too unless it's Christmas or a big holiday, then we use the dining room. I want it to look nice but table should be durable for everyday use. I have a 3 and 5 year old. Would prefer fabric chairs that are not difficult to clean.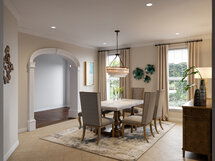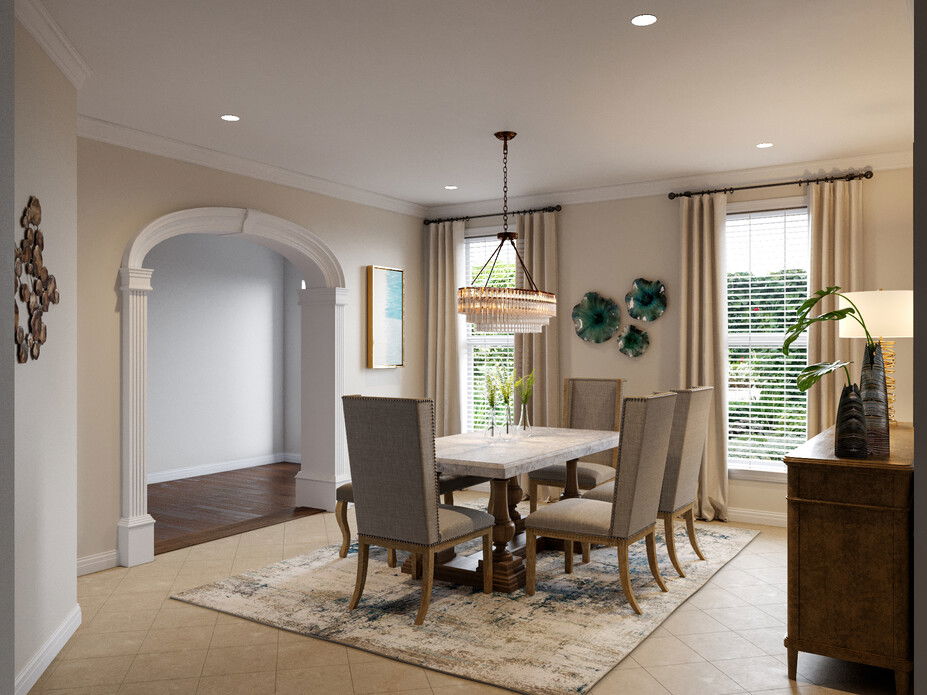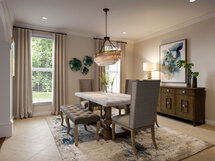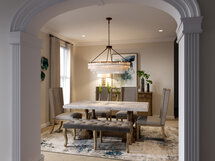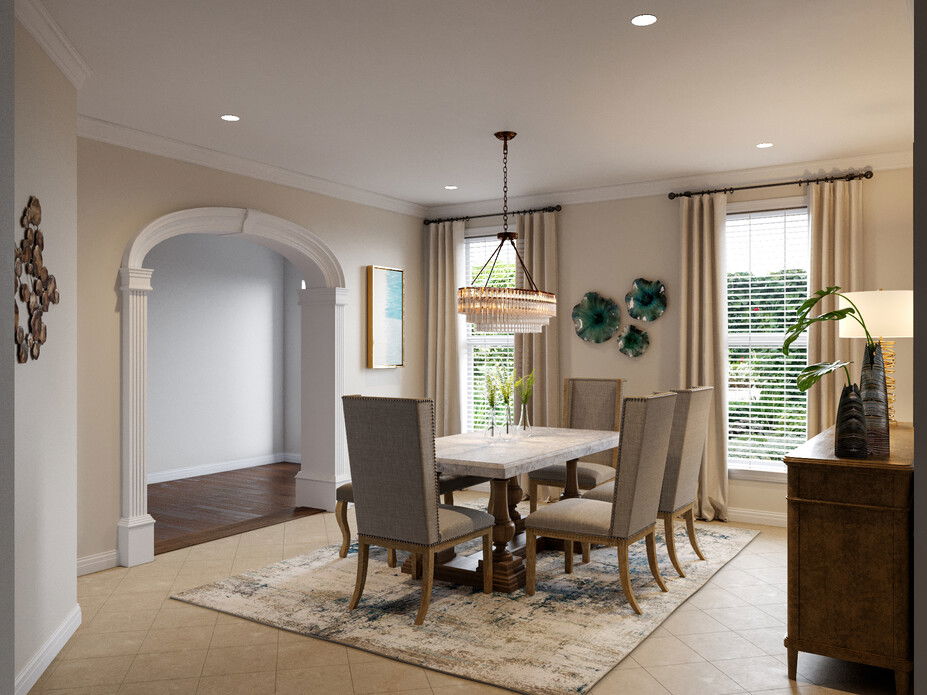 1
Disconnection Art
2
Invano Leaf Vases S/2
3
Amarey Metal Ring Table Lamp
4
Jettie 60" Wide 3 Drawer Sideboard
5
Abella Ceramic Flowers, S/3
6
Ivory Blue Distressed Rug
7
ST. JAMES MARBLE RECTANGULAR DINING TABLE
8
lunden dining chair
9
Archer Bench - Wash Oak
10
PRISM FACETED GLASS LAYERED ISLAND CHANDELIER
11
Maker's Studio Correlation Wall Art
12
Leaf Wall Decor, Bronze
13
Classic Belgian Flax Linen Rod Pocket Curtain - Dark Flax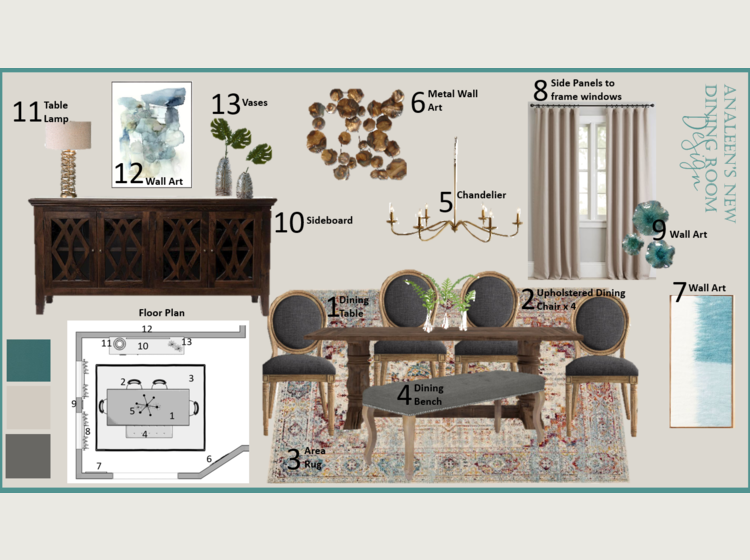 Dining Room:
Since your room gets plenty of sunlight your color options are quite broad.

For your main color, we chose to use white/off-white as it offers a fresh, clean, feel to the space. White and off-white colors are often a favorite for walls because they are light, neutral, and match most color schemes. They are known to make rooms feel more airy and spacious.

Use an eggshell finish paint which has a very light touch of shine (similar texture to an eggshell as implied by its name). This finish is very often used for walls and is more durable and easier to clean than matte finish
Dining Room Colors:
Shopping List:
Decorilla Discount
Photo
Name
Description
Link
Dimensions
Decorilla Discount
Arte International


Disconnection Art

Product Type: Giclee Finish Option: Hand Embellishment Size Option: 36 x 48 Frame: Espresso Natural Wood Gallery Floater 36P1705
Order & Save
36" W x 48" H
Revelation


Invano Leaf Vases S/2

Textured, Distressed Ceramic Leaf Vases Finished In A Pale Blue, Ivory And Bronze Glaze. Due To The Nature Of Fired Glazes On Ceramic, Finishes Will Vary Slightly. Sizes: Sm-7x12x4, Lg-8x19x5
Order & Save
7.5" W x 19.25" H x 4.75" D
Uttermost Collection


Amarey Metal Ring Table Lamp

Layered Metal Rings Finished In A Heavily Antiqued Silver Champagne. The Round Hardback Drum Shade Is An Oatmeal Linen Fabric With Light Natural Slubbing.
Order & Save
17" W x 30" H x 17" D
Noir Furniture


Jettie 60" Wide 3 Drawer Sideboard

The Server will be an eye catchy furniture in your home and will complete the mid century interior style of your home. Made up of Wood and Veneer, it consists of 3 drawers and 2 big storage spaces at both its ends. The color used for finish is brown which is giving a nice touch and feel to the Server. The finger pull handles are an add on and looks good on the wooden drawer. The angled legs styled support also adds a nice touch to it.
Order & Save
N / A
Uttermost Collection


Abella Ceramic Flowers, S/3

A Trio Of Ceramic Flowers With Detailed Veining, Glazed In Fresh Caribbean Tones. May Be Hung On Wall Or Used As Tabletop Accessory. Sizes: Sm-11x3x11, Med-15x3x15, Lg-18x4x18
Order & Save
17.875" W x 17.875" H x 3.875" D
Surya Collection


Ivory Blue Distressed Rug

Not too traditional. Not too contemporary. Power-loomed in Turkey of viscose and acrylic, this is the ultimate versatile rug, touting a weighty pile that feels soft underfoot and offers a bit of sheen. Each tonal, subtly distressed design is accentuated by a refined color palette that rivals the finest hand-knotted rugs.
Order & Save
94" L x 130" W
restoration hardware


ST. JAMES MARBLE RECTANGULAR DINING TABLE

Evoking the architectural classicism of turn-of-the-century design, our table from designer Geoffrey Hawkes is distinguished by a hand-carved, stepped base and a hand-turned baluster beneath a tabletop of honed Carrara marble. Expertly constructed of hardwood with enduring mortise-and-tenon joinery, the timeless silhouette makes a grand statement.
Order & Save
72"L x 39"W x 30"H
West Elm


lunden dining chair


Quantity: 6
Kaleidoscopic dining comfort - Bring colorfully eclectic comfort to your dining space. Our simple yet perfectly styled Lunden Dining Chairs feature a minimalistic, midcentury modern-inspired design that's easily paired with a wide variety of aesthetics from traditional to contemporary. These side chairs are built from reinforced hardwood and generously padded for a relaxing sit. Backrests are gently curved to wrap around, providing hours of support. Plus, a wide variety of fabric colors are readily available to suit your every décor desire.
Order & Save
20" W X 25" D X 37" H
Donghia Collection


Archer Bench - Wash Oak

For those who love a luxe seating companion, look no further than our Archer with its nailhead trim, curvaceous legs, and tufted, structured look
Order & Save
50" Bench: 50"W x 18"D x 19"H Seat Height: 19"
Shades of Light


PRISM FACETED GLASS LAYERED ISLAND CHANDELIER

Contemporary and elegant, the three layers of faceted rectangular crystals cascade down a Bronze or Chrome oval frame giving this chandelier a sophisticated air.
Order & Save
25"Hx40"Wx18"D
West Elm


Maker's Studio Correlation Wall Art

The West Elm Maker's Studio in Brooklyn, NY is a creative space for our in-house designers to create and collaborate on original art across mediums. Showcase your personal style and build your gallery wall with this eclectic assortment of Maker's Studio prints that were designed to mix and match.
Order & Save
24"w x 2"d x 38"h.
High Fashion Home


Leaf Wall Decor, Bronze

he Leaf Wall Decor is a beautiful addition to any home decor.
Order & Save
25.5"w 3.25"d 24"h
Pottery Barn


Classic Belgian Flax Linen Rod Pocket Curtain - Dark Flax


Quantity: 2
Crisp linen adds soft texture and a classic look to your windows. Our linen curtain is woven from the finest Belgian flax fibers and gently filters sunlight, and can be paired with a blackout lining for maximum light control.
Order & Save
50" W X 84" L
Get Our Free Inside Scoop!
Contains our handpicked top five posts on latest decor trends & advice delivered to you monthly!


Ready to get started?
Get a designer room you'll
love, guaranteed!
Start Now