Masculine Home Office Design Project


Details
Project Title
Masculine Home Office Design Project
Project Description
Hi there!
We recently moved into a new home and it has a dedicated home office that's been redone. The house has a black and white theme which we'd like to carry through the office. I'd like to have some warmth to it with rustic black or distress/farmhouse black pieces that have some character to them. I'd love to incorporate some real indoor plants to bring some life to the room as well.
I'm hoping for a look of warm, cozy, clean and inviting.
I only have two pieces of furniture I have so far that I'd like to keep. One is a standing desk with a black top and a black leather reading/recliner chair that's on order from pottery barn. I also ordered a black modesty panel for the front of the desk so you can't see under the desk when you walk in. I'm replacing the glass office doors with solid core black wood doors that will arrive in a few months.
The office lacks any storage other than the bookcase so I'd need to have a few big storage pieces that can hide away all my music / computer gear. I'd be open to either a couple tall black cabinets with doors or lower cabinets with open shelving and concealed baskets to have a clean look.
Right now the bookcase is white and the ceiling is white. I'm open to changing out the wall color.
I'm an avid reader so I'd like one corner of the room to be a dedicate and cozy reading area with the existing leather recliner. Ideally with a reading light (could be a floor lamp) maybe some plants, a small side table for coffee and some black and white pictures.
I also play guitar so I have a few guitars as well. I'm not sure if it makes sense to have them wall mounted on display or on a stand around the space.
My hobbies/interests include:
Fishing/Fishing Boats, Music/Guitar, Family Photos / whiskey/scotch/beer
I'd love to incorporate black and white photos or accents/accessories in those areas in a cohesive way.
The house itself is Spanish colonial style. I'll include some exterior photos as well.
Dimensions
16'8"L X 15'6"W









Items you want to keep



Details
I want this room to feel more masculine/feminine/neutral
Masculine
What type of sunlight does this room receive?
Mid-day light
What do you currently dislike about the room?
lack of storage to hide music/computer equipment
What pieces of existing furniture, lighting, art or accessories do you want to keep in the design?
The standing desk I plan on keeping. I ordered a new black top to fit the black/white theme as well as a modesty panel to cover underneath the desk. The desk measures 72"L x 30"W
The chair in the existing pictures is an older fabric chair from the previous house. That won't be staying but the leather recliner from Pottery Barn that I uploaded will be staying.
Are you open to changing your wall colors?
Yes
Do you have a preference for either paint or wall covering, or are you open to both?
Paint
Are you open to changing your floor covering?
No
Additional comments to designers
after going through making the pinterest board I have some additonal comments:
* I'm more open to painting the bookshelves now
* I'm not a fan of animal prints for rugs or accessories
* The recliner I already purchased is still on backorder so it's possible to change the color if the black recliner doesn't work out - https://www.potterybarn.com/products/tyler-leather-recliner/?pkey=cchairs-ottomans
Pinterest Board: https://www.pinterest.com/jiminoc/home-office/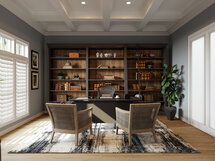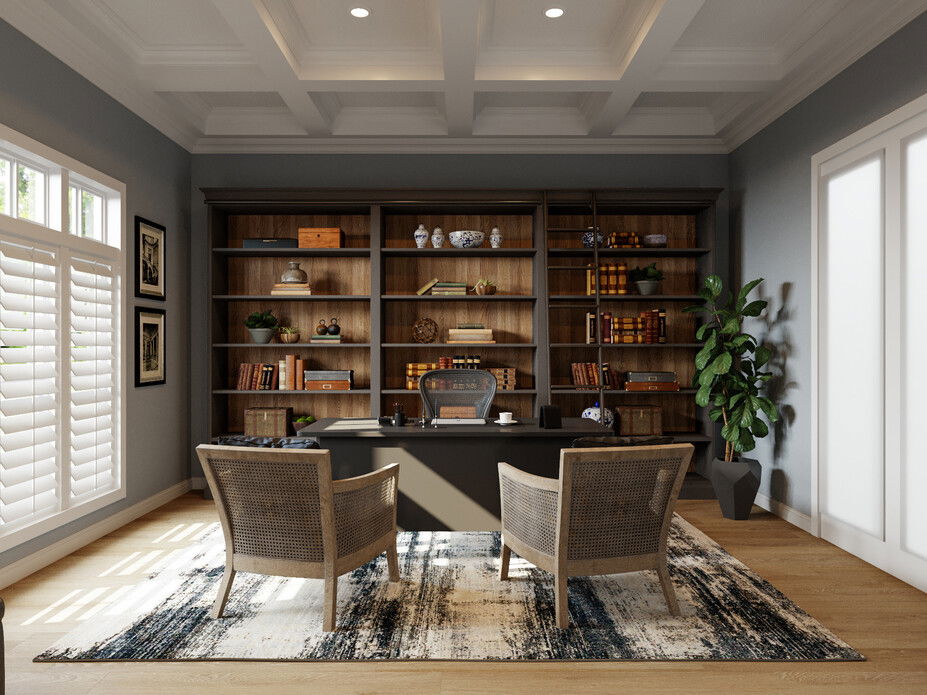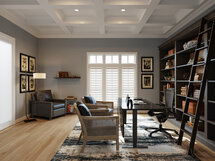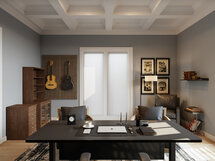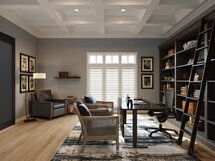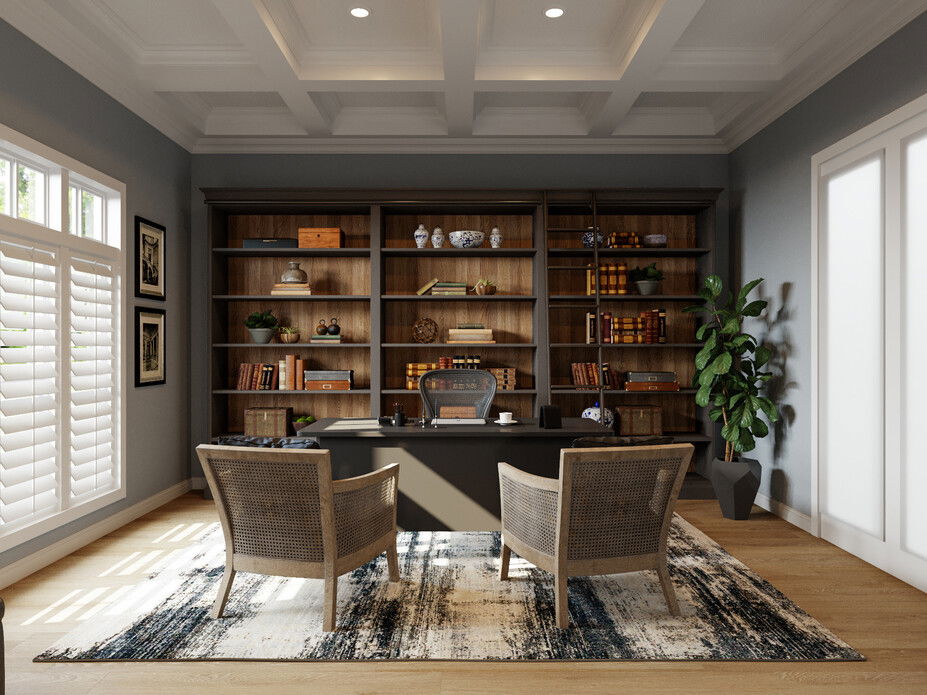 1
Arm chair
2
Wall panel
3
Area Rug
4
Bookcase
5
File cabinet
6
Wall print
7
Floor Lamp
8
Floating shelf
9
Side table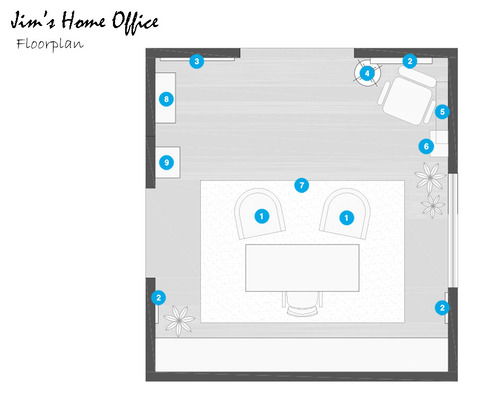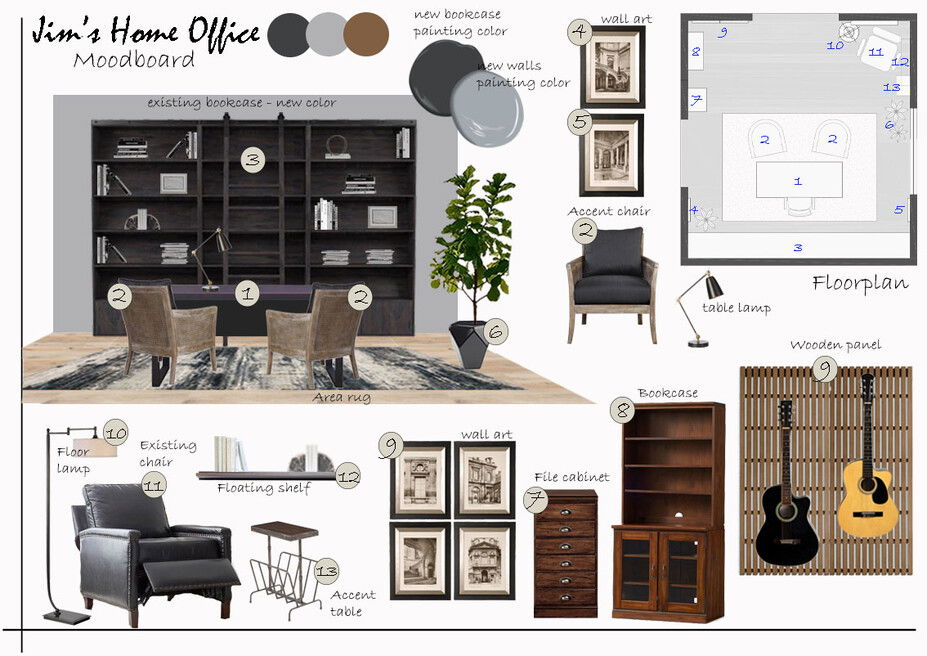 Home/Small Office:
Since your room gets plenty of sunlight your color options are quite broad.

For your main color, we chose to use black because it is authoritative, sophisticated, and powerful. It is a good neutral counterpart to any other color. Black is best used in small doses as an accent and can help to give depth to a room as well as make a dramatic statement.

Use a matte finish paint because it will be helpful in camouflaging those surface imperfections such as bumps and cracks as it does not reflect light. Just be careful because matte finish is more difficult to clean. You may also need to touch up scratches or marks by adding more of the same paint in the future.
Home/Small Office Colors:
Shopping List:
Decorilla Discount
Photo
Name
Description
Link
Dimensions
Decorilla Discount
Revelation


Arm chair


Quantity: 2
Dark Gray
Order & Save
29 W X 33 H X 31 D
Crate and Barrel


Wall panel


Quantity: 2
Oak veneer and engineered wood with smoked grey finish
Order & Save
Width: 23.5" Depth: 1.5" Height: 60"
Loloi Collection


Area Rug

Navy / Stone
Order & Save
7'-10" x 10'-10"
Pottery Barn


Bookcase

Select Finish: Tuscan Chestnut
Order & Save
32" wide x 20" deep x 69.5" high
Pottery Barn


File cabinet

Select Finish: Tuscan Chestnut
Order & Save
16" wide x 20" deep x 30" high
Uttermost Collection


Wall print

Set/6
Order & Save
19 W X 24 H X 1 D
Uttermost Collection


Floor Lamp

Dark Bronze
Order & Save
63H, Shade 6H X 14 Dia.
Nuevo Living


Floating shelf

smoked oak shelf black steel bracket
Order & Save
39.3? x 8.3? x 2.3?
Uttermost Collection


Side table

This functional accent table features a convenient magazine rack with an industrial iron framework finished in a lightly burnished brushed iron with rivet accented corners. Top is solid acacia wood finished in a distressed warm walnut stain.
Order & Save
17 W X 23 H X 12 D
Get Our Free Inside Scoop!
Contains our handpicked top five posts on latest decor trends & advice delivered to you monthly!


Ready to get started?
Get a designer room you'll
love, guaranteed!
Start Now