Masculine Contemporary Master Bedroom


Details
Project Title
Masculine Contemporary Master Bedroom
Project Description
Bedroom - looking for a luxury, sexy and cozy bedroom.
Living room
Dining room
What's your favorite decor style?
Modern
What are some of the interior design brands or stores that you like to shop at?
crate and barrel, west elm, RH etc. Open to stores however.
Which colors do you dislike?
Dark Gray, Dark Blue








Items you want to keep



Details
Room Label
Master Bedroom
I want this room to feel more masculine/feminine/neutral
Masculine
What type of sunlight does this room receive?
Mid-day light
What do you currently dislike about the room?
new room so not much in there
What pieces of existing furniture, lighting, art or accessories do you want to keep in the design?
I would like to incorporate my photography in the room. I have speakers and receiver for this room. No furniture needs to be kept.
Are you open to changing your wall colors?
Yes
Do you have a preference for either paint or wall covering, or are you open to both?
Open to both
Are you open to changing your floor covering?
Yes, Carpet
Additional comments to designers
Here are some pics I've saved. Hopefully it gives you a general idea of type of stuff I like.
https://www.pinterest.com/magicia9/bedroom/
here are some of living rooms I like (I'll be doing this next and perhaps this helps figure out my preferred style) - https://www.pinterest.com/sdphotography9/living-room/
FEEL: I like rooms you have done. Also see this post for inspiration (like that top pic as well as the room you designed --- https://www.decorilla.com/online-decorating/chic-boutique-hotel-interior-design-online/?utm_source=newsletter&utm_medium=email&utm_campaign=boutique%20hotel ).
Looking for a luxury hotel suite feel. A room that feels cozy, sexy, sophisticated. Perhaps dark palette for colors with luxury materials (eg. leather, fur, brass, velvet, textures - you don't have to use all or any, just trying to get the feel across). Something with a little impact, not bland or impersonal. Masculine feel. I do like color and b&w so open. for colors i like black, white, dark reds, orange, blues, grays, but I'm open to colors. I'm looking for a well pulled together look.
1. I want to use my photography in the room. Let me know how to incorporate this - I can send you stuff first or you can design and we can select works later. I'm open to whatever works for your creative process - let me know how you want to approach this.
2. I like magic (i'm a magician), photography, books and medicine (I'm a radiologist)(think old anatomy type stuff) so using items from any of these disciplines to personalize is one idea. I have some magic stuff and lot of books. Or you can incorporate anything you feel will work in your design. These are just thoughts.
3. In the room in addition to bed and bedroom type furniture etc, I would like to have a theater - likely a screen that automatically comes down and retracts back up. Will need to incorporate speakers (and equipment) and account for a projector. I have 2 small bookshelf speakers and receiver (images attached). I would also like a small refrigerator preferably in the bedroom like a hotel (though if that doesn't work in the room I can try to place it in bathroom, master closet or elsewhere upstairs). The room is upstairs and kitchen/living room are downstairs so want to have drinks etc upstairs.
4. Room has one window (north facing) and gets some light (not too much). I personally like that and like my lighting controlled. Good curtains that block out light would also be great. Lighting is very important. Currently the room has 2 ceiling recess lights (one for each side of bed) on top. There is also a fan in center - which can stay or go.
Please ask me anything you like. I have not had to design anything and know what I like and dislike but not sure how to get that across. So happy to answer questions.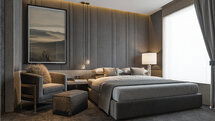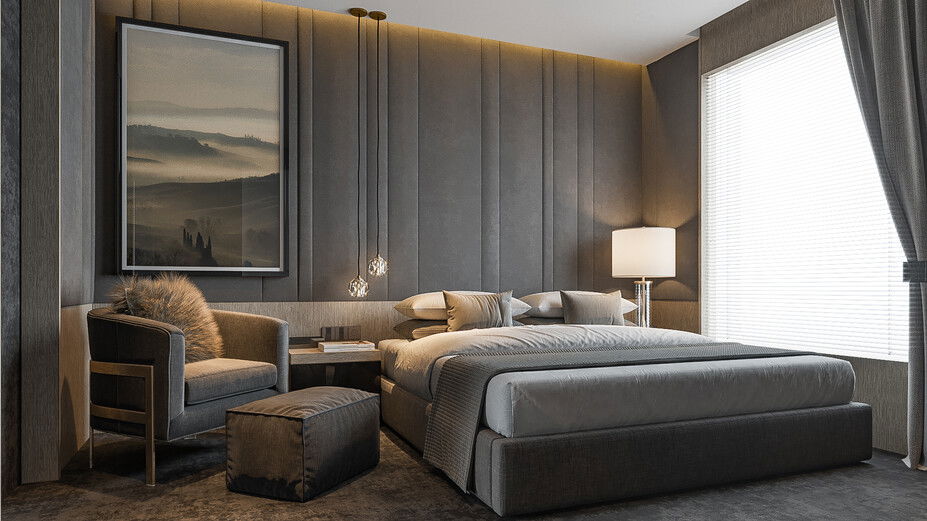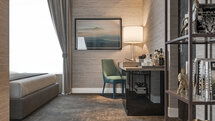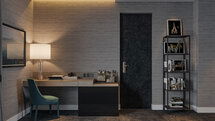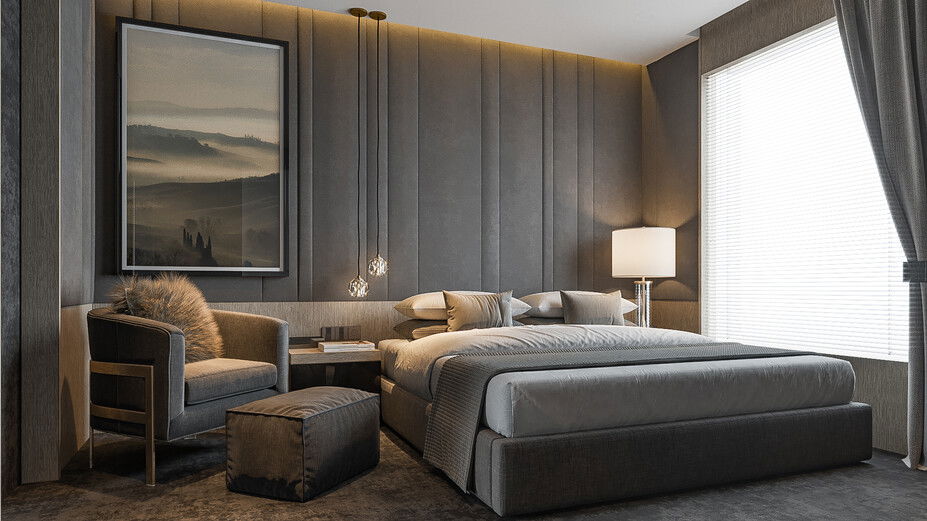 1
Armchair
2
Spring Box Bed base
3
Shelf
4
Shelf
5
Mini Refridgerator
6
Task Chair
7
Table Lamp
8
Pendant LIght
9
Ottoman
10
Wallpaper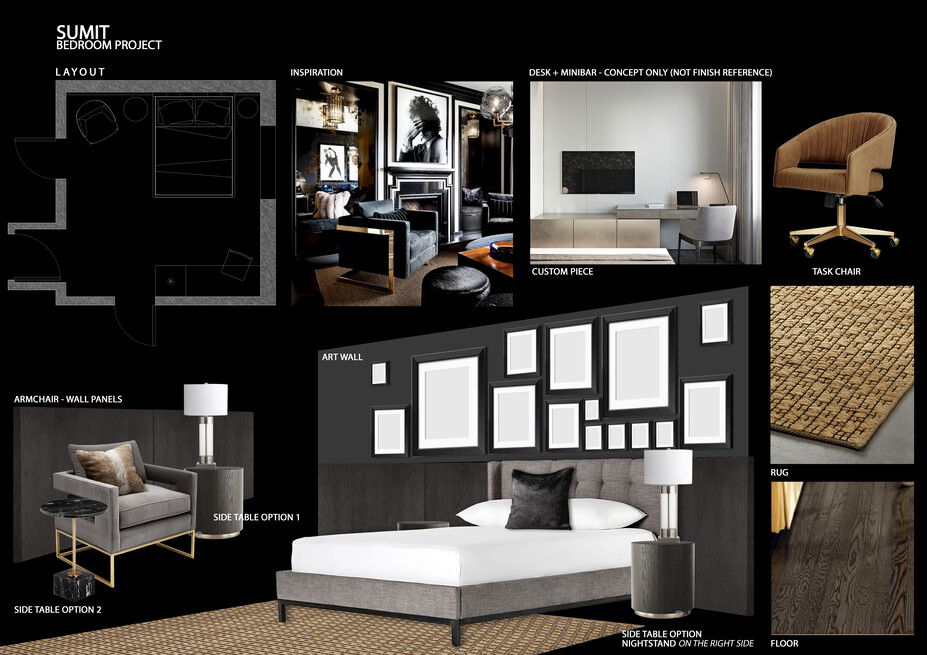 Bedroom:
Using lighter colors in your medium-sized room will make it feel more airy and bright

For your main ceiling color, we chose to use white/off-white as it offers a fresh, clean, feel to space. White and off-white colors are often a favorite for ceilings because they are light, neutral, and match most color schemes. They are known to make rooms feel more airy and spacious.

Use a matte finish paint because it will be helpful in camouflaging those surface imperfections such as bumps and cracks as it does not reflect light.
Bedroom Colors:
Shopping List:
Decorilla Discount
Photo
Name
Description
Link
Dimensions
Decorilla Discount
Mitchell Gold + Bob Williams


Armchair

Stylish accent chair upholstered in grey velvet.
Order & Save
29.5'' H x 31'' W x 29'' D
West Elm


Spring Box Bed base

A mattress base has two big advantages. It makes your bed higher and it helps your mattress keep its shape longer by distributing your body weight, providing extra support and lightening the load.
Order & Save
Length: 79 1/2 " Width: 59 7/8 " Height: 7 7/8 " Mattress length: 79 1/2 " Mattress width: 59 7/8 "
Uttermost Collection


Shelf

Tempered glass and metal are durable materials that provide an open, airy feel.
Order & Save
Width: 20 1/8 " Depth: 14 1/8 " Height: 68 7/8 "
Uttermost Collection


Shelf

Order & Save
DwellStudio


Mini Refridgerator

Magic Chef compact all-refrigerator provides ample storage for your favorite beverages such as water and sports drinks. Its freezer-less design, along with a wire shelf helps keep your fresh foods and beverages organized, so you can quickly grab a late-night snack in your dorm room or find your lunch at the office. It is energy star rated for its energy efficiency.
Order & Save
19.5'' H x 17.3'' W x 18.9'' D
DwellStudio


Task Chair

Treated fabric High back Upholstery Material Fiber Manufactured in Italy
Order & Save
36.25'' H x 17.63'' W x 23.13'' D
West Elm


Table Lamp


Quantity: 2
A built-in USB port makes our versatile Acrylic Column Table Lamp perfect anywhere-bedside, desk, family room-you want to stay connected
Order & Save
14"diam. x 25"h
Uttermost Collection


Pendant LIght

Crafted of solid brass and crystal glass, this sculptural fixture is a testament to passion for luxe materials and superior craftsmanship. Evoking the minimalist spirit of 1960s design, each finely faceted sphere is ground and polished by hand to reflect and refract the light.
Order & Save
AllModern


Ottoman

Small Cube is perfect for use as a footstool, side table or as extra seating for guests. Woven from 100% polyester Micro-velvet, these cube ottomans are durable yet comfortable.
Order & Save
17'' H x 17'' W x 17'' D
Surya Collection


Wallpaper


Quantity: 5
'Oralia' by Harlequin is gritty, engraved lined design, with a metallic sheen, this exquisite vinyl wallcovering is available in multiple earthy colourways vinyl coating pattern repeat - 20 in roll 20.5 in wide, 33 ft long coverage 56 sq. ft.
Order & Save
roll 20.5 in wide, 33 ft long coverage 56 sq. ft.
Get Our Free Inside Scoop!
Contains our handpicked top five posts on latest decor trends & advice delivered to you monthly!


Ready to get started?
Get a designer room you'll
love, guaranteed!
Start Now