Light and Feminine Bedroom Makeover


Details
Project Title
Light and Feminine Bedroom Makeover
Project Description
I'm moving into a new apartment in a new city. I didn't bring any furniture with me, and am starting fresh.
Location
Allston, MA , USA
Major Metro Area
Allston, 02134
What are some of the interior design brands or stores that you like to shop at?
West Elm and Anthropologie
Which colors do you dislike?
Yellow, Red, Orange
What are your favorite colors for walls?
Alice Blue
What are your favorite colors for furniture and accents?
Blackened Iron Finish, Golden Rod, Tan, Wood
Timeline
As soon as possible
Budget
1k-5K
Dimensions
120" x 132"
Ceiling Height
9 ft





Details
I want this room to feel more masculine/feminine/neutral
Feminine
What type of sunlight does this room receive?
Late afternoon light
What do you currently dislike about the room?
Since I have not added anything to the room myself, there is nothing I dislike about the room! I wish it was a little bit bigger, but I can't really change that.
What pieces of existing furniture, lighting, art or accessories do you want to keep in the design?
I will be bringing my record player to the apartment. I'd like a space to put it on and to store my vinyls. 14.7 x 14.15 x 3.84 inches. These are the dimensions.
Are you open to changing your wall colors?
No
Are you open to changing your floor covering?
No
Additional comments to designers
I am bedroom 4 in the floor plan. I am thinking about removing the closet doors and adding some short of sliding door or curtain to maximize the space. I really would like to fit a Queen bed in the room. I know that may take up the majority of the space, but it is a priority! I also will need a desk to work at- preferably one with a drawer and a good amount of space on top. I love trying new things, but also want to be able to use the things I buy for a long time- so not too trendy!
I feel like there is so much wood on my inspiration board! I haven't really done wooden furniture in the past, but I guess I could be interested.
I love iron bed frames! and neutral furniture colors and then adding color in with decor and maybe my sheets/pillows. I also love reading and using books as decoration!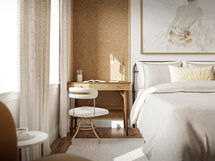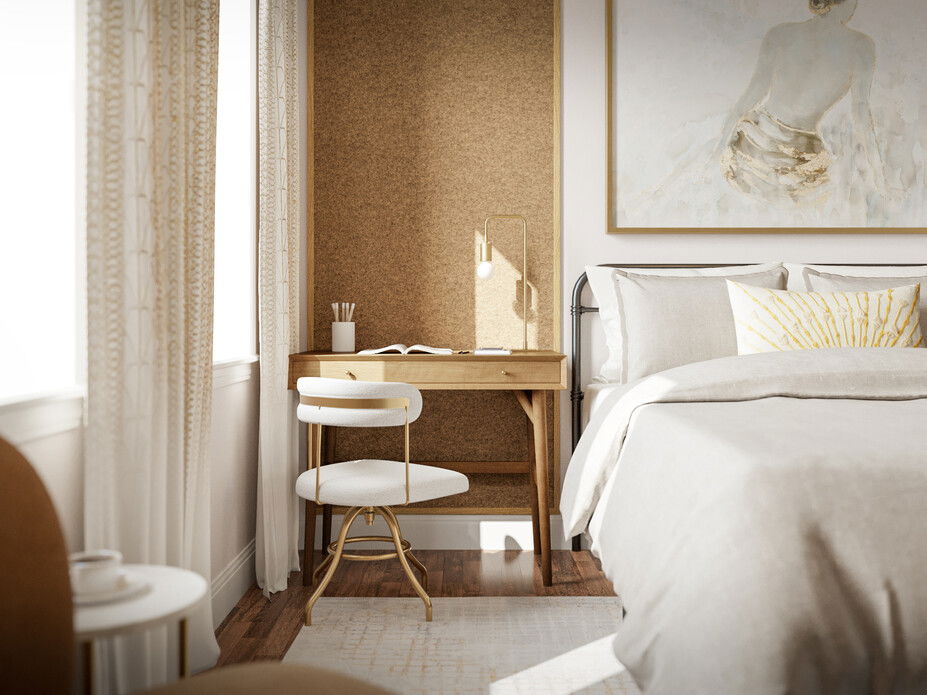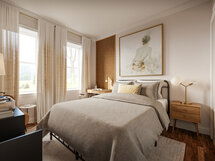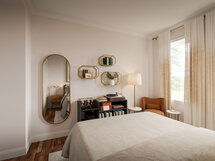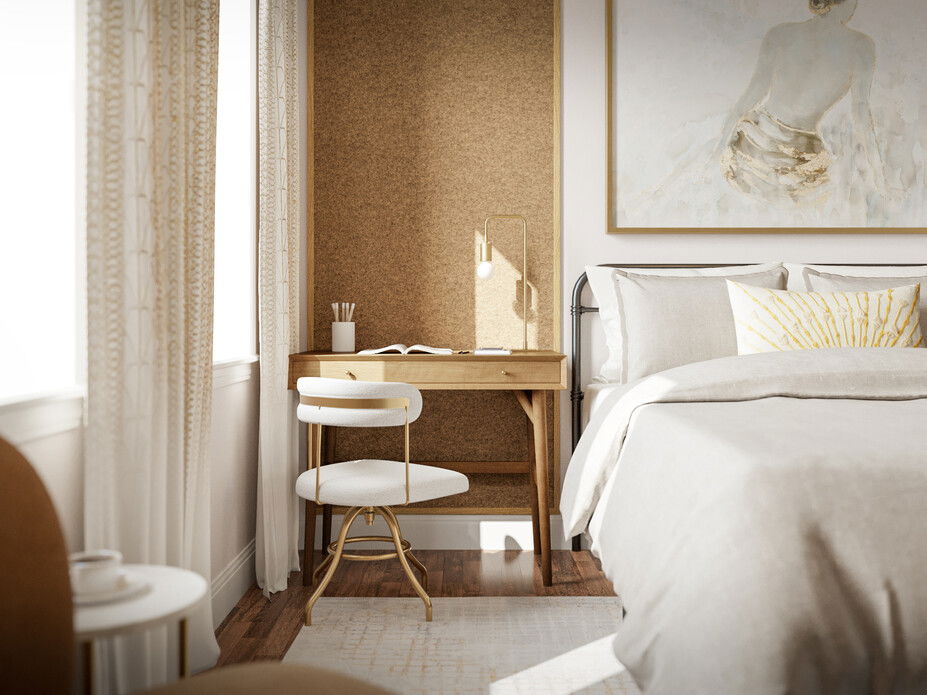 1
Gold Highlights Feminine Art
2
Vanias Golden Mirror
3
Lindee Gold Wall Shelves S/3
4
Cora Table Lamp Gold
5
Marte Mesa Lamp
6
Chuckanut Metal Bed
7
Mid-Century Closed Nightstand
8
Mid-Century Mini Desk (36")
9
Audio Rack
10
Cordelro Task Chair
11
Gullion 58'' Gold Tray Table Floor & Table Lamp Set
12
Almenia Upholstered Barrel Chair
13
Echo Print Curtains (Set of 2) - Gold Dust
14
Cork Roll 3mm
15
Tufted Embellished Sunrise Lumbar Pillow
16
Aszia 3 Pieces Cotton Comforter Set
17
Kornegay Performance Gray/Gold Rug
18
Vivian 100% Cotton Pillow Sham (Set of 2)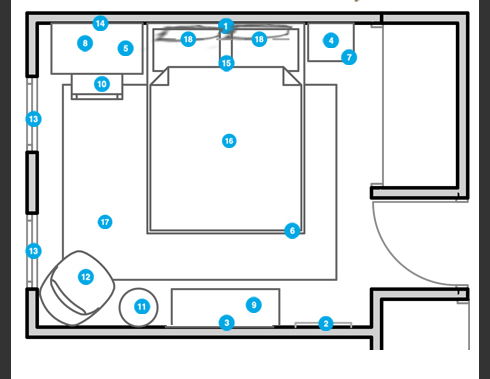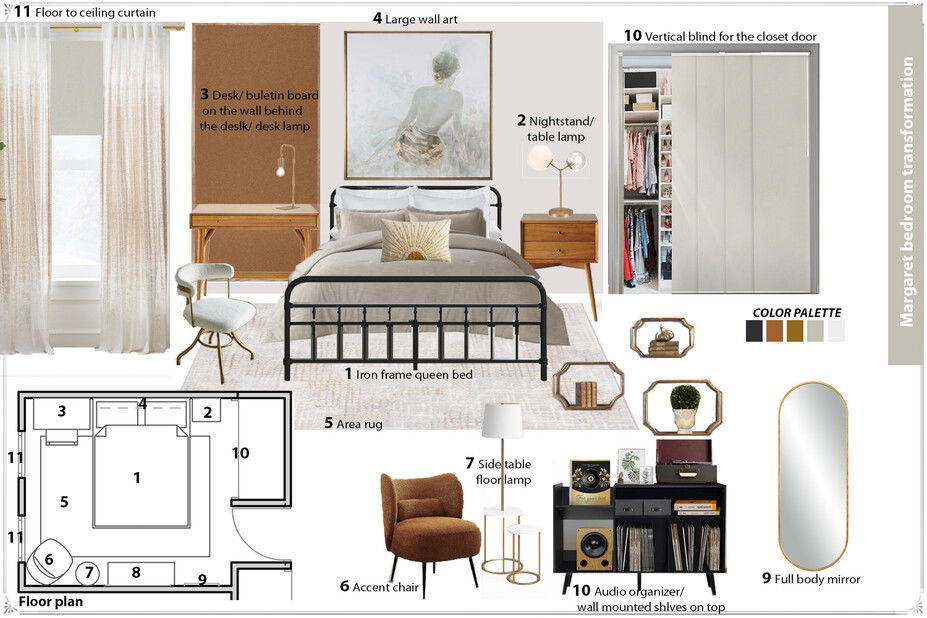 Bedroom:
Since your room gets plenty of sunlight your color options are quite broad.

For your main color, we chose to use white/off-white as it offers a fresh, clean, feel to the space. White and off-white colors are often a favorite for walls because they are light, neutral, and match most color schemes. They are known to make rooms feel more airy and spacious.

Use an eggshell finish paint which has a very light touch of shine (similar texture to an eggshell as implied by its name). This finish is very often used for walls and is more durable and easier to clean than matte finish
Bedroom Colors:
Shopping List:
Decorilla Discount
Photo
Name
Description
Link
Dimensions
Decorilla Discount
Uttermost Collection


Gold Highlights Feminine Art

This Hand Painted Artwork On Canvas Exudes Feminine Sophistication And Glamour. Neutral Gray And Bronze Tones Are Paired With Pops Of Powder Blue And Bright, Gold Leaf Accents. Each Contemporary Canvas Is Stretched And Attached To Wooden Stretching Bars. A Gold Leaf Gallery Frame Complements Each Piece. Due To The Handcrafted Nature Of This Artwork, Each Piece May Have Subtle Differences.
Order & Save
49.75" W x 49.75" H x 1.5" D
Pottery Barn


Vanias Golden Mirror

This iron oval features a lightly antiqued gold leaf finish and linear details. May be hung horizontal or vertical. Dimensions: 22 W X 60 H X 2 D (in) Weight: 39
Order & Save
2" L x 22" W x 60" H
Uttermost Collection


Lindee Gold Wall Shelves S/3

Whimsical, Deep Shelving Units In Hand Forged Iron With A Curved, Open-framed Design Finished With Lightly Antiqued Gold Leaf And Clear Glass Bottom Shelves. Great For Displaying Those Special Treasures. Sizes:Sm-16x10x7, Med-18x12x7, Lg-20x18x7
Order & Save
20" W x 14" H x 6.5" D
ZuoMod


Cora Table Lamp Gold

A mix of high European modern and urban minimalism, the Cora Table lamp has a gold plated steel frame and glass shades. It is simple, elegant, and completely contemporary and will work in any space.
Order & Save
14" L x 14" W x 22" H
Phillips Collection


Marte Mesa Lamp

Simple, clean, and modern, the Martia Table Lamp has copper plated steel body .Marte Mesa Lamp is the perfect lamp for any maximalist or urban space.
Order & Save
8.5" W x 19.7" H x 4.9" diam.
DwellStudio


Chuckanut Metal Bed

Box Spring Not Required Assembly Tools Included Assembly Required Headboard Included Footboard Included Center Supports Included Mattress Sold Separately Underbed Clearance: 10 ''
Order & Save
61" * 82"
Loloi Collection


Mid-Century Closed Nightstand

White: Solid eucalyptus legs and frame; engineered wood sides covered in lacquer.
Order & Save
Overall: 18"w x 15"d x 24"h
West Elm


Mid-Century Mini Desk (36")

All finishes are water based. GREENGUARD Gold Certified. This low-emitting product has been screened for over 10,000 chemicals and VOCs. Metal hardware in an Oil-Rubbed Bronze finish. Drawer opens on smooth metal glides. Made in a Fair Trade Certified™ factory, empowering workers who made it. Imported.
Order & Save
36"w x 20"d x 30"h
Schumacher Collection


Audio Rack

Assembly Required Scratch Resistant Shelves Manufactured Wood
Order & Save
31.4'' H X 45.2'' W X 15.7'' D
DwellStudio


Cordelro Task Chair

This is not a standard office chair. Its curvaceous and round-shape seat adds a modern touch to the study room, fancy corner offices, or dressing room. It offers supreme comfort thanks to its ergonomic shape and features a durable frame. The bright and colorful finish will blend with most color palettes. The skin-friendly fabrics give a better touch than leather. Plus, its unique back design and durable gold finish metal legs give life to certain environments.
Order & Save
28'' H X 20'' W X 20'' D
Loloi Collection


Gullion 58'' Gold Tray Table Floor & Table Lamp Set

This 2-piece nesting table and floor lamp set delivers an all-in-one living room solution. Each table stands on a round steel base with a golden finish and has a circular white surface for a contemporary look. The taller table features a slim gold lamp post extending through the center of its surface, and it's topped with a white linen empire shade. The lamp accommodates one 150W bulb (sold separately), illuminating your space with ambient light. Slide the smaller table under the taller one for a neatly curated look, and easily turn the lamp on and off with the built-in 3-way socket switch.
Order & Save
58'' H X 15'' W X 15'' D
DwellStudio


Almenia Upholstered Barrel Chair

Energize your living room decor with this mid-century accent chair, add a plush shag rug, glossy end table, urban photographic prints, and a soft wool throw for a contemporary ensemble sure to impress. Or just set it in your master suite for a cozy place to curl up with your latest read. Sit deeply in tactile luxury with vertical channel tufting that creates visual depth and a magnificent waterfall effect that spans the length of this vintage glamour sofa. It features plush dense foam padding with soft, durable stain-resistant performance velvet upholstery for a luxurious seating experience that delivers premium comfort.
Order & Save
28.4'' H X 24'' W X 28'' D
Revelation


Echo Print Curtains (Set of 2) - Gold Dust

We reimagined Egyptian patterning to create the intricate motif on our Echo Print Curtain. The opaque fabric blocks out most light and helps keep the cold air out.
Order & Save
Select length: 48" W X 108" L
DwellStudio


Cork Roll 3mm

Create your own bulletin board by adding fiberboard backing and a frame, use it in art projects, or transform a whole wall with cork! Durable, self-healing cork cuts easily to any size that suits your needs.
Order & Save
48'' H X 144'' W X 0.12'' D
Surya Collection


Tufted Embellished Sunrise Lumbar Pillow

Featuring a tufted sunrise design in warm hues on a woven ivory ground, this lumbar pillow brings texture, comfort and a touch of art to seating. Mix and match with our variety of throw pillows or let this one shine on its own.
Order & Save
22"W x 14"H
DwellStudio


Aszia 3 Pieces Cotton Comforter Set

This comforter set revitalizes your bedroom with muted textured tones and a sleek modern vibe. It includes a comforter with a polyfill insert and two matching pillow shams (one for the twin/twin XL size). Each item is made from cotton with simple stitching to complete the overall look. Easily foldable to save on space in your closet or dresser when not in use, this set is also safe to run through the washing machine whenever it needs a quick refresh. What's Included? Comforter Shams Accent Pillow
Order & Save
Sham Width - Side to Side 26'' W Duvet Cover/Comforter Width - Side to Side 90'' W Overall Product Weight 6.59 lb. Other Dimensions Sham 20'' Duvet Cover/Comforter 90'' L
Loloi Collection


Kornegay Performance Gray/Gold Rug

Stain resistant & non-shedding: these rugs are skillfully machine-made from durable synthetic fibers making them highly stain-resistant and non-shedding, ideal for any area in your home. Due to the difference of monitor colors, some rug colors may vary slightly. We try to represent all rug colors as accurately as possible.
Order & Save
Rectangle 6' x 9'
DwellStudio


Vivian 100% Cotton Pillow Sham (Set of 2)

This set of two pillow shams allows you to wash your bed with a solid vibrant hue to match your room's current color scheme. It's crafted from cotton, so it's hypoallergenic and a breathable option to help keep you cool at night. Each sham features an envelope closure, making it easy to slip on and off inserts (not included) and hide the seam from view. For easy care, use a cold, gentle cycle and tumble dry on low. Iron if needed. What's Included? 2 Sham
Order & Save
26'' H X 26'' W
Get Our Free Inside Scoop!
Contains our handpicked top five posts on latest decor trends & advice delivered to you monthly!


Ready to get started?
Get a designer room you'll
love, guaranteed!
Start Now