Flatiron Loft Living Room Design

Details
Project Title
Flatiron Loft Living Room Design
Project Description
Looking for a fun contemporary loft space for my family
What's your favorite decor style?
Contemporary
What are some of the interior design brands or stores that you like to shop at?
Lazzoni, West Elm, Ligne Roset, Modani
Which colors do you dislike?
Orange
What are your favorite colors for walls?
White, Red, Beige
What are your favorite colors for furniture and accents?
Turquoise, Teal, Chartreuse, Gray, Dark Slate Blue, Saddle Brown
Dimensions
30'w x 18'd x 10'h




Items you want to keep




Details
Room Label
My Living Room
I want this room to feel more masculine/feminine/neutral
Masculine
What type of sunlight does this room receive?
Mid-day light
What do you currently dislike about the room?
I love that it is so open but find it hard to delineate the space. I wish my ceilings were higher as it's barely a "loft" anymore!
What pieces of existing furniture, lighting, art or accessories do you want to keep in the design?
I have a beautiful chest I want to keep
Are you open to changing your wall colors?
No
Are you open to changing your floor covering?
No
Additional comments to designers
Please make my living room be able to seat all my friends and family!
The initial proposals for this project have been restricted to the project owner only, but check out other fantastic
sample projects
to see rooms with unlocked initial proposals!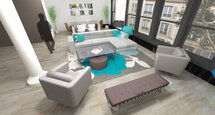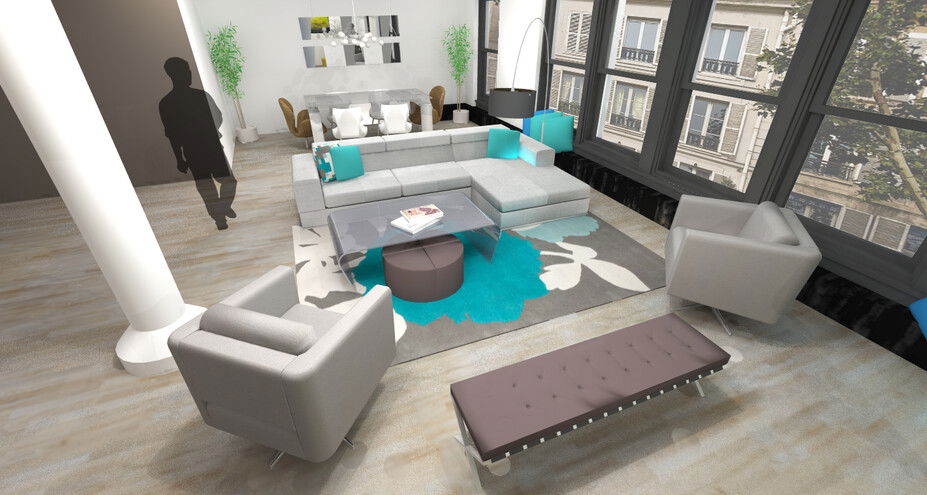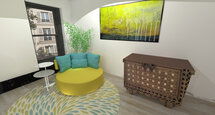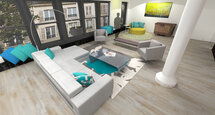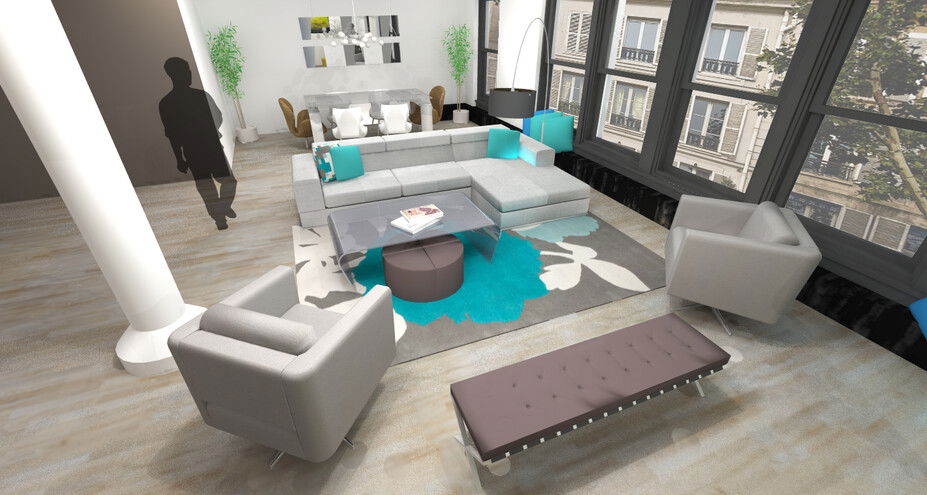 1
Dudi Sectional Sofa
2
Peony Blue & Gris Rug
3
Bent Glass Coffee Table
4
Puck Ottoman
5
Auguste Bench (Small)
6
Jayden Swivel Chair
7
Eva Round Sofa
8
Radinka Adjustable Glass Table
9
Eye of the Storm 8' round rug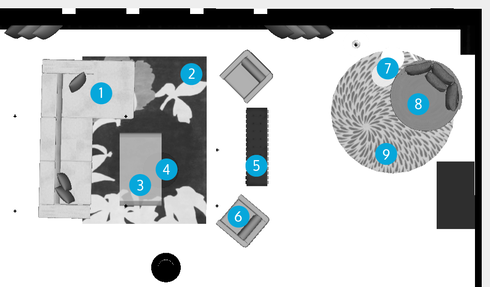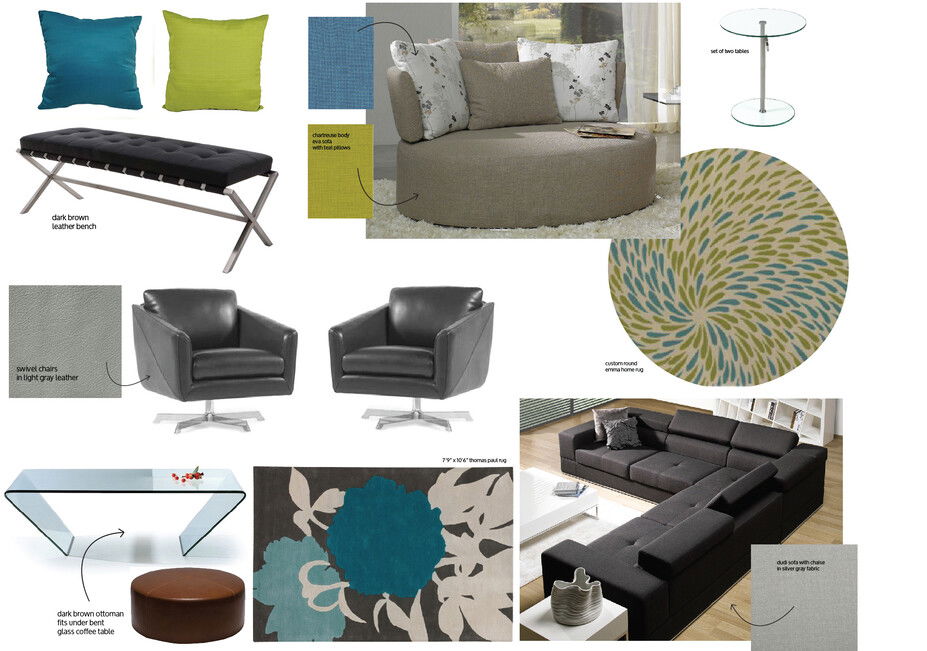 Living Room:
Most of the color is found in the furniture and accessories which will pop best off a neutral palette. The open space of the loft is emphasized with bright white walls.

For your main color, we chose to use white as it offers a fresh, clean, feel to the space. White and off-white colors are often a favorite for walls because they are light, neutral, and match most color schemes. They are known to make rooms feel more airy and spacious.

Use an eggshell finish paint which has a very light touch of shine (similar texture to an eggshell as implied by its name). This finish is very often used for walls and is more durable and easier to clean than matte finish
Living Room Colors:
Shopping List:
Decorilla Discount
Photo
Name
Description
Link
Dimensions
Decorilla Discount
Lazzoni


Dudi Sectional Sofa

The Dudi is a sofa with adjustable headrests and wide armrests. It is equipped with hand-wrapped spring coils and features stainless steel frame and joints.
Order & Save
123"w x 40"d (70"d chaise) x 27"h
Thomas Paul


Peony Blue & Gris Rug

100% New Zealand Wood. Thomas' concept is simple The design concept is to mix unrelated historic design styles - art nouveau, 60's pop art, 70's minimalism, 18th Centurn Baroque - and reinterpret these disparate periods into a unique style with coordinated color palette that works with today's interiors. Price points are accessible to attract a stylish and design driven youth.
Order & Save
7'9" x 10'6"
Chintaly Imports


Bent Glass Coffee Table

Wholly made up of glass, this coffee table has a light, clean appeal. Its surface can bear considerable weight claiming for its durability.
Order & Save
46"w x 28"d x 12"h
Camerich


Puck Ottoman

The Puck doubles as an ottoman or chair, or even a side table. The uniquely whimsical design comes in several sizes with detailed cross-stitching. A solid birch frame with inset thermal plastic feet supports high-resilient polyurethane foam.
Order & Save
26"d x 14"h
Nuevo Living


Auguste Bench (Small)

-brushed stainless steel square tube frame -tufted naugahyde seat -CFS foam -saddle leather strapping
Order & Save
47.25"w x 17.75"d x 17.75"h
Moroni


Jayden Swivel Chair

-Frame construction: Solid kiln dried hardwood and thick plywood -Base construction: Chromed metal -Smooth swivel mechanism -Fire retardant California foam -43 Coil springs drop-in unit suspension -Higher density: 2.4 lbs
Order & Save
29"w x 32.5"d x 32"h
Lazzoni


Eva Round Sofa

Eva round sofa is built with a stainless steel frame and joints. Each pillow and surface is available over 100 fabrics.
Order & Save
55"d x 30.7"h
Eurostyle


Radinka Adjustable Glass Table

The Radinka Table has a clean modern style and is adjustable for height with a quick release, adjustable lever. Stylish with tempered colored glass tops and bases with a stainless steel column. This makes a perfect little occasional, end table or bedside table for the trendy. My daughter has claimed this red Radinka Table for her new apartment and I think it will look great there. The adjustable height makes this table a very versatile piece.
Order & Save
18"d x 20"-30"h
Chandra


Eye of the Storm 8' round rug

The Eye of the Storm features a whirlwind pattern that evokes a sense of orderly chaos and delivers a dynamic element to modern living spaces. Hand tufted and hand made from New Zealand wool, Eye of the Storm's intricate design and fine materials pair perfectly, delivered to you with care and quality in mind. Emma Gardner is a designer of beautiful things for the modern day home. Her award-winning collections are infused with her uniquely American and contemporary point of view. Japanese aesthetics, modern art and natural forms are all evident inspiration in Emma's brands and unique designs.
Order & Save
8'd
Get Our Free Inside Scoop!
Contains our handpicked top five posts on latest decor trends & advice delivered to you monthly!


Ready to get started?
Get a designer room you'll
love, guaranteed!
Start Now