Details
Project Title
Cozy Living Room
Project Description
Need help decorating and furnishing my new home. It is a 1940s Cottage/Tudor style home. I like minimalist, scandinavian/mid-century modern decor.
What's your favorite decor style?
Eclectic
What are your favorite colors for walls?
White
What are your favorite colors for furniture and accents?
Dark Blue, Purple, Deep Pink, Gray, Saddle Brown, Dark Green
Dimensions
17' L x 8' H x 13' W










Details
Room Label
My Living Room
I want this room to feel more masculine/feminine/neutral
Neutral
What type of sunlight does this room receive?
Mid-day light
What do you currently dislike about the room?
The color of the walls. I prefer white. There are already 2 other rooms with gray/dark paint, so I prefer to leave this room lighter.
What pieces of existing furniture, lighting, art or accessories do you want to keep in the design?
None
Are you open to changing your wall colors?
Yes
Do you have a preference for either paint or wall covering, or are you open to both?
Paint
Are you open to changing your floor covering?
No
Additional comments to designers
THe room has 4 windows, all of which receive a lot of natural light throughout the day.
Would love to add a small desk as well.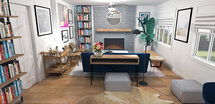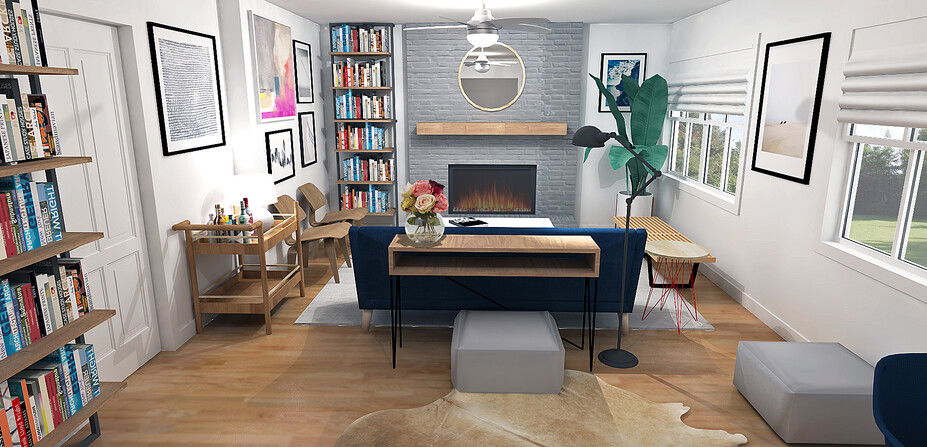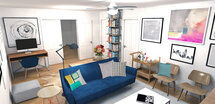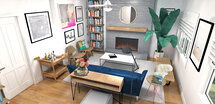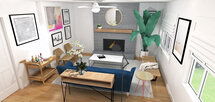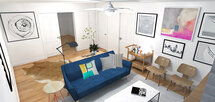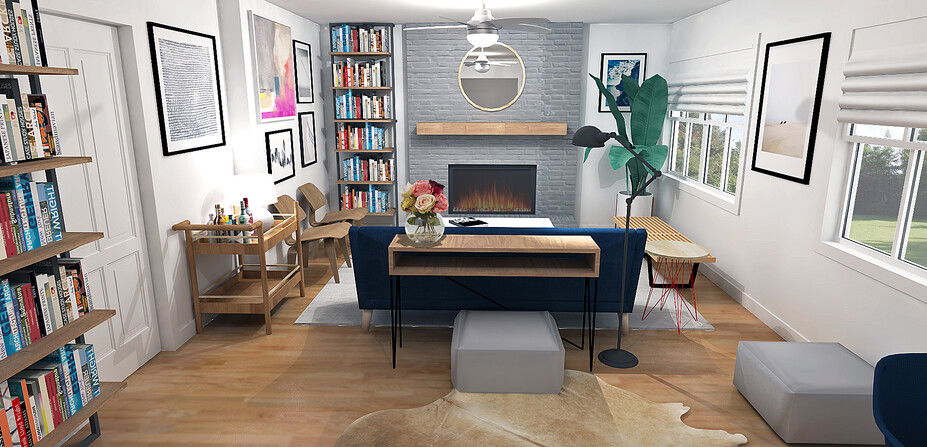 1
Black Floor Lamp
2
sofa
3
accent chairs
4
BENCH
5
AREA RUG
6
MIRROR
7
STOOLS
8
COFFEE TABLE
9
BAR CART
10
BOOKCASE
11
COWHIDE RUG
12
pouf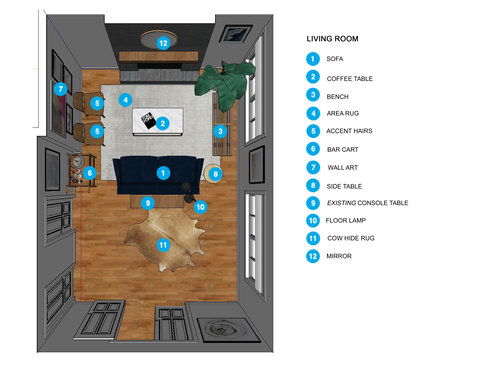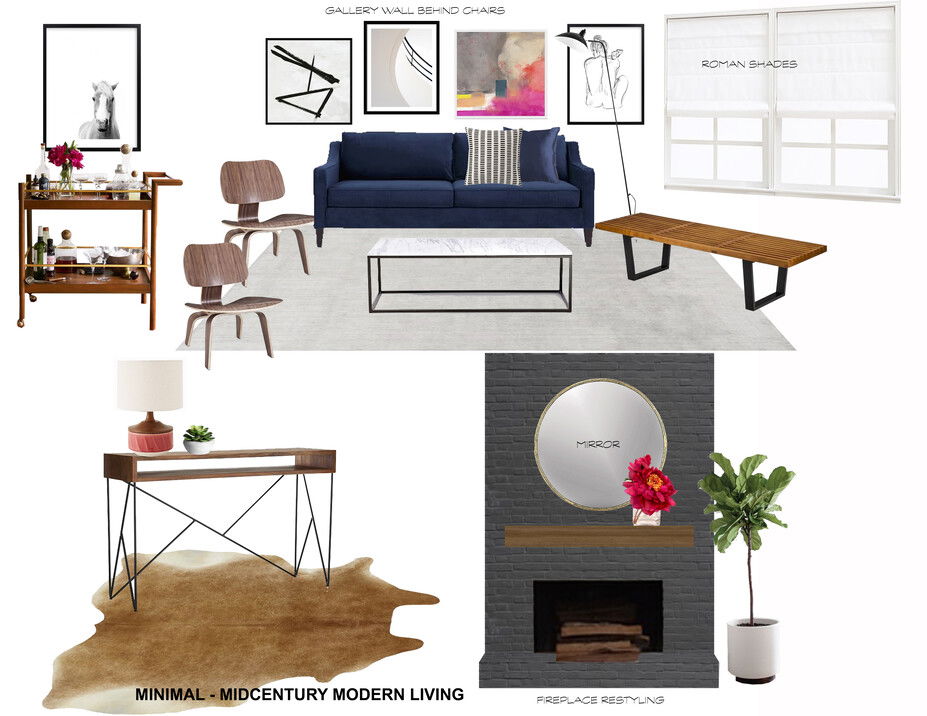 Living Room:
Using lighter colors in your medium-sized room will make it feel more airy and bright

For your main color, we chose to use white/off-white as it offers a fresh, clean, feel to the space. White and off-white colors are often a favorite for walls because they are light, neutral, and match most color schemes. They are known to make rooms feel more airy and spacious.

Use an eggshell finish paint which has a very light touch of shine (similar texture to an eggshell as implied by its name). This finish is very often used for walls and is more durable and easier to clean than matte finish COLORS ON SCREEN APPER DIFFERENT THAN IN REALITY- ALWAYS TEST ON A LITTLE SURFACE TO SEE REAL COLOR BEFORE PAINTING
Living Room Colors:
Shopping List:
Decorilla Discount
Photo
Name
Description
Link
Dimensions
Decorilla Discount
Modway Furniture Collection


Black Floor Lamp

Fashioned to symbolize overflowing vessels of abundance, each shade cups while simultaneously releasing light to your room. Each shade comes fully adjustable in all directions and is made of steel which is coated white on the inside, and black on the outside. An organic piece with a avant-garde design, surround yourself with this inspiring series that promotes abundance and light-filled optimism.
Order & Save
14.5"L x 14.5"W x 47"H
West Elm


sofa

Performance Velvet, Ink Blue
Order & Save
86.5"w x 40.5"d x 34.5"h.
Uttermost Collection


accent chairs


Quantity: 2
WALNUT
Order & Save
23.5"L x 22"W x 26"H
Uttermost Collection


BENCH

WALNUT
Order & Save
19" Deep x 60" Wide x 14" High
AllModern


AREA RUG

Order & Save
8'X10'6"
CB2


MIRROR

Order & Save
Depth: 1" Diameter: 30"
CB2


STOOLS


Quantity: 2
Order & Save
Width: 19.25" Depth: 15.5" Height: 18"
West Elm


COFFEE TABLE

WIDE
Order & Save
44.25"w x 24.5"d x 17"h.
West Elm


BAR CART

Order & Save
32.4"w x 19.9"d x 32"h.
CB2


BOOKCASE


Quantity: 2
EXISTS ALSO IN H 70"
Order & Save
Width: 30" Depth: 11.75" Height: 96"
CB2


COWHIDE RUG

Order & Save
5'x8'. 73" sq.
AllModern


pouf

ORCHID
Order & Save
13'' H x 24'' W x 24'' D
Get Our Free Inside Scoop!
Contains our handpicked top five posts on latest decor trends & advice delivered to you monthly!


Ready to get started?
Get a designer room you'll
love, guaranteed!
Start Now