Contemporary Home and Bar Design


Details
Project Title
Contemporary Home and Bar Design
Project Description
This is new construction. Waiting for approval. Want to start the process of design. I like the 3D concept.
I would like to look at the entrance and the main living room.
I have two sofas from RH and a table that I would like to use for the living room. I'm flexible with the furniture lines. I don't like leather sofas. We are having a fireplace that goes to the ceiling.
May want suggestions for the flooring.
I could be interested in the kitchen as well.
I am open to wallpaper but not throughout the house.. I like wood panels. I want everything very natural. This is a 10,000 square foot home.
I worked with a designer and it was not a good experience.
Used Modsey and did not like at all. Was not custom enough for me. I need the details.
I would like a very modern home but warm. I would like marble fireplace. I do entertain for the holidays.
The game room will be a priority. There is a bar, seating area and pool table. We want tv's on both sides of the walls. I would like the game room to be more masculine/modern with a richer color. I would love to sit 8 people comfortable.
I do not have a tight timeline. I am flexible. The home will not be completed for another year.
I would like to start with one room to see how the process goes.
I do have a floor plan but does not have the window and doors.
Notes for the inspiration images:
1-2: I like the overall design and color scheme of this house, Idea for fireplace wall that goes into game room
3: Glass wall Showcasing the 2 car garage. This is where we got our idea from. (I don't like the colors of this room at all)
4: We like the shelves and lighting
5: A sample of a bar using onyx countertop
6: Love overall look and color scheme
*More inspiration!
- I love the https://www.decorilla.com/design-a-room-online/contemporary-home-design-help-and-elevations-10730

Details
Additional comments to designers
I am attaching my floor plan for the first floor. This floor plan doesn't have all the windows and doors yet so hopefully that's not a problem.
I am sending you some links of houses that I am using as inspiration for my new home and also some pictures of some game rooms. My husband wants TVs in multiple walls and a modern pool table. I like wall details with textured wallpapers and wood paneling so feel free to incorporate that. For the bar, we would like to use onyx stone with lighting for counter. I don't like the one that is yellow. Actually I don't like anything brown, yellow or redish, I like grays, whites and very clean and modern tones.
Game room/club room - has a nice bar, pool table. can see the showroom garage, a couch u-shape, l-shape. TV on both sides of wall, a little bit modern masculine (a bit darker), sit at least 8 people (open).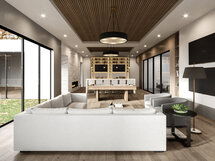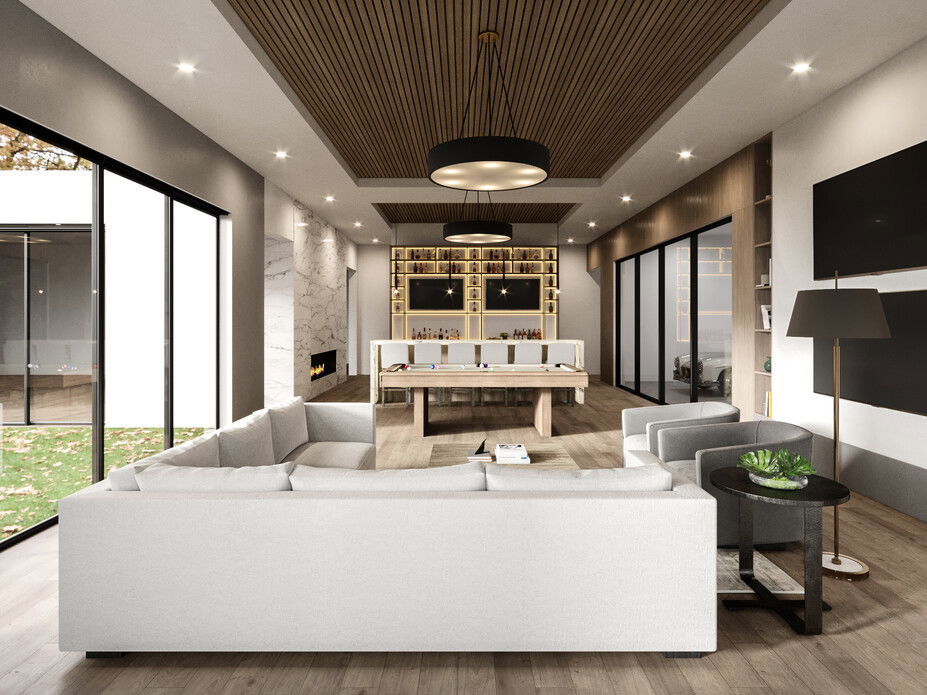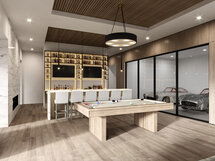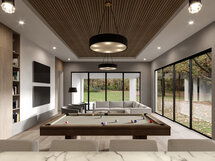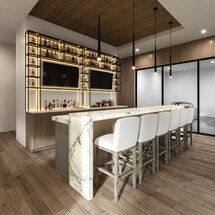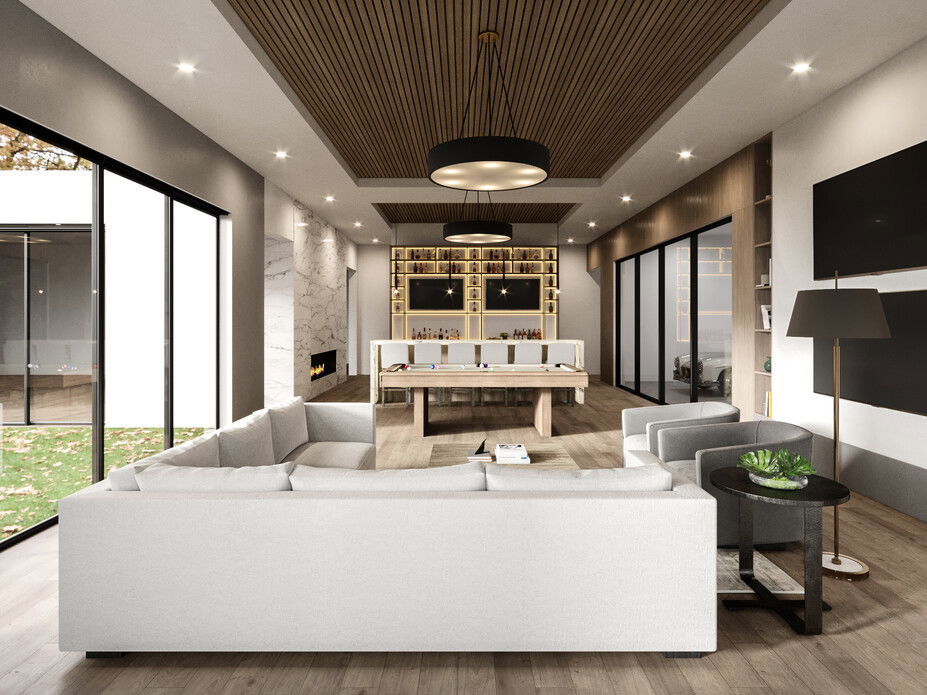 1
Sectional
2
Pool Table
3
Area Rug
4
Chandelier
5
Barstools
6
coffee table
7
armchairs
8
pendants
9
side table
10
floor lamp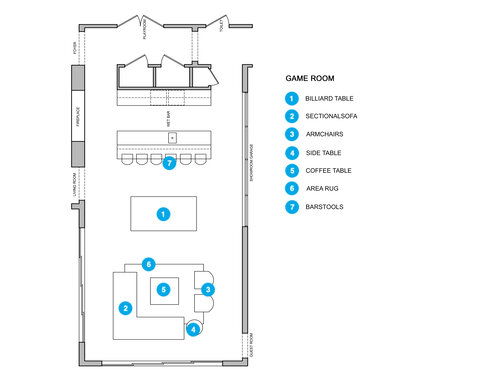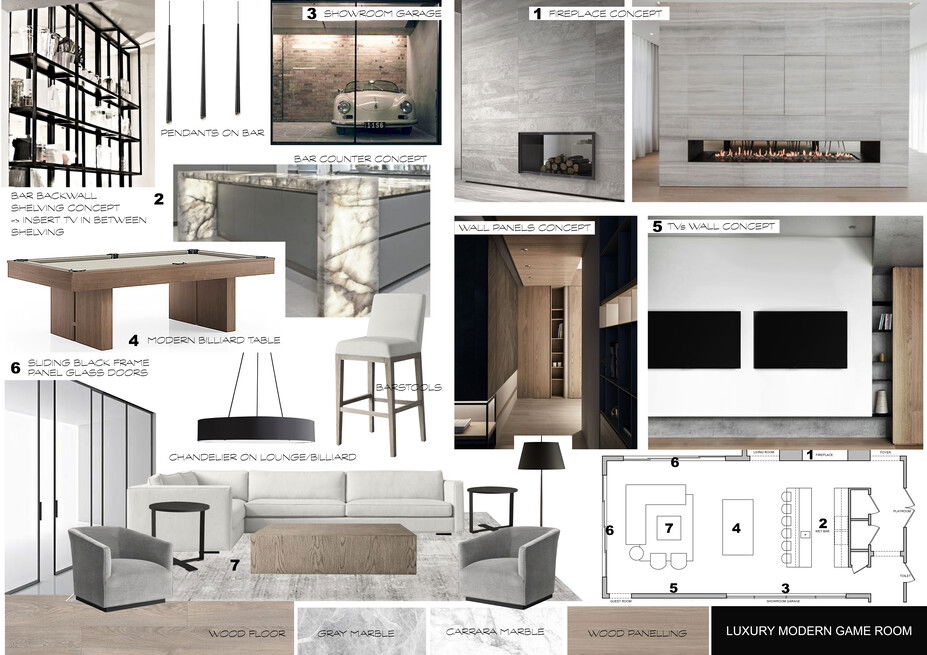 Combined Living/Dining:
Since your room gets plenty of sunlight your color options are quite broad.

For your main color, we chose to use white/off-white as it offers a fresh, clean, feel to the space. White and off-white colors are often a favorite for walls because they are light, neutral, and match most color schemes. They are known to make rooms feel more airy and spacious.

Use an eggshell finish paint which has a very light touch of shine (similar texture to an eggshell as implied by its name). This finish is very often used for walls and is more durable and easier to clean than matte finish
Combined Living/Dining Colors:
Shopping List:
Decorilla Discount
Photo
Name
Description
Link
Dimensions
Decorilla Discount
Revelation


Sectional

PERENNIALS PERFORMANCE CLASSIC LINEN WEAVE color: white or dove
Order & Save
108"x108" classic depth 36" (see attached sheet for detailed dimensions)
Crate and Barrel


Pool Table

Whether eyeing an eight-ball or admiring from afar, you won't be able to take your gaze off of this stunning pool table.
Order & Save
Width: 98.75"Depth: 54.75"Height: 33"
Surya Collection


Area Rug

Our Tottori rug is expertly printed with a beautifully nuanced abstract design in soft shades of grey and ivory.
Order & Save
8'x10'
Arteriors Collection


Chandelier


Quantity: 2
Clean, sophisticated and practical, this six-light chandelier has a sleek, narrow silhouette perfect for hanging over an island in the kitchen or over a table that wants to be the center of attention.
Order & Save
H: 66.04CM DIA: 91.44CM
West Elm


Barstools


Quantity: 6
PERENNIALS PERFORMANCE CLASSIC LINEN WEAVE color: mist or white or dove
Order & Save
Barstool: 17"W x 20½"D x 42"H Seat: 17"W x 15"D Seat Crown Height: 30" Footrest: 12"H Weight: 21 lbs.
Revelation


coffee table

ash oak
Order & Save
Luxe: 43½" sq., 15"H
Revelation


armchairs


Quantity: 2
PERENNIALS PERFORMANCE CLASSIC LINEN WEAVE color:fog
Order & Save
Classic Overall: 30½"W x 32½"D x 29"H
Visual Comfort


pendants


Quantity: 4
bronze
Order & Save
Overall: 4½" diam. Maximum Height: 60½" (adjustable) Canopy: 4½" diam., 5"H Cord: ¼" diam. Brass Form: 23½"H
Arteriors Collection


side table

Order & Save
H: 62.23CM DIA: 60.96CM
Arteriors Collection


floor lamp

Order & Save
H: 172.72CM DIA: 53.34CM
Get Our Free Inside Scoop!
Contains our handpicked top five posts on latest decor trends & advice delivered to you monthly!


Ready to get started?
Get a designer room you'll
love, guaranteed!
Start Now