Bohemian Glam Living Room Transformation


20k-50K
Non-Project Room Photos





Details
Project Title
Bohemian Glam Living Room Transformation
Project Description
We purchased our home in December 2019. The home came with existing furniture, some I would like to keep, some I don't want or have already gotten rid of. There are some of my own items that I would like to incorporate.
The kitchen, living room, and dining room is one space. The hall area which is called the gallery has a new very shiny black baby grand piano and needs a design. Jerry is a pianist.
Full design is needed for the powder room, not changing any of those fixtures though. I love really "over doing" a powder room for guests to get lost in.
Jerry is the CEO and partner in a privately held insurance company, and I am a yogi/yoga teacher, and wellness coach. Jerry and I are both fanatical about nature, food, and healthy living. Ultimately I think this house will end up being kind of eclectic. I really like the glam look, but with natural/global world touches. I have no idea if it is possible to combine the two of those. I don't want it to be overly world inspired.
I am looking for someone that wants to get creative. So it would need to be someone who can mix things up and it doesn't end up looking like Pottery Barn or Crate and Barrel if that makes sense? Not that I don't love that, but that just would not reflect our personalities.
Powder Room: Finishing touches. -Needs everything but not replacing sink, toilet, or vanity.
Hall: Finish touches. - Complete re-do, I plan on keeping the one sideboard with the mirror above it.
Living Room: Full Design-Yes, and I need to especially figure out what to do with the fireplace
Kitchen: What is needed in the kitchen? Perhaps new bar stools, the counter above the wine refrigerator, the wall above the wine refrigerator, and possibly something decorative in front of the kitchen sink. A new rug in front of the sink.
To sum things up, the project will include the Dining, kitchen, living, entry and gallery area, and the powder room.
The large sliding glass doors open fully to the pool area and the landscaping has really filled in, I want the house decor colors to blend well with the pool and the outside, so it really feels like all one space. I hope to get rid of the black and white zig zag cushions on the black framed outdoor furniture soon.
There are 3 large paintings currently on the wall on the dining room table side of the great room. They have been growing on me since we have been living here and I am open to using them there or in the gallery-Maybe they need to be hung differently? I could also change them out, I am just not sure if they are too yellow. The theatre room is all done in a deep navy so that also goes with the paintings. The paintings are definitely more beautiful in person.
Currently the wall color in the entire house is DEC786 Miner's Dust. Unfortunately I feel like I need to paint which is expensive, I already have the bids. I was looking at painting the entire house SW7568 Neutral Ground, but obviously will figure that out with the complete design. The trim and doors are DEW340 Whisper and I would like to keep that the same.
Please note that all furniture needs to be very comfortable and livable.
Below it is asking about colors, and I am really not sure. If we decide to keep the paintings, then I think those really dictate the colors. I have really been into blues lately. I also like the idea of using the pool color which is a deep turquoise. I like the idea of using natural colors combined with luxurious and varied textures. I like the idea of having pillows and blankets on the sofa. In the winter it gets cool in the house with the sliders open.
Lighting is really important to me. I want to replace the two large light fixtures. I do not need them to give off a lot of light, they are just for ambience, because I have plenty of recessed cans that give off a lot of light. I do not like the light fixtures that look like constellations that I am seeing everywhere.
We do not have any pets. :( We travel too much. :)
I have kids, they are 22 and 24. They come to visit a lot and bring their friends.
Please no real leather or cowhide, or any kind of animal skins, no real fur
I am open to creating a new lighting configuration. No problem to get an electrician. Maybe multiple light fixtures over the table or the conversation pit.
With regard to the sofa replacement. If replacing, I would like something with cushions that look neat and tidy. I don't like the sofas where the back cushions are all loose. It is too difficult to keep constantly arranging them. I do however like a lot of fun throw pillows. I would also like to source furniture from a place where I can go sit on them. Comfort is key. I can easily go anywhere in LA.
What's your favorite decor style?
Glamorous
Which colors do you dislike?
Bright Unnatural Colors
Dimensions
40' 4" x 20' 9"










Items you want to keep












Details
Room Label
Combined Living/Dining Room
I want this room to feel more masculine/feminine/neutral
Neutral
What type of sunlight does this room receive?
Morning light
What do you currently dislike about the room?
It doesn't seem to have any personality or style. I joke that it feels like The Courtyard by Marriott but with an amazing view.
What pieces of existing furniture, lighting, art or accessories do you want to keep in the design?
3 large paintings- I am open to keeping or replacing - Each are 48"x60"
Dining Room Table-Keep 126"x48"
Small painting of the woman-keep-20"x24"
Dining room chairs- I am open to keeping or replacing.
Dining room rug- replace 15'6"x10'
Living Room rug-replace
Living Room Swivel Chairs replace 40" wide
Sofa's-I am not sure if we should keep or replace. They are really boxy. 10' long each
Living room round table between chairs - replace
Coffee Tables- I am open to replacing or keeping 4'x4'-Quartz or granite -polished
Keyboard-needs to stay- 53"x15"
Keyboard Bench-replace
Painting above keyboard-probably should get rid of? Although we bought it in Bali so it is special. Maybe it can go in the hallway
In the photos area I will upload photos of the things I am open to keeping. Some things can also go in other rooms when I remodel them. My point is, there might be things that the designer feels I should get rid of, and I am open to that.
Are you open to changing your wall colors?
Yes
Do you have a preference for either paint or wall covering, or are you open to both?
Open to both
Are you open to changing your floor covering?
No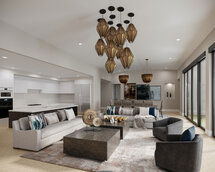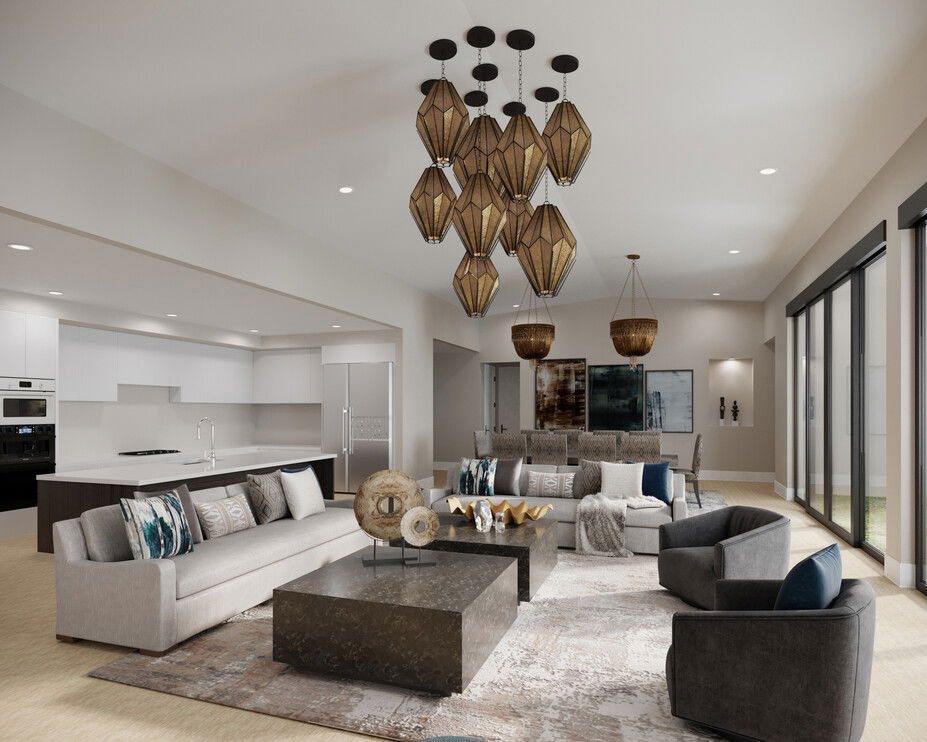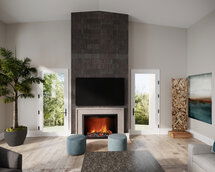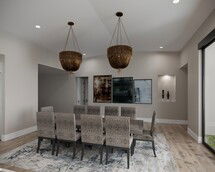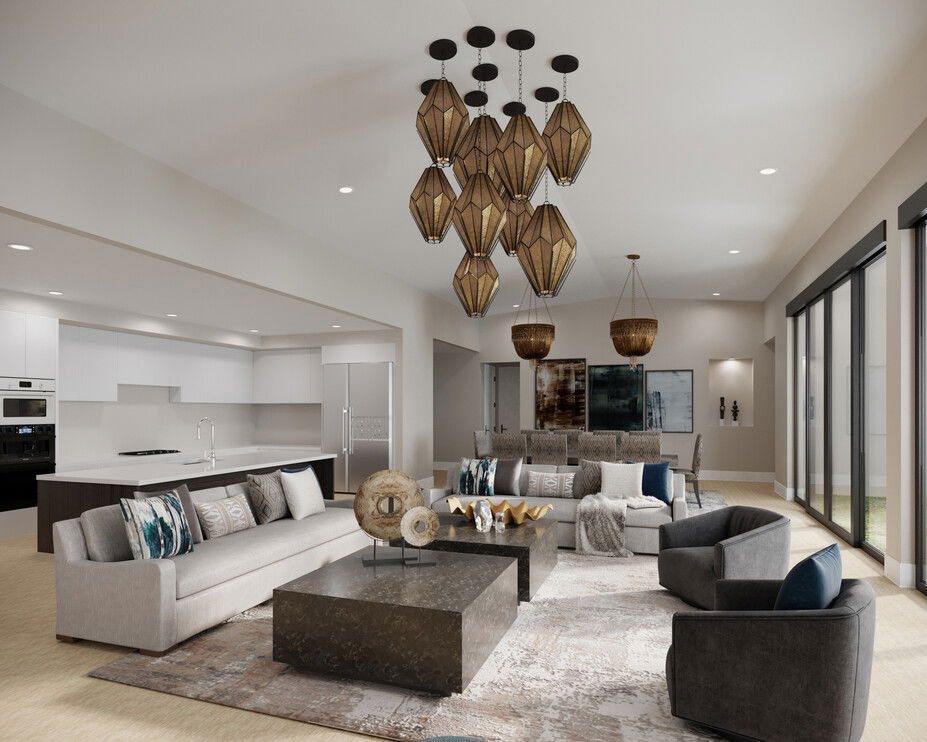 1
swivel chairs
2
poufs
3
chandelier
4
rug
5
rug
6
sofa
7
pillows
8
pillow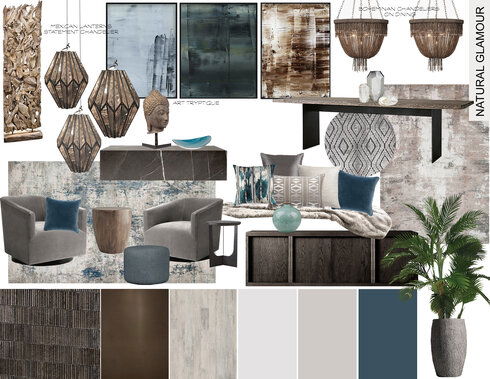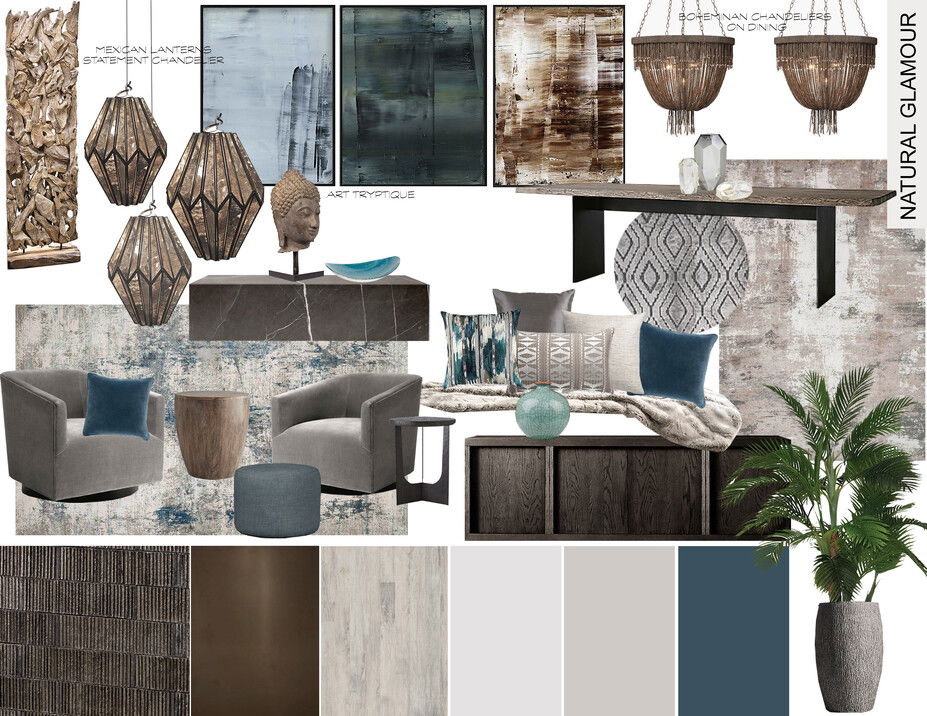 Living Room:
Since your room gets plenty of sunlight your color options are quite broad.

For your main color, we chose to use gray/beige because it is neutral and seen as elegant and classy. It compliments many colors and works well as part of a color scheme in any room.

Use an eggshell finish paint which has a very light touch of shine (similar texture to an eggshell as implied by its name). This finish is very often used for walls and is more durable and easier to clean than matte finish
Living Room Colors:
Shopping List:
Decorilla Discount
Photo
Name
Description
Link
Dimensions
Decorilla Discount
Revelation


swivel chairs


Quantity: 2
fabric Graphite Vintage Velvet.,
Order & Save
30½"W x 32½"D x 29"H
Noir Furniture


poufs


Quantity: 2
belgian linen french blue
Order & Save
20½" diam., 16¼"H
Koket Collection


chandelier


Quantity: 2
bronze
Order & Save
30"Dia x 29"H
Loloi Collection


rug

Order & Save
12'5''x15'
Surya Collection


rug

Order & Save
12'5''x15'
Brunschwig & Fils


sofa


Quantity: 2
PERENNIALS PERFORMANCE TEXTURED LINEN WEAVE: DOVE
Order & Save
lenght10', classic depth 37'', classic back height 31''
Crate and Barrel


pillows


Quantity: 4
teal + gray
Order & Save
Width: 20" Height: 20"
Crate and Barrel


pillow


Quantity: 2
cream
Order & Save
23'' sq
Get Our Free Inside Scoop!
Contains our handpicked top five posts on latest decor trends & advice delivered to you monthly!


Ready to get started?
Get a designer room you'll
love, guaranteed!
Start Now