Kelsey O.
Ever since she was a child, Kelsey has always had the need to create, design, and problem solve. While working towards her BS in Interior Design from High Point University, she took advantage of, not only the education inside the classroom, but outside, as she worked every High Point Market of her college career in high end furniture. During this time she worked hand-in-hand with showroom designers to launch Candice Olson and Thomas O'Brien furniture lines, interned for a residential firm, as well working on various freelance residential projects. Post grad, Kelsey went on to work for one of the nation's top furniture companies in North Carolina, as showroom designer, leading the design process for showrooms in Chicago, Las Vegas, and High Point, as well as designing a commercial set, photography sets, and showrooms for Trisha Yearwood's furniture lines. She now designs out of her home in Savannah, Georgia where she hopes to help clients design homes that are not only beautiful, but that are functional for their everyday lives.
Tell us your biggest design secret:
Design for function! I see so many beautiful designs that are aesthetically appealing to the eye, but the function does not fit the room. For example, why have a beautiful room if you're afraid to live in it? What is the point of having a beautiful living room sofa if it is not comfortable? Why put silk on an ottoman if you know your feet will be propped on it? There are so many ways to make a room functional to your life without compromising style.
We know you love designing, but what about it do you love most?
What I love most about designing is learning about the people using the space. I love how each family, client, and individual is different, and has different needs. I feel like I could not adequately design a space without getting to know those living in it. It is so interesting to me how different people have different needs when it comes to the design of their space.
Describe your go-to style:
My go-to style would have to be timeless with a twist. I love to build upon a blank canvas with meaningful accents, such as family heirlooms, items collected from my travels, etc. Then I love to add pops of color and pattern that reflect those items with precious meaning with pillows, blankets, and accessories.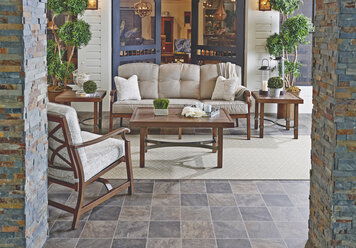 Klaussner Outdoor: Trisha Yearwood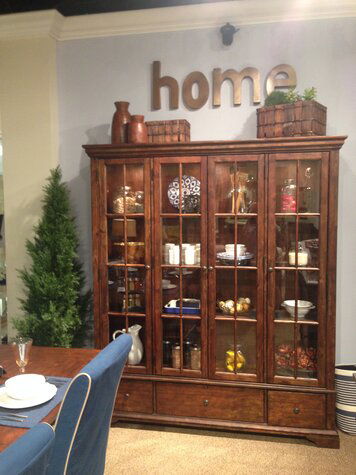 Klaussner: Trisha Yearwood Home Collection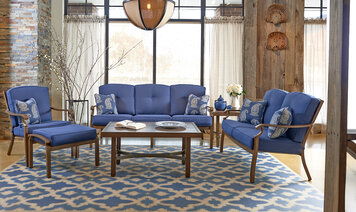 Klaussner Outdoor: Trisha Yearwood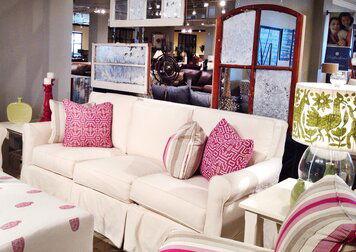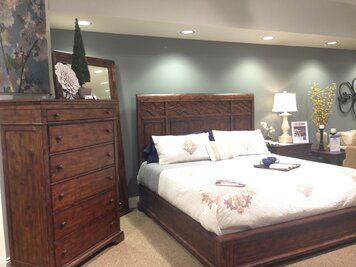 Klaussner: Trisha Yearwood Home Collection