Alberthe B.
After getting married and having her daughter, Alberthe began redesigning her NYC apartment to accommodate her family's new life. This led her to embark on a career change, taking what made her a successful merchandiser, and using those skills to create beautiful residential interiors. Getting acclimated as a west coast transplant (and designing a new apartment), Alberthe has completed her M.A. in Interior Architecture & Design to continue doing what she loves: creating beautiful designs both locally in Seattle and online.
Describe your go-to style:
Mid-century modern meets classic formal with a touch of minimalist. I'm definitely drawn to spaces that are a bit more formal, but my tastes also allow room for comfort.
We know you love designing, but what about it do you love most?
Marrying a variety of textures, prints, and colors to tell a story and translate a feeling into something tangible and beautiful. I'm all about solution based designs, where beauty and functionality align.
From where do you draw most of your inspiration?
It always begins and ends with my clients, but being originally from NYC, I found that it was oozing with inspiration at every turn.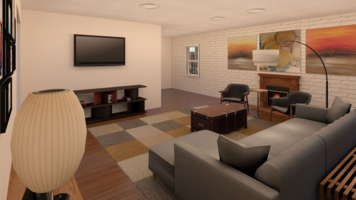 Transitional Living Room Design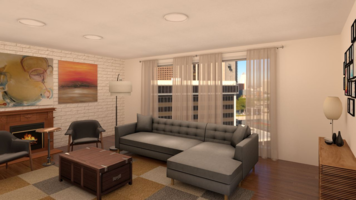 Transitional Living Room Design