Shannon W.
As a predominately right-brained individual, Shannon has honed the skills and developed an artistic flare for the design of interiors. In this field she excels in using a keen eye for detail, conceptualization and aesthetics, as well as she has a strong understanding of technical/creative softwares. Society is becoming more and more conscious of the importance of environmentally responsible interior design and construction. Shannon has a passion for incorporating and sharing her knowledge on sustainable design with others and wishes to further develop that mentality.
From where do you draw most of your inspiration?
I would have to say my main channel of inspo comes from my travels in Europe, Australia, Latin America and more. Nature is also another source of mine.
Describe your favorite project:
My favourite project is combining new and old design elements in a space to create a well balanced, unique, homey design.
Tell us your biggest design secret:
I have a scary good eye for measurement, scale and depth. I also like to think I'm strong with incorporating colour in my designs. Pops of colours are fun!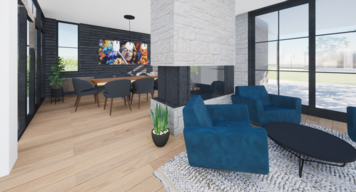 Dining Room/Lounge Render