Melissa G.
Melissa is a certified interior designer with over 14 years of experience, focusing on hospitality, multi-family, and residential design. She likes to break the harmony and bring some twists of color and shape with a Transitional style. Her goal is to make your spaces more functional, bathrooms more organized, and the bedroom the perfect place to read that book you always wanted in style and comfort.
Describe your go-to style:
My go-to style would have to be mid-century modern with a minimalist approach. I absolutely love incorporating clean lines, muted tones, and natural elements into my design. The best part is that classic pieces will never go out of style!
Tell us your biggest design secret:
Less is more! Although you may want to incorporate several of your favorite elements into one design, balance is key and more visually appealing to the eye!
We know you love designing, but what about it do you love most?
I love being able to create a completely new design with every client. I truly enjoy fully understanding the client's needs and bringing their ideas to life!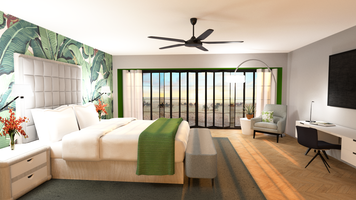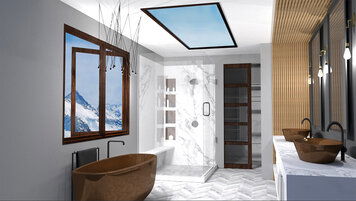 Mountain Retreat Master Bathroom