Denijah H.
Denijah's passion for interior design started from a young age, she used to take her mom's computer and design home on a game called The Sims. As she grew older her love for art and design grew as well. She went to college, graduated with her interior design degree, and now she is working on her goal to make her client's home beautiful and functional. Some of Denijah's favorite styles of homes are Contemporary, Modern, Cottage, Industrial, and Victorian.
Describe your go-to style:
It is hard for me to pinpoint one specific style because there are so many that I love. A few that are my favorites are contemporary, Mid-century modern, industrial, ultra-modern, and Victorians.
What drives you to design?
I have always loved designing since before I even knew what it was, at a young age I used to play sims on my mom's computer, but I was never interested and the sims themselves I just loved designing their homes. Throughout school, I was an art kid and in my junior year I could take drafting and that's when I finally learned about interior design. That class made me realize what my passion was, and I decided to pursue it in college. What drives me now is knowing that I can make someone happy by making their home beautiful and functional.
From where do you draw most of your inspiration?
I draw most of my inspiration from the client and the home itself. Every home is different, and every home has its own unique style, and every client is different and has their own style I love to combine both the client's style with the style of home and create something that has not been seen before.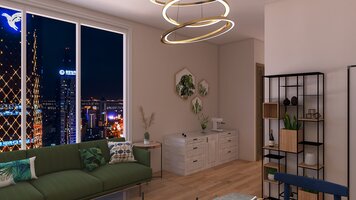 Contemporary Living room rendering