Sophisticated Combined Living/ Dining Room


Details
Project Title
Sophisticated Combined Living/ Dining Room
Project Description
I just moved in to a newly built home and need help with the decor for the open concept living/dining area. I would also like some feedback on changes I'm considering to some of the design choices implemented by the builder.
Location
Winston-Salem, NC , United States
What's your favorite decor style?
Modern
Which colors do you dislike?
Orange
What are your favorite colors for walls?
White, Light Gray
Dimensions
21'w x 15' 4" l x 20' h





Items you want to keep








Details
Room Label
My Combined Living/Dining
I want this room to feel more masculine/feminine/neutral
Neutral
What type of sunlight does this room receive?
Morning light
What pieces of existing furniture, lighting, art or accessories do you want to keep in the design?
Media cabinet (62"Lx18.5"Dx32"H), glass console table (42"Lx14"Dx30"H), side table (18" diam 24"H), side chairs (26"Wx18"Dx38"H), dining room chairs (19"Dx18"Wx39"H).
I'd like to keep wooden hutch (first photo below - 55"Lx18"Dx33"H),
Are you open to changing your wall colors?
No
Are you open to changing your floor covering?
No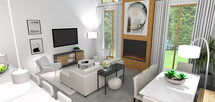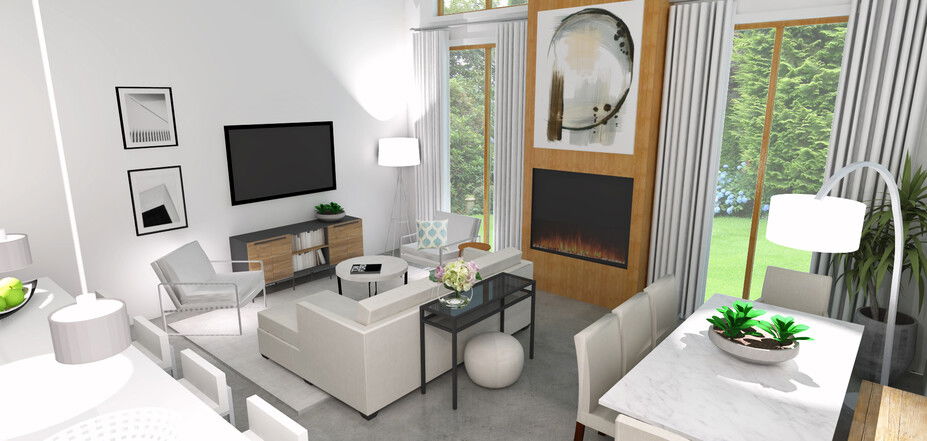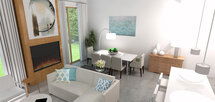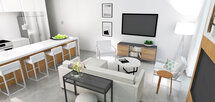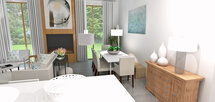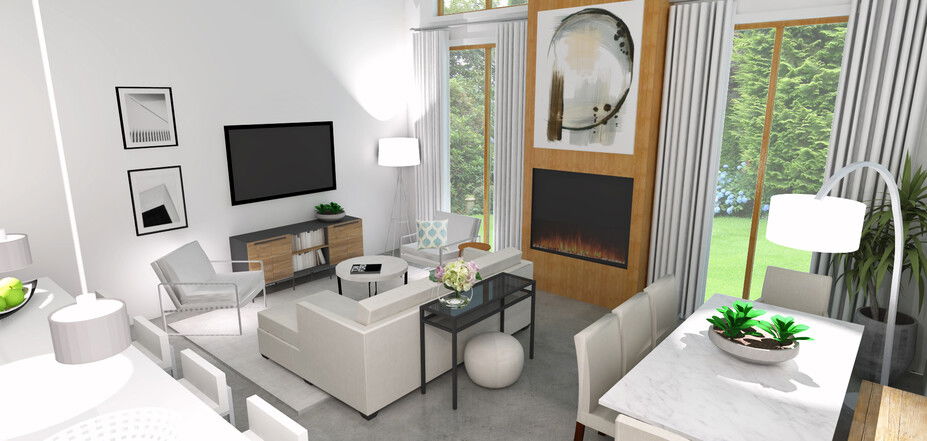 1
ARMCHAIR
2
BARSTOOLS
3
COFFEE TABLE
4
WOOD BENCH
5
AREA RUG
6
FLOOR LAMP
7
FLOOR LAMP
8
DINING TABLE
9
WALL ART
10
WALL ART
11
POUF
12
DECORATIVE PILLOW
13
DECORATIVE PILLOW
14
DECORATIVE PILLOW
15
CURTAINS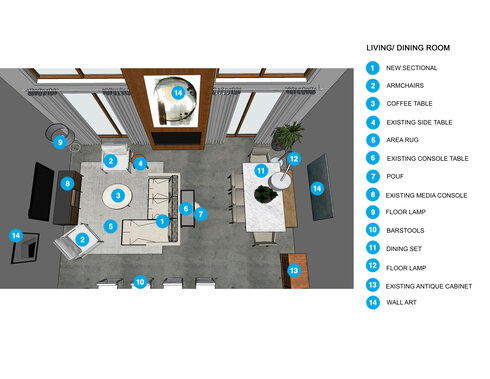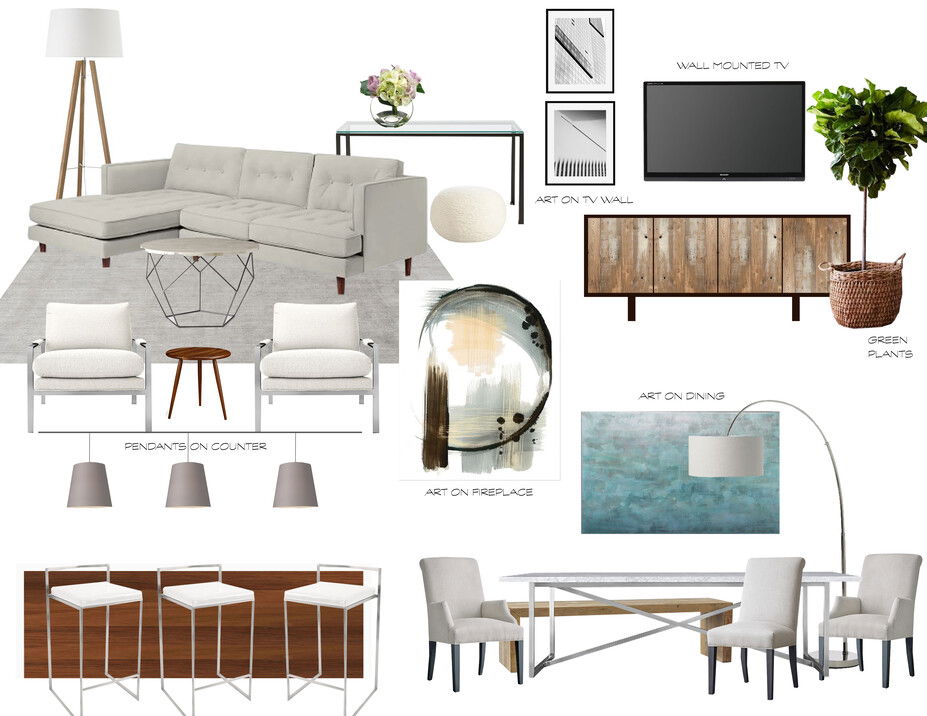 Combined Living/Dining:
Using lighter colors in your medium-sized room will make it feel more airy and bright

For your main color, we chose to use white/off-white as it offers a fresh, clean, feel to the space. White and off-white colors are often a favorite for walls because they are light, neutral, and match most color schemes. They are known to make rooms feel more airy and spacious.

Use an eggshell finish paint which has a very light touch of shine (similar texture to an eggshell as implied by its name). This finish is very often used for walls and is more durable and easier to clean than matte finish
Combined Living/Dining Colors:
Shopping List:
Decorilla Discount
Photo
Name
Description
Link
Dimensions
Decorilla Discount
Crate and Barrel


ARMCHAIR


Quantity: 2
FABRIC, COLOR:CREAM
Order & Save
32"X30"Xh29"
AllModern


BARSTOOLS


Quantity: 4
WHITE
Order & Save
34" H x 17" W x 15" D
West Elm


COFFEE TABLE

Order & Save
28"diam. x 18"h
West Elm


WOOD BENCH

PINE
Order & Save
73"w x 15"d x 18"h.
West Elm


AREA RUG

Order & Save
8'X10'
West Elm


FLOOR LAMP

Order & Save
20" DIAM 62" H
West Elm


FLOOR LAMP

WHITE SHADE
Order & Save
60"w x 19"d x 77"h.
Restoration Hardware


DINING TABLE

White Marble & Stainless Steel
Order & Save
84"X40"
West Elm


WALL ART

Order & Save
48"X60"
DwellStudio


WALL ART

Order & Save
60"X40"
CB2


POUF

IVORY
Order & Save
Width: 20" Depth: 20" Height: 14"
AllModern


DECORATIVE PILLOW


Quantity: 2
BLUE
Order & Save
22"X22"
AllModern


DECORATIVE PILLOW


Quantity: 2
BLUE
Order & Save
18"X18"
AllModern


DECORATIVE PILLOW


Quantity: 2
TURQUOISE
Order & Save
22"X22"
AllModern


CURTAINS


Quantity: 4
COTTAGE WHITE **CHECK SIZE**
Order & Save
96"X50"
Get Our Free Inside Scoop!
Contains our handpicked top five posts on latest decor trends & advice delivered to you monthly!


Ready to get started?
Get a designer room you'll
love, guaranteed!
Start Now