Sleek Startup-Up Office Design


Details
Project Title
Sleek Startup-Up Office Design
Project Description
We have an office in downtown SF. It was previously an art gallery: has lots of great light, 16FT+ ceilings, but it is very loud (hard surfaces) and a bit cold (lots of white walls). Looking to bring some warmth and sound dampening to the space. Need work space dividers but do not want typical office system dividers - definitely don't need powered panels.. an opportunity to be creative?
Scope - main area - For the open office area -
- sound dampening flooring options (e.g. floor rug tiles or area rugs)
- accent paint or wall covering
- artwork
- creative room divider solutions to define the support staff bays
- open to sound dampening solution for the walls if the designer feels they are necessary
Location
San Francisco, CA , United States
What's your favorite decor style?
Transitional
What are some of the interior design brands or stores that you like to shop at?
ikea, room and board, crate and barrel
Dimensions
40'x40' 15'+ high







Details
I want this room to feel more masculine/feminine/neutral
Neutral
What type of sunlight does this room receive?
Morning light
What do you currently dislike about the room?
too cold, stark, loud
What pieces of existing furniture, lighting, art or accessories do you want to keep in the design?
pretty much everything but the prints on the walls..
from pictures you will see desks, sofa, etc. gotta keep it.
Are you open to changing your wall colors?
Yes
Do you have a preference for either paint or wall covering, or are you open to both?
Open to both
Are you open to changing your floor covering?
Yes, Carpet, Area Rugs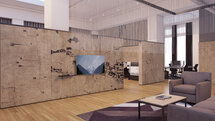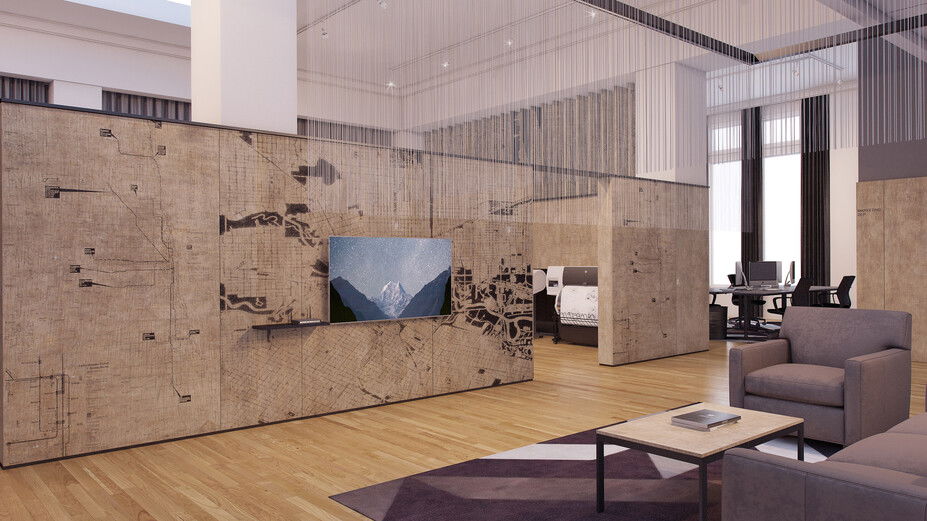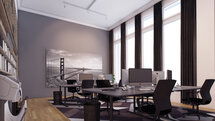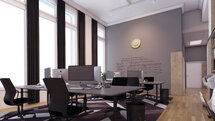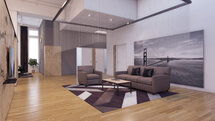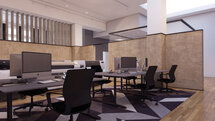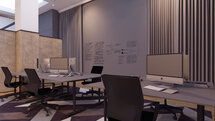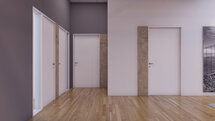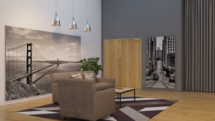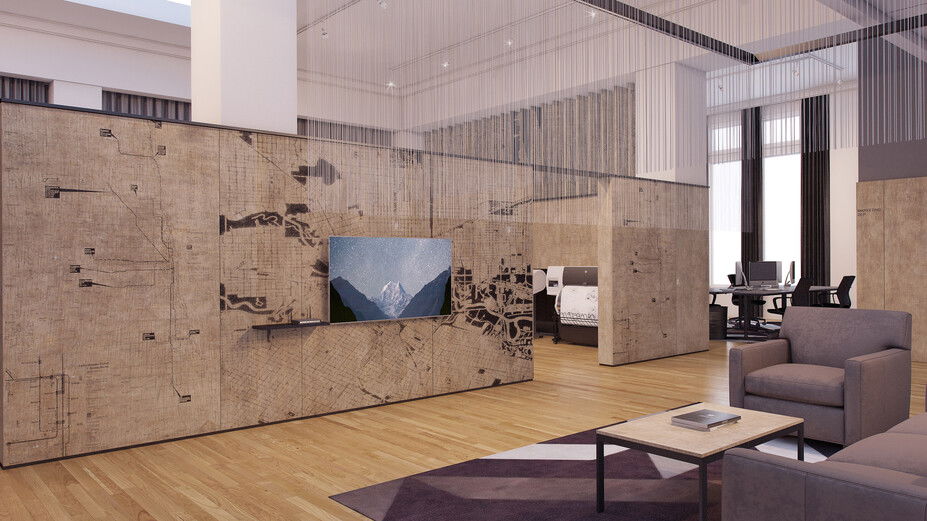 1
Rug
2
Drapes
3
Pillow
4
Pendant Light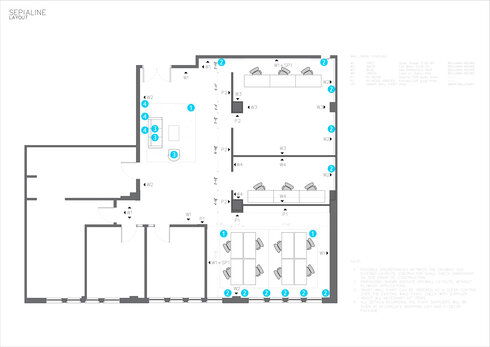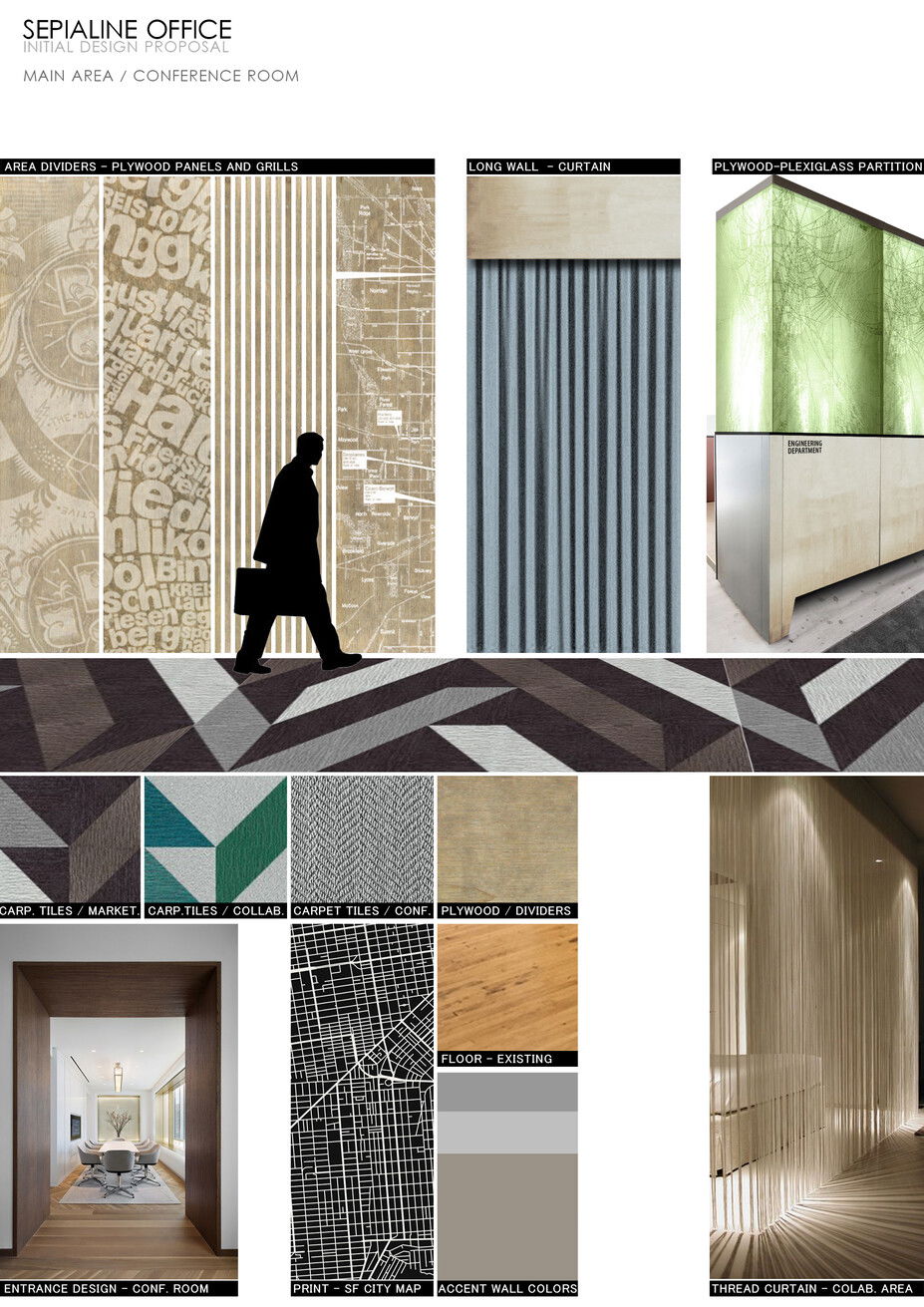 Business/Office:
Since your room is large your color options with this room are quite broad. Refer to layout drawing and color codes.

For your main color, we chose to use white/off-white as it offers a fresh, clean, feel to the space. White and off-white colors are often a favorite for walls because they are light, neutral, and match most color schemes. They are known to make rooms feel more airy and spacious.

Use a matte finish paint because it does not reflect light. Just be careful because matte finish is more difficult to clean. You may also need to touch up scratches or marks by adding more of the same paint in the future.
Business/Office Colors:
Shopping List:
Decorilla Discount
Photo
Name
Description
Link
Dimensions
Decorilla Discount
Surya Collection


Rug


Quantity: 3
This area rug features 42 squares that consist of Made You Look in Grey, Seafoam and Dark Brown.
Order & Save
W 10' x L 12'
The Shade Store


Drapes

Featuring hand-pressed grommets available in 5 designer finishes. Perfect for stylish, modern interiors.
Order & Save
Custom Size
Surya Collection


Pillow


Quantity: 3
Woven as a traditional dhurrie, Groove zigzags earthy greys and neutrals with a bolt of gold on an overscaled square. In a play of contrasting textures, raw, organic front flips to a smooth luxe velvety grey back.
Order & Save
W 23" x H 23"
Crate and Barrel


Pendant Light


Quantity: 3
Knob accent adds a hint of industrial to this streamlined aluminum pendant finished in gleaming polished nickel.
Order & Save
Height: 15.5" Diameter: 11.5"
Get Our Free Inside Scoop!
Contains our handpicked top five posts on latest decor trends & advice delivered to you monthly!


Ready to get started?
Get a designer room you'll
love, guaranteed!
Start Now