Not Sure


Details
Project Title
Eclectic Living Room
Project Description
We need a kid friendly space. We want comfy + colorful design solutions. I don't need a lot of storage space and I prefer not to have useless furniture pieces.
A comfortable, bright, colorful and visually interesting space...bedrooms are for sleeping so we live, eat and play all in this large space.
Its a beautiful space but feels empty and hallow. We don't know how to layout the space, especially since it is large and we don't have a lot of need for additional storage.
We have a lot of cool colors in the space right now but I would like some pops of brighter colors to warm it up--yellows/pinks/ orange multi-color accents.
Location
Orlando, FL , United States
What's your favorite decor style?
Eclectic
What are some of the interior design brands or stores that you like to shop at?
West Elm, Anthropologie, Joy Bird...we like mid-century modern design. Don't know too much about other stores.
Which colors do you dislike?
Red
What are your favorite colors for walls?
Gray, Greens, Blues, Light Grey-brown, Pink, Yellow, Orange














Items you want to keep




Details
Room Label
My Combined Living/Dining
I want this room to feel more masculine/feminine/neutral
Neutral
What type of sunlight does this room receive?
Morning light
What do you currently dislike about the room?
A living room rug we can agree on: I like a bold, colorful, Southwest & Kilim. Husband likes overdyed or simpler patterns. With 2 kids and 2 dogs, typical life span of a rug is 2 years.
Dining room used to be a 2nd living room. We knocked down a wall to make one big room and use space for informal dining. It's large and we don't know what to do with it. We have no need for additional storage, no collectibles or china to display. Open to a large piece of art, painting a bold color or adding something architectural to the walls. Walls are textured. Open to wallpaper but we would have to mud over the wall to do.
Fireplace- original to house but boring.
What pieces of existing furniture, lighting, art or accessories do you want to keep in the design?
Open to changing existing furniture if within budget, pics show what we have.
Couch is on the older side but comfy. Love the L piece. All furniture should be made to cuddle with a child.
Dining table is too small for the space but it is new and we like it. Again, open to all suggestions. (some pics from old house)
Area should flow with kitchen but don't need any changes there.
Are you open to changing your wall colors?
Yes
Do you have a preference for either paint or wall covering, or are you open to both?
Open to both
Are you open to changing your floor covering?
No
Additional comments to designers
Need additional seating, art and lighting.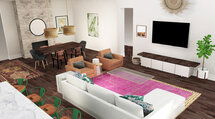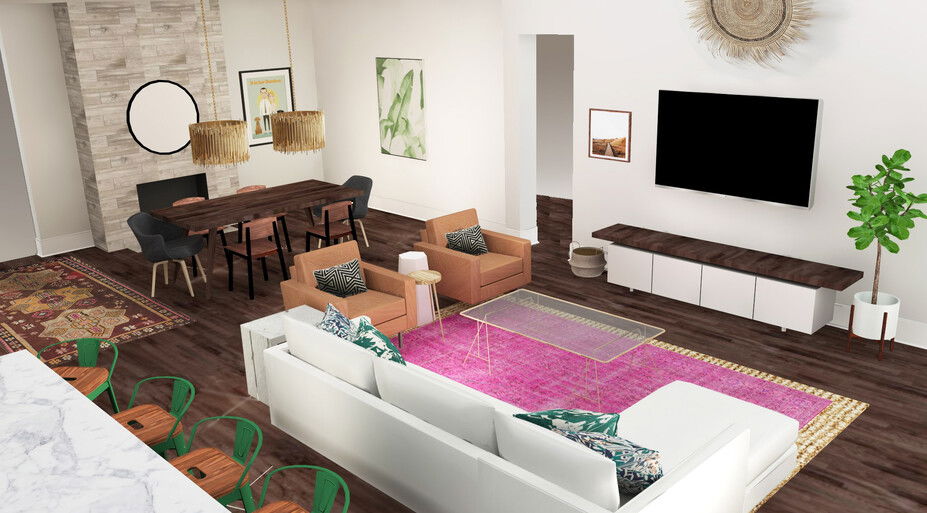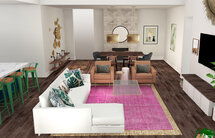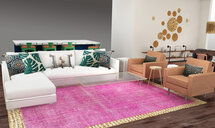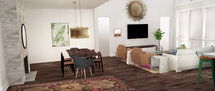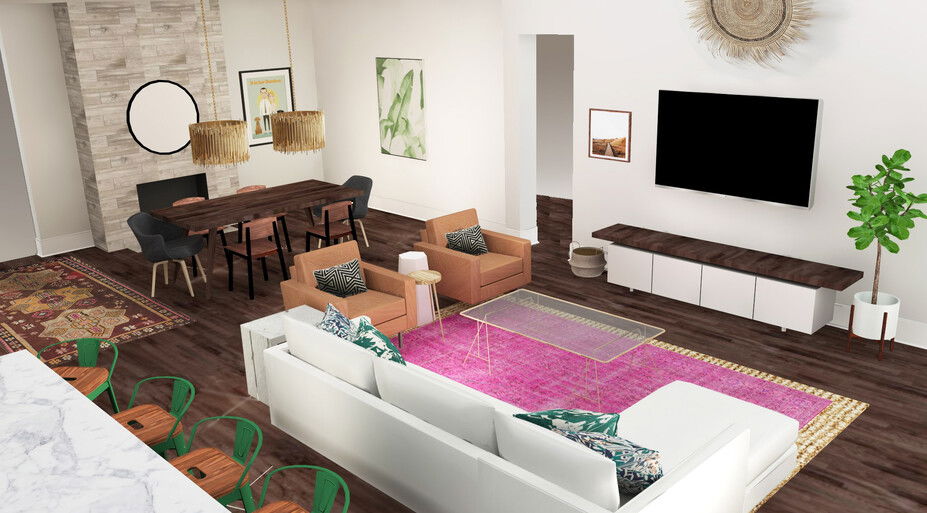 1
Atlas Sconce
2
Rug
3
Kilim
4
Jute Rug
5
Accent Pillow
6
Accent Pillow
7
Side Table
8
Side Table
9
Chandelier
10
Side Chairs
11
Side Table for Plants
12
2Modern
13
Wall Mirror
14
Accent Tile for Fireplace
15
Wall Hanging
16
Coffee Table
17
Floor Lamp
18
Artwork
19
Throw Pillow
20
Artwork
21
Basket for Floor
22
Planters
23
Rug Pad
24
Sofa Accent Pillow
25
Pillow Cover for Sofa
26
Bench
27
Side Table
28
Runner
29
Rug Pad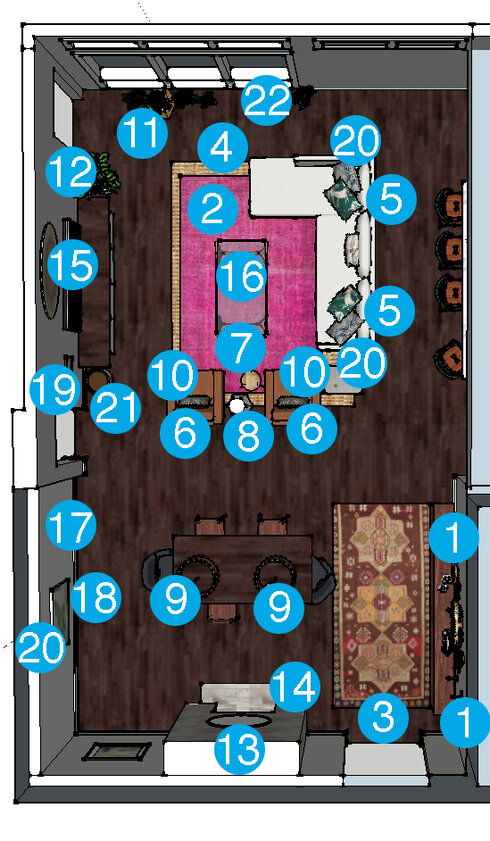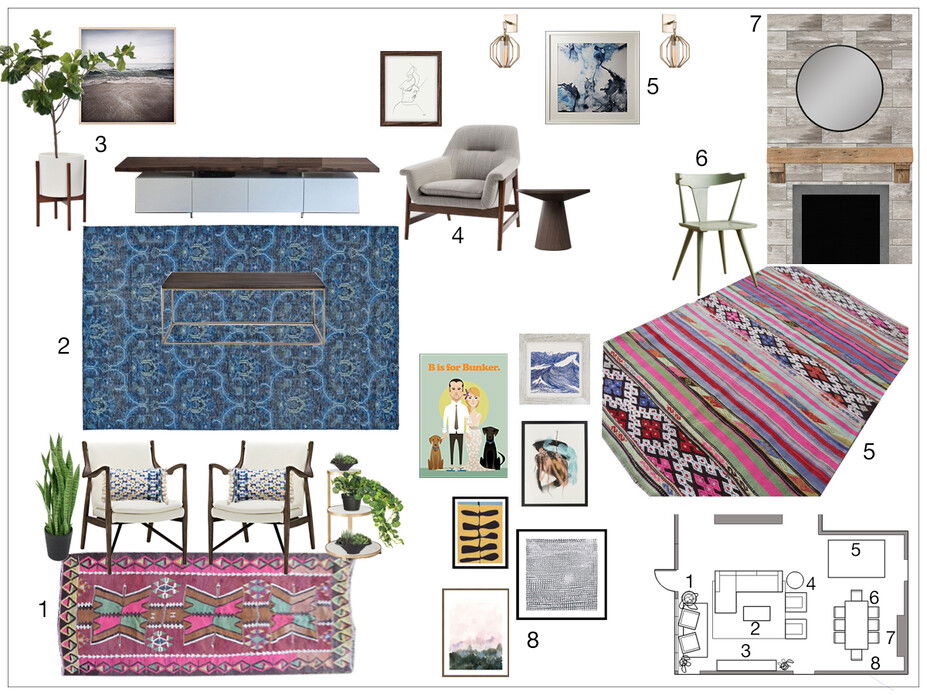 Combined Living/Dining:
Since your room is large your color options with this space are quite broad. I'm recommending to keep the walls light + bright. Consider accent wallpaper in the dining area for texture/pattern.

For your main color, we chose to use gray because it is neutral and seen as elegant and classy. It compliments many colors such as white, blue, and yellow and works well as part of a color scheme in any room.

Keep the walls as they are.
Combined Living/Dining Colors:
Shopping List:
Decorilla Discount
Photo
Name
Description
Link
Dimensions
Decorilla Discount
Arteriors Collection


Atlas Sconce


Quantity: 3
Playing off of the classic geometric hexagonal shape, this antique brass wall sconce is both classic and contemporary. The chunky chain link drop and smoke seedy glass insert add to the clean and modern appeal of this piece. This sconce would work beautifully in a library or bar, above a mirror in a powder room, or on either side of a furniture piece or mirror in a dining or breakfast room.
Order & Save
8" L x 9.5" W x 16.5" H
Surya Collection


Rug

Fuschia over-dyed rug. Hand knotted vintage turkish rug.
Order & Save
7' x 10' 8"
Trade Rugs


Kilim

Large star motif field with tree of life interior. Boarder in black. Muted brown field with pink, gold and berry accents.
Order & Save
4' 10" x 10' 2"
Trade Rugs


Jute Rug

Bring striking texture to any space with this gorgeous, chunky jute carpet. Country of Origin - India Construction Type - Handloom woven Fiber - Jute
Order & Save
9' x 12'
Bandhini Homewear Design Collection


Accent Pillow


Quantity: 2
Cotton pillow with palm-inspired crewel embroidery, designed exclusively for Urban Outfitters as part of the Assembly Home collection. Pairs perfectly with any of our couches, chairs or bedding (sold separately). Only at UO!
Order & Save
18" sq.
Bandhini Homewear Design Collection


Accent Pillow


Quantity: 2
Crisp black lines angle an Aztec-ish pattern on natural jute. Made using an old-school block printing technique, pattern is inked on top of the jute retaining all its natural texture. Front flips to black cotton back. Do the math: CB2 low prices include a pillow insert in your choice of plush feather-down or lofty down alternative (a rare thing indeed).
Order & Save
18" x 12"
Arteriors Collection


Side Table

Sand casting gives the aluminum used to make our Tripod Side Table a lightly textured surface. Metallic finished, it's just the right size placed next to a bed or used to display your favorite houseplant. 15"diam. x 22"h. Cast aluminum. Imported.
Order & Save
15"diam. x 22"h.
Anthropologie


Side Table

Glazed ceramic Wipe gently with a warm, damp cloth; if necessary, use mild soap and dry immediately after cleaning If liquid spills occur, prompt cleaning is advised Avoid using chemical cleaners This piece is intended for indoor or outdoor use No assembly required
Order & Save
24''H, 15''W, 13''D
Anthropologie


Chandelier


Quantity: 2
Iron, gold leaf *Hardwired for professional installation Includes mounting plate Adjustable height Three light sockets 25 watt max We recommend using type A bulbs UL listed Imported Style No. 39969340
Order & Save
14.5''H, 22'' diameter
West Elm


Side Chairs


Quantity: 2
Covered in top-grain aniline leather in Saddle. Aniline leather has a natural look and soft, waxy finish that will scuff over time and develop a vintage patina with age and use. Bench seat cushion is attached. Burnished Bronze plated metal legs. Imported.
Order & Save
31.5"w x 32.5"d x 33"h
West Elm


Side Table for Plants

Part of west elm Collection. Aluminum in a Brass finish. Lightly textured finish. Due to the textured finish, natural imperfections may appear. Made in India.
Order & Save
18.5"diam. x 16"h.
2Modern


2Modern

Size: Large Color: White Made in Los Angeles With proper care Brazilian walnut is 100% waterproof - suitable for any situation For indoor or outdoor use, letting one carry the aesthetic from exterior to the interior and vice-versa Ceramics do not have drain holes
Order & Save
15" Dia x 20" H
Uttermost Collection


Wall Mirror

Bringing back heft and substance into mirrors, the Hub Wall Mirror by Umbra is an oversized glass mirror with black rubber rim that's a perfect statement piece in any room. The worldwide leader in modern, original, casual, innovative, and affordable design for the home.
Order & Save
36'' H x 36'' W x 1'' D
Tile Bar


Accent Tile for Fireplace


Quantity: 10
Quantity estimate - 90 square feet 10 boxes 4" x 24" Coverage 0.65 sq. ft. Color Gray Material Porcelain Finish Natural Look Wood Floor/Wall Both Indoor/Outdoor Indoor Commercial/Residential Both Rectified Yes Country of Origin Italy Shade Variation V4
Order & Save
custom order to resurface fireplace
CB2


Wall Hanging

Handmade Dried palm leaves Wipe with soft, dry cloth Made in Malawi
Order & Save
50"
Anthropologie


Coffee Table

Frame: Champagne Tempered glass top Plated stainless steel base and legs. Table is sealed with clear lacquer for easy cleaning; it protects against moisture, but should be maintained. Dust with a clean, dry cloth. Clean with a damp cloth. Avoid using chemical cleaners and furniture polishes. Felt foot pads included. This piece is intended for indoor use. Assembled upon delivery.
Order & Save
17.5''H, 55''W, 29''D
Anthropologie


Floor Lamp

Mango wood; linen shade Shade included 150 watt max UL listed Imported
Order & Save
Base: 49"H, 10" diameter Shade: 19"H, 20" diameter
Minted


Artwork

Size: 20" X 20" Frame: Natural Wood Printed on archival paper made from cotton pressed in Italian mills, this art print is by Rodrigo Trevino.
Order & Save
20" X 20"
Surya Collection


Throw Pillow


Quantity: 2
Please order with Down Insert Justina Blakeney collection Material: 100% Cotton Fill material: Down Construction method: Machine made
Order & Save
22" sq.
Crate and Barrel


Artwork

Allowing the white background to define the distinctive notched shape of banana leaves, artist Jessica Rowe blends and bleeds washes in rich green to add form and volume. Abstract with an Art Deco vibe, the original watercolor painting is brilliantly reproduced as a giclée print on canvas. A slim white wood frame adds definition.
Order & Save
37.25" w x 1.5" d x 51.25" h
CB2


Basket for Floor

southwest vibes. Desert hues, indigenous patterns, items that feel found. Like this basket. Natural seagrass ropes twist, wrap and coil creating a super-sturdy catchall. Black, white and orange plastic strips lace up and around weaving a striking tribal-like pattern. Stores toys, books, magazines, blankets—-anything you want out of the way.
Order & Save
14.5"wx14.5"h
CB2


Planters


Quantity: 3
3-piece white loom planter set. Stoneware No drainage holes Wipe clean with a soft, dry cloth Made in China
Order & Save
small Height: 3.5" Diameter: 3.5" medium Height: 4.75" Diameter: 4.25" large Height: 5.5" Diameter: 5.5"
Trade Rugs


Rug Pad

Cut to fit
Order & Save
4' 8" x 10'
Pottery Barn


Sofa Accent Pillow


Quantity: 2
Sell with insert. The intricate folds of the shibori tie-dying technique result in beautiful patterns and a colorful ombré effect. We love uniting a mix of our printed pillow covers through one hue.
Order & Save
24"
Surya Collection


Pillow Cover for Sofa


Quantity: 2
Will need pillow insert. Handmade item Primary color: Green Secondary color: Gold Materials: invisible zipper, polyester, pom pom trim
Order & Save
22" X 22"
CB2


Bench

Designed by Ayush Kasliwal Handcrafted Solid sustainable acacia wood Jute rope Iron frame Each is unique Made in India
Order & Save
42" X 16.75" X 15.75"
West Elm


Side Table

The metal trim on the Antique Finish End Table is acid-washed, sandblasted and finished with an electroplating process that gives it a vintage appearance. A bottom shelf provides extra space for stacking books, magazines and more.
Order & Save
24" x 24"
Trade Rugs


Runner

A vintage runner with a row of medallions running down the middle and spandrels on each end. Persimmon field that fades to melon. Bright pink accents.
Order & Save
2' 7" x 8' 7"
Trade Rugs


Rug Pad

cut to fit runner
Order & Save
2' 3" x 8' 3"
Get Our Free Inside Scoop!
Contains our handpicked top five posts on latest decor trends & advice delivered to you monthly!


Ready to get started?
Get a designer room you'll
love, guaranteed!
Start Now