Beautiful, Multi-Functional Lounge Design


Details
Project Title
Beautiful, Multi-Functional Lounge Design
Project Description
I have a long, rectangular lounge. Recently, I removed a bar area I inherited when I bought the house and it is a huge improvement. I've also just repainted the whole lounge to a lovely neutral white colour called Blanc (Resene, NZ). I now want to turn this newly updated space into a lovely, well laid out but comfortable lounge and dining area.
I've lived in the home for 18 months and have not been able to figure out how to make the rectangle shape seem less like a bowling alley and more like separate areas in a big space.
My vision (when I can afford it) is to also add a gas fireplace to one of the walls to make it feel more cosy. The house, even though well insulated, can be quite cold in winter, so I love the thought of a gas fireplace where we can sit around and play games or have a glass of wine.
Location
Auckland, New Zealand
What's your favorite decor style?
Contemporary
What are some of the interior design brands or stores that you like to shop at?
Ikea (but we don't have one in NZ). I travel a lot so have some unique art pieces I am also trying to showcase.










Items you want to keep













Details
Room Label
My Joined Living/Dining Area
I want this room to feel more masculine/feminine/neutral
Neutral
What type of sunlight does this room receive?
Morning light
What do you currently dislike about the room?
While biggish, it is long and narrow and awkwardly shaped. I have been here for 18 months and still have not figured out a good way to lay it out. The space also needs to support my dining table but I don't know where to put it in the room.
It feels big and open; I want different spaces in it to feel more warm and cosy. I also want to build in a gas fireplace.
My dining room table...likely wasn't a smart purchase. It now feel ill fit for the room, but was almost too expensive to sell! I've taken a leaf out of it so now smaller and moved it to the diagonal wall, but it still just doesn;t feel like it fits the space.
What pieces of existing furniture, lighting, art or accessories do you want to keep in the design?
Dining room table (white) for now; open to keeping my yellow chair, but getting it recovered; I want to keep my globe light fixture. And, I've just bought the couch (used) so ideally, would like to keep it, but can sell if required.
As for art, see pics. And note, I am happy to paint frames to white, etc to change the feel of the art. My old house had all wood floors, so the wood frames were a good fit, but not in the new place.
I like the eclectic style, but have no idea how to create it, so have chosen contemporary. I love big art, funky sculpture, bright colours - I just don't know how to make it happen.
Are you open to changing your wall colors?
No
Are you open to changing your floor covering?
No
Additional comments to designers
I wont likely be able to source many of the same materials being in New Zealand versus being in the USA. I am ok with that - and I can try to find designs here in NZ and when I travel that mimic what you recommend.
We play a lot of games as a family (my 12 year old son and I) often we sit on the floor to do things. WOuld be nice to find a way in the living room to play games comfortably. Same with reading - aside from sitting on the couch, no real reading nook.
And, can you suggest a design option that incorporates a gas fireplace? In future, I would like to install a gas fire into the room on one of the walls
So looking forward to this!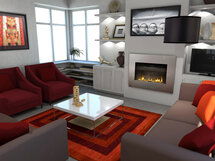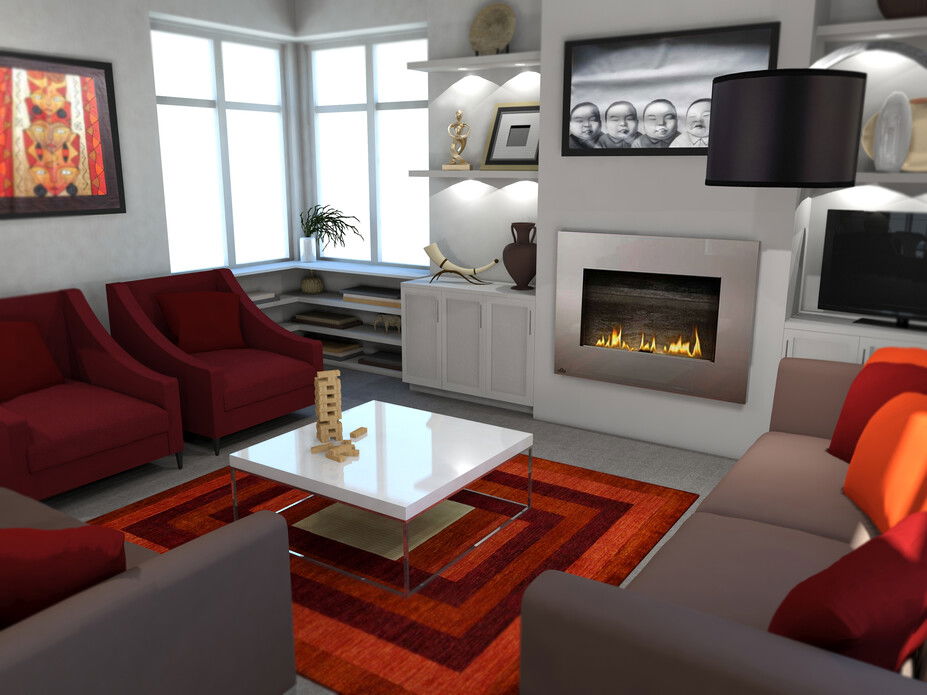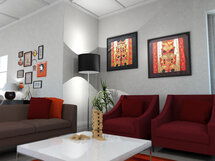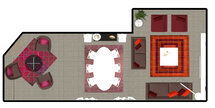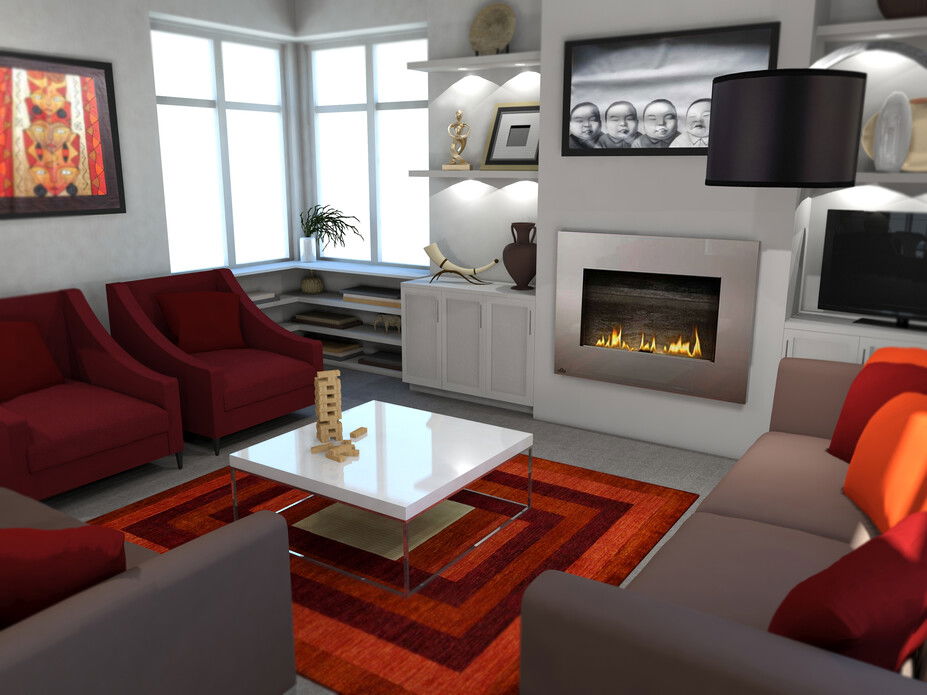 1
Florence Knoll 3 Seater Sofa
2
Florence Knoll 2 Seater Sofa
3
Pelludo Rug
4
Tufted Ottoman
5
Bruno Armchair
6
BOSTON Tripod Floor Lamp Black
7
Overarching Floor Lamp
8
Kingsbury Cabinet
9
Mercury Lamp
10
Rococo Globe 82 cm Chandelier
11
FRANKSTON Rug
12
SR COLLECTION
13
NOGUCHI Coffee Table
14
Kubrick Lounge Chair
15
Rococo Globe 60cm Chandelier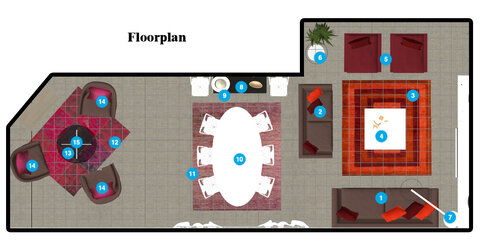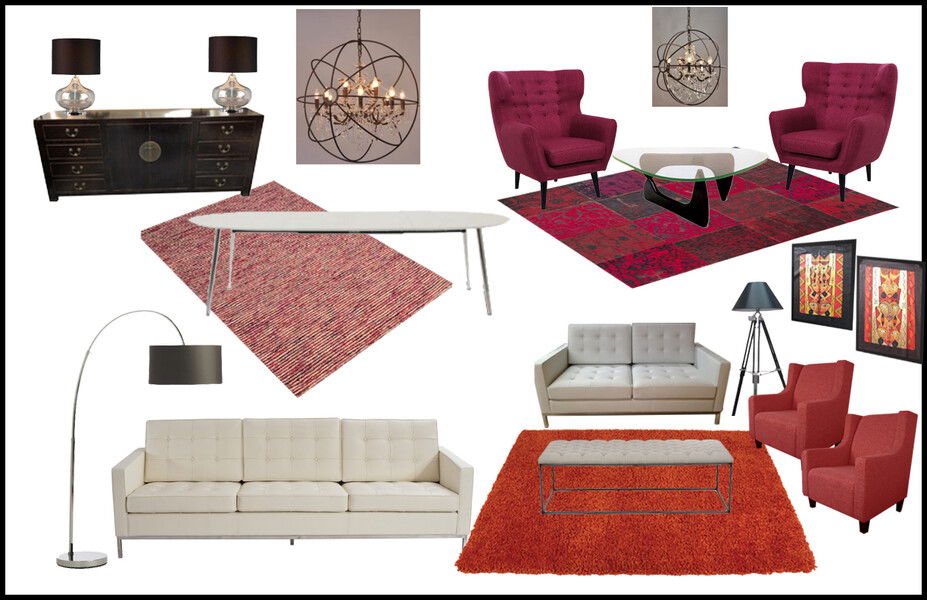 Living Room:
Since your room is large your color options with this room are quite broad

I think keeping with the white, once you move onto getting the fireplace wall structured in, is a great move.

Keep as is.
Living Room Colors:
| Color | Name | Company / Code | Link | Area |
| --- | --- | --- | --- | --- |
| | Unknown | Unknown / Unknown | Unknown | Room |
Shopping List:
Decorilla Discount
Photo
Name
Description
Link
Dimensions
Decorilla Discount
JS Interiors


Florence Knoll 3 Seater Sofa

3 seater sofa
Order & Save
L200xW82xH60cm
JS Interiors


Florence Knoll 2 Seater Sofa

2 seater sofa
Order & Save
L140xW82xH60cm
Nood


Pelludo Rug

Tigerlily Extra Large
Order & Save
West Elm


Tufted Ottoman

Flax
Order & Save
58"w x 28"d x 18"h.
Kiwi Bed&Sofas


Bruno Armchair

Order in a burgandy/red fabric. Fabric group 2. I recommend for the lowest price the Warwick-keylargo fabrics.
Order & Save
Width: 81cm Height from bottom to seat: 45cm Height from bottom to top: 102cm Depth: 85cm
LE FORGE


BOSTON Tripod Floor Lamp Black

Black Floor Lamp
Order & Save
40D x 40H x 160cm
West Elm


Overarching Floor Lamp

Brushed Nickel with Charcoal Shade
Order & Save
19"diam. x 77"h.
JS Interiors


Kingsbury Cabinet

Made from elm and finished with black lacquer and subtle brown edges throughout and with round brass handles. Large cabinet in the middle and four drawer in two ends offering plenty of storage room. Suitable for living room, dining and entrance and hallway.
Order & Save
W180xD35xH75cm
Le Forge


Mercury Lamp

Mercury Base and Black Shade
Order & Save
60cm H
Le Forge


Rococo Globe 82 cm Chandelier

Rustic Black and Crystal
Order & Save
82 x 82 x H 88cm
Signature Rugs


FRANKSTON Rug

Frankston presents a textured handwoven 100% wool collection in an attractive multicolour wash of sophistication. With the warmth and luxurious look of a natural fibre Frankston celebrates textural dimension in an easy to coordinate colour range.
Order & Save
200 x 300
Signature Rugs


SR COLLECTION

Wool & Cotton Chenille Blend
Order & Save
200 X 280 CM
ifurniture


NOGUCHI Coffee Table

Black
Order & Save
W127 x D90 x H40 cm
Hunter Furniture


Kubrick Lounge Chair

Frame is pinewood, plywood and webbing with foam padding. Possibly get in different fabric if you would like a more nuetral or brown color
Order & Save
Le Forge


Rococo Globe 60cm Chandelier

Rustic Black and Crystal
Order & Save
60 x 60 x H:65cm
Get Our Free Inside Scoop!
Contains our handpicked top five posts on latest decor trends & advice delivered to you monthly!


Ready to get started?
Get a designer room you'll
love, guaranteed!
Start Now