April's Fun & Eclectic Bedroom


Details
Project Title
April's Fun & Eclectic Bedroom
Project Description
Looking for a fun modern design for our master bedroom. Moved in to our house 6 months ago and we've decorated some of the house but haven't touched our bedroom. We need some inspiration!
Location
Beachwood, OH , United States
What's your favorite decor style?
Modern
What are some of the interior design brands or stores that you like to shop at?
Etsy, Custom, West Elm, Ikea
Dimensions
19.25' x15' x 10-18' (ceiling is pitched)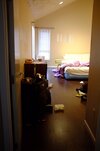 Details
I want this room to feel more masculine/feminine/neutral
Neutral
What type of sunlight does this room receive?
Very little sunlight
What do you currently dislike about the room?
Everything. Very little light, dark and drab. Uninspiring.
What pieces of existing furniture, lighting, art or accessories do you want to keep in the design?
Only piece we want to keep are the built in nightstands that can be found in the bedroom pics.
Are you open to changing your wall colors?
Yes
Do you have a preference for either paint or wall covering, or are you open to both?
Open to both
Are you open to changing your floor covering?
No
Additional comments to designers
The photos in the "items you want to keep" section are photos of other areas of our home to that reflect our style. The only item we want to keep in our bedroom are the built in nightstands.
We definitely want to upgrade to a king bed and are looking to either purchase one or my husband may build one. His work can be seen here: http://moderncre8ve.com
We definitely want new bedding and prefer quilts to duvet covers.
We were thinking of the possibility of wallpaper or some other wall covering for the alcove behind the bed, with new paint in the rest of the walls.
Currently there is an air mattress and sofa in our bedroom that our kids sleep on, even though they have their own bedroom. The new design does not need to incorporate those things.
We are considering adding a slider or french doors where the sofa is to add more light, but aren't ready to do that just yet.
Looking for a design that is between neutral and feminine. Slightly feminine.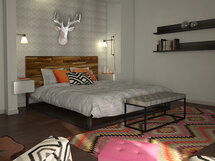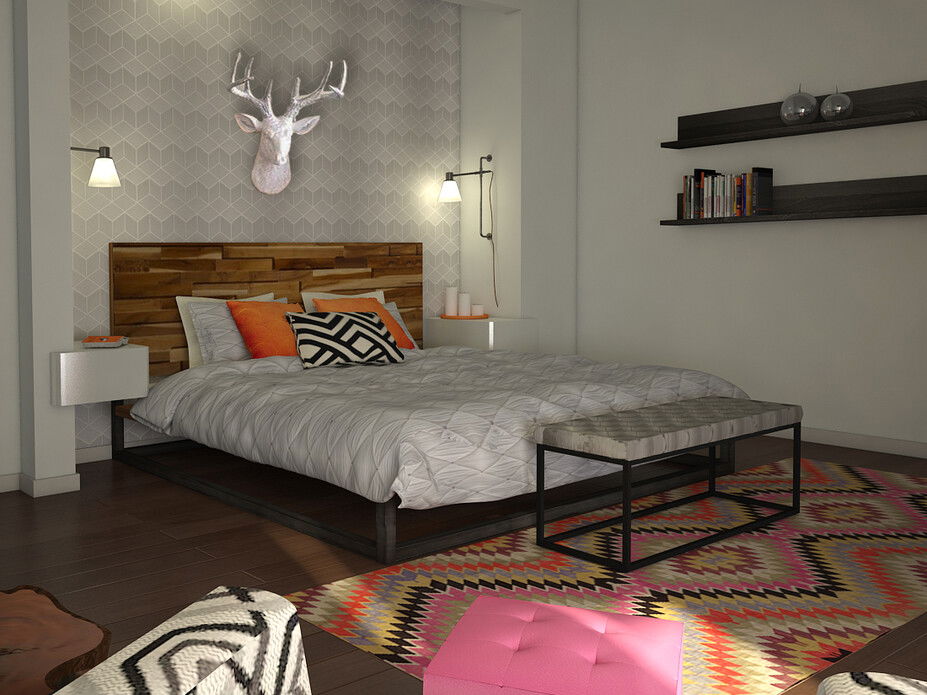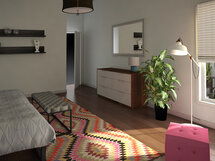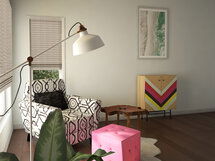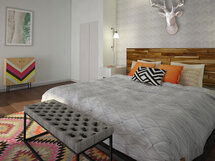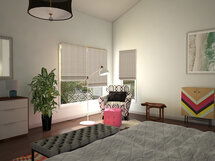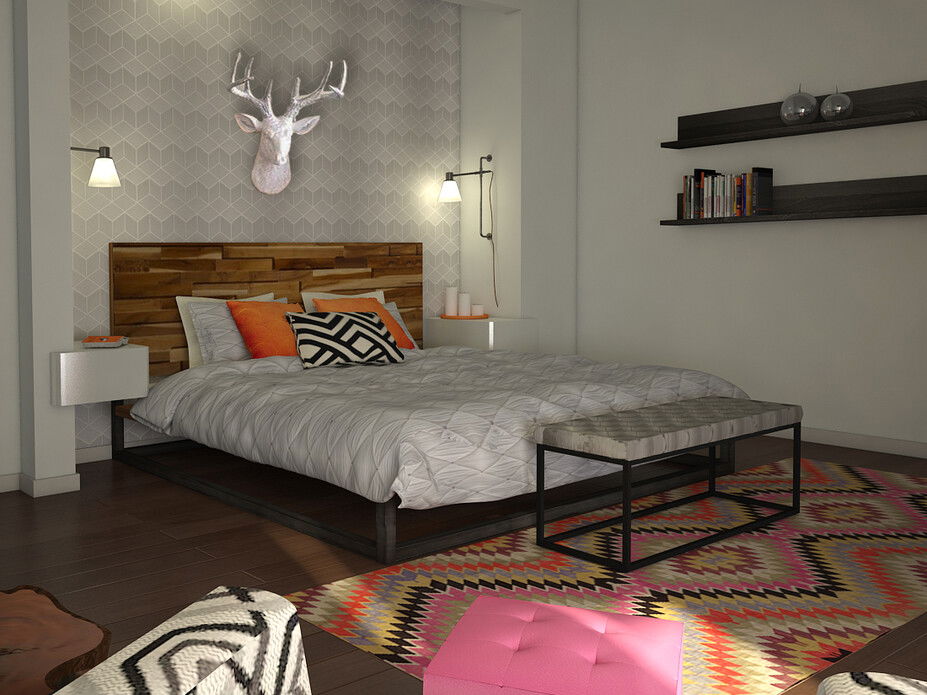 1
ORRBERG-wall shelves
2
Factory wall sconce
3
Tundra
4
White Faux Deer Head
5
Jiti Streams Silk Pillow
6
Perry Cotton-Blended Pillow, Black
7
Natalie Embroidered Quilt
8
Tufted Bench - Stone Wash Granite
9
VINTAGE Turkish Kilim Rug
10
Audrey Pendant
11
NYVOLL
12
SONGE
13
Wildfire Table Lamp
14
Ficus Pandurata Bush
15
RANARP floor lamp
16
Bamboo + Grass
17
Roger Black Geometric 35-Inch-W Armchair with Pillow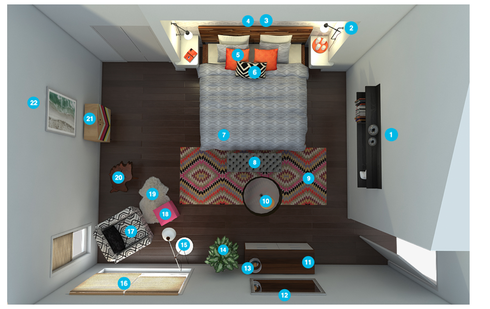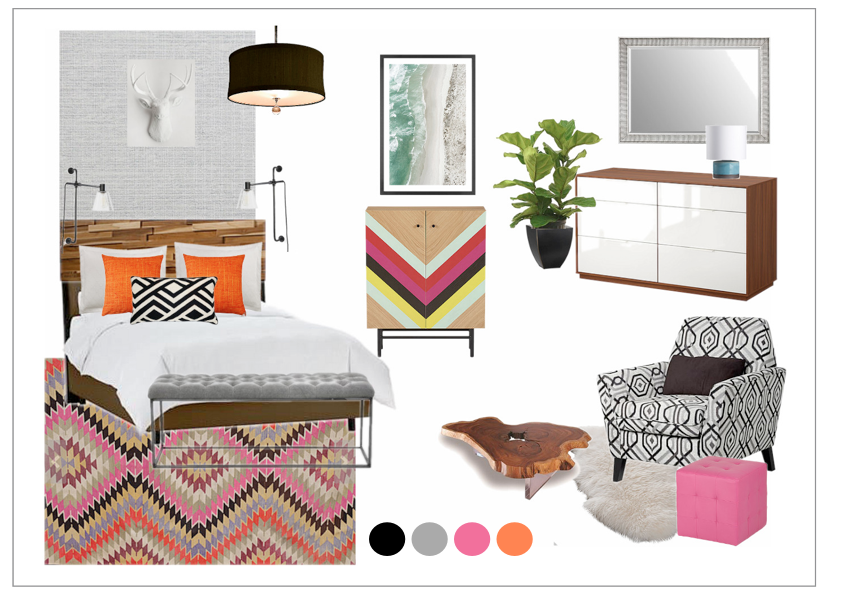 Bedroom:
Since your room is large your color options with this room are quite broad. Going with neutrals allows a nice back drop for the patterns and colors included in the design.

For your main color, we chose to use white/off-white as it offers a fresh, clean, feel to the space. White and off-white colors are often a favorite for walls because they are light, neutral, and match most color schemes. They are known to make rooms feel more airy and spacious.

Use an eggshell finish paint which has a very light touch of shine (similar texture to an eggshell as implied by its name). This finish is very often used for walls and is more durable and easier to clean than matte finish.
Bedroom Colors:
Shopping List:
Decorilla Discount
Photo
Name
Description
Link
Dimensions
Decorilla Discount
IKEA


ORRBERG-wall shelves

The natural grain pattern and rich texture of the wood are accentuated by first brushing the ash veneer then sealing it with a matt lacquer finish.
Order & Save
74 3/4x7 7/8"
West Elm


Factory wall sconce

Shed some light. The Factory Wall Sconce brings industrial design to any room. An adjustable arm provides a range of movement, so you can direct light where you need it. Metal base in Antique Bronze. Bubble glass shade. Black cloth-wrapped cord.
Order & Save
11"w x 6.5"d x 23.3"h
Graham & Brown


Tundra

Tundra wallpaper is a subtle grey design, flexible for many different home design styles and tastes. It is a sophisticated grey horizontal texture piece, juxtaposed by a linear emboss to create a soft fabric effect which will look clean and fresh on the walls of your home. This design is also available in a beige and cream color tone to give you even further choice in the design of your home.
Order & Save
w:52cm x roll length 10 m
WhiteFauxTaxidermy


White Faux Deer Head

Handmade item Materials: resin, polyresin, lacquer, matte lacquer
Order & Save
14.75" tall 11" wide 4.75" deep
AllModern


Jiti Streams Silk Pillow

95% Feather, 5% down insert Dry clean only Piping edge Removable cover For indoor use
Order & Save
20"x 20"
One Kings Lane


Perry Cotton-Blended Pillow, Black

Add a hint of contrast to any sofa or armchair with this plush pillow, featuring a geometric pattern in natural and black. Made out of cover, cotton/linen; fill, feather/down
Order & Save
14"x 26"
West Elm


Natalie Embroidered Quilt

Charming texture. The diamond pattern on the Natalie Embroidered Quilt + Shams is hand quilted on crinkled cotton voile, then embellished with dots of silver thread. It's a glamorous and lightweight layer on any bed. Front: 100% hand-quilted cotton voile in Stone White. Back: 100% cotton sheeting.
Order & Save
king size
West Elm


Tufted Bench - Stone Wash Granite

The close nailhead detailing on the Tufted Bench creates a sturdy surface for books, trays and remotes. Cushy enough to double as an extra seat, this versatile piece works well in front of a sofa or at the foot of a low-rise bed. Covered in 75% cotton, 25% linen upholstery in Flax. Metal pipe frame. Tufted top doubles as surface for books + trays.
Order & Save
48"w x 16"d x 18"h
TurkishCraftsArts


VINTAGE Turkish Kilim Rug

Vintage handmade item from the 1950s Materials: wool, cotton, vegetable dye, organic dye, camel wool, hand spun wool, angora wool
Order & Save
Zia-Priven for Stonegate Designs


Audrey Pendant

The Stonegate Designs Audrey Pendant designed by husband and wife team Zia Priven, is inspired by the dramatic interiors of the 30's and 40's. Clean lines, elegant proportions and luxurious materials redefine modern glamour with a simple refined aesthetic.
Order & Save
Height 12", Diameter 26"
IKEA


NYVOLL

Drawers with integrated dampers close slowly, silently and softly. - Extra roomy drawers. - Smooth running drawers with pull-out stop. - If you want to organize inside you can complement with SKUBB box, set of 6.
Order & Save
57 1/2x31 1/2"
IKEA


SONGE

Safety film reduces damage if glass is broken. Can be hung horizontally or vertically.
Order & Save
35 7/8x51 1/8"
CB2


Wildfire Table Lamp

Ceramic matte aqua glaze and dark brown band. Kiln-fired form scales in modern proportion to oversized white cotton shade.
Order & Save
9.5" dia. x 12.25"H
Home Depot


Ficus Pandurata Bush

Large leaf Delray Plants pandurata bush indoor plant.
Order & Save
IKEA


RANARP floor lamp

Floor/reading lamp, off-white. You can easily direct the light where you want it because the lamp arm and head are adjustable. Provides a directed light that is great for reading.
Order & Save
Length: 29 7/8 " Width: 11 " Height: 63 " Cord length: 6 ' 7
The Shade Store


Bamboo + Grass

Material falls from the front of the headrail, creating an elegant waterfall effect. Stacks neatly when raised. Extremely functional.
Order & Save
Euro Style Lighting


Roger Black Geometric 35-Inch-W Armchair with Pillow

Black and white pattern decorate stylish upholstered armchair.
Order & Save
35-inches wide. 34-inches deep. 37-inches overall height
Get Our Free Inside Scoop!
Contains our handpicked top five posts on latest decor trends & advice delivered to you monthly!


Ready to get started?
Get a designer room you'll
love, guaranteed!
Start Now